Description
Production description of 7BBL beer brewing equipment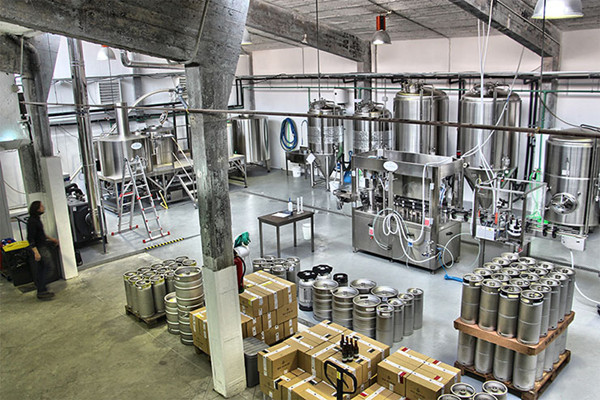 After years of development and accumulation of capital, some of customers owning a microbrewery or homebrewery want to expand the brewery to a 7BBL beer brewing system which is typical a commercial brewery system. As we all know, the configuration of brewery equipment can vary a lot according to their different requirements. Hereby I will show you the standard information of our 7BBL beer brewing equipment which is also customized if requested.
A set of 7BBL beer brewing equipment is generally consisted of 6 basic parts and additional parts if customers request. The following list indicates what the 6 parts are and what are included in each part in detail
System No.
Functions
Components
Milling system
To crush the malt so that the matters inside can be extracted easier
Grain miller

Malt conveyor

Brewhouse system
Generally takes about 8 hours or so, to extract the useful matters including sugars, proteins etc… from malt by increasing the temperature
Mash/Lauter

Kettle

Whirlpool

Wort pump

Plate heating exchanger

Platform

Fermentation system
The fermentaion period varies based on the type of beer. To convert the wort into beer by 2 reactions: aerobic respiration and anaerobic respiration
Fermentation tank

Bright beer tank

Beer hose

Wort transferring pump

Yeast dosing tank

Cooling system
To generate the cooling capacity for cooling down the temperature of the beer inside the fermenter and bright beer tank
Chiller

Glycol water tank

Cold water tank

Glycol water circulation pump

CIP system
To clean each tank thoroughly after each batch or before reusing after being lying idle for long
Cart

Sterilization tank

Washing pump

Sanitary tank

Control system
To control the whole brewing process, like the temperature of brewhouse tank, fermentation tank, etc…
Stainless steel box

electric components including relys, sensors, signal wires,etc…

Accessories
Spare parts
Pipes, valves, gaskets, solenoid valves, hose, sight glass, heat insulation pipe, etc…
Auxiliary equipments
To assist brewery equipment to make good beer
It depends on customer's specific requests. Like boiler, water treatment equipment, beer filling machine, capping machine, kegs, keg filling and washing machine ,etc…
Technical parameters of 7BBL brewing equipment

Beer brewhouse:
The brewery brewhouse is designed for brew any varieties of wort by the infusion method of mashing, and also the decoction method if there is an additional mash tun.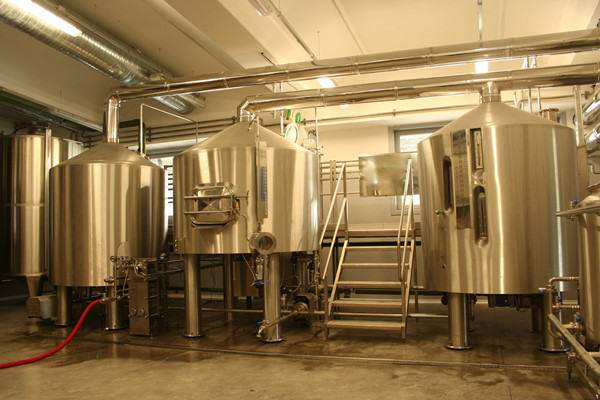 Technical parameters:
Use – mashing, mixing and wort boiling.
Position – vertical
Appearance – Cylindric, domed / conical top with conical inner bottom.
– Material body  sus304
– Insulation- polyurethane 100 mm
– Cylindric and bottom milled steam heating – Max     3 bar pressure ensures 1°C/min heating speed.
– Complete pre-piped, pre-wired and test run prior to shipment.
Assembly:
– Top domed thermostatic hermetic closed glass manway door.
– Stainless steel mixer activated by 1.5 kw geardrive motor SIEMENS.
– Top domed lighted sight glass.
– Quick installed termo sensor PT100 connected to multi segments programmable controller
– Quick installed modular steam outlet condensator assembled with 0.5kw centrifugal water recycling pump for energy and water saving.
– Top domed cylindric hops grant for online hops insertion, adopted with wort circulation for effective mixing.
– Sanitary centrifugal 2.2 kw mash pump with VDF controller.
– Bottom mash inlet /outlet.
– Middle side wort/water inlet/outlet.
– Top dome wort /water inlet.
– Middle cone wort outlet.
– Quick installed Spray CIP balls X2 .
– Outlet/darainage connections –DN40
– Inlet connections –DN32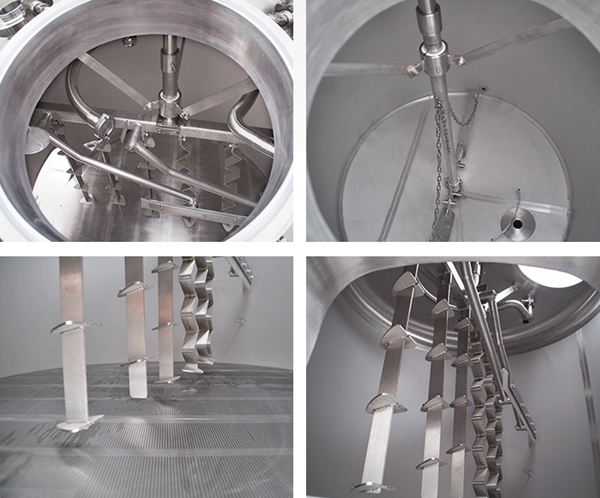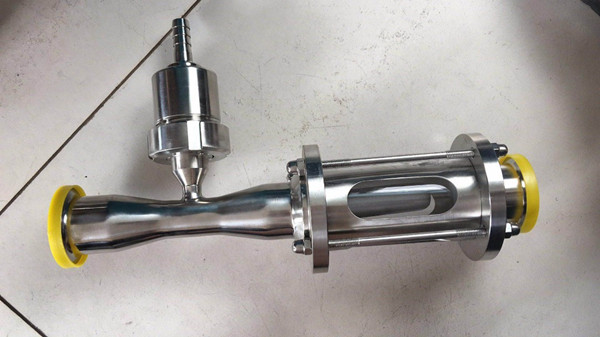 Fermentation system: 
The fermentation area consists of a specific (at the customer's choice) number of beer fermentation tank, also known as CCT (cylindrical-conical tanks) of a corresponding capacity and a control panel containing the automation for maintaining the desired beer temperature inside each CCT.
Beer fermentation tank has a cooling jacket over the entire height of the cylindrical part. CCTs from 1000 liters also have a separate cone cooling jacket. ССTs are insulated by polyurethane foam with 100mm thickness. The external covering of CCT is made of food mirror stainless steel.
The CCT is designed for internal pressure and can be used both for the primary fermentation and for the maturation (carbonation) of beer and the supply beer for filtering or bottling. The working pressure inside the CCT is up to 3 bar (can be adjusted by pressure bunging device).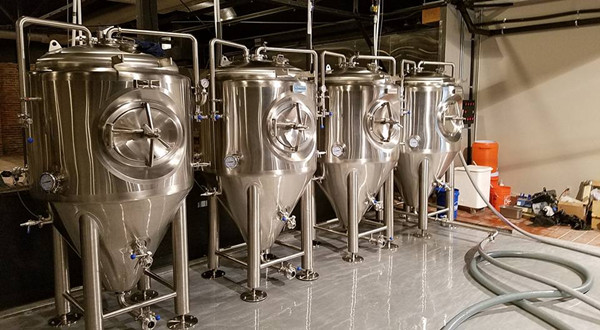 Technical parameters:
Top or side manhole which depends on customer's request
Dry hopping hole
Pressure relief valve
Temperature sensor
Thermometer
Pressure gauge
Pressure bunging device
Sample valve
CIP spraying ball
Overflow pipe
Racking arm
Carbonation stone assembly
Cooling jacket inlet & outlet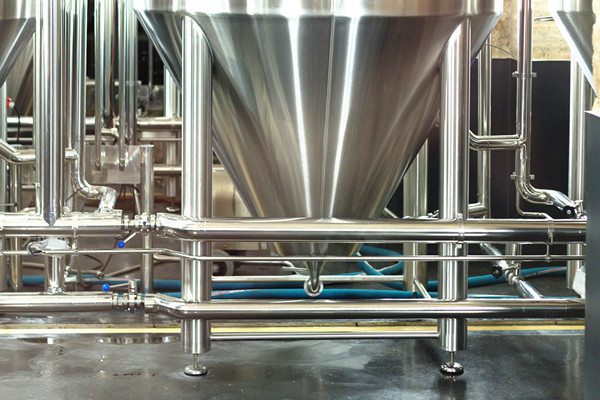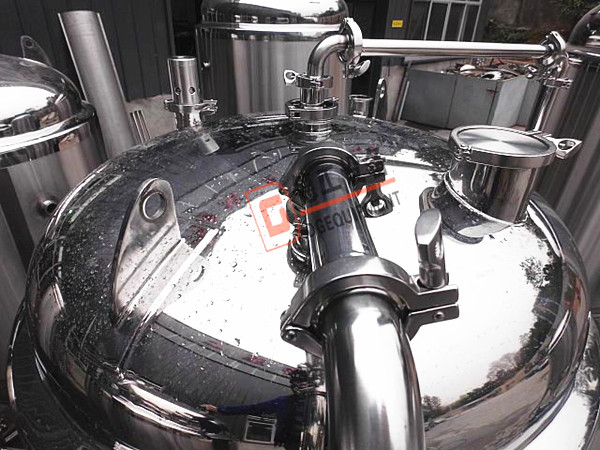 Certificate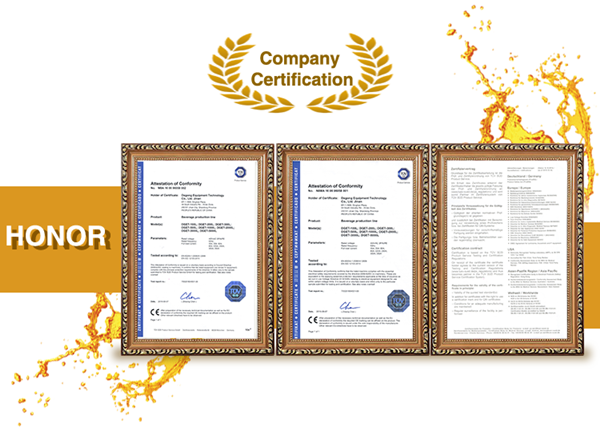 Services

♦ Pre-sale:
Recommending suitable equipment according to customer requirements;customized process flow drawing;to design site layout according to the customer work site;craft beer project cost benefit analysis;providing several success project for your reference.
♦ Sale of services:
Timely communication with customers about equipment production schedules;guide customers to do site preparation work;to help customers handle the relevant business license procedures;help customers check and acceptance of the equipment,and coordinates delivery equipment
♦ After sale service:
Professional engineers free guide for installation;teach craft beef brewing technology;provide a variety of craft beer brewing recipe;supply of raw materials ;lifetime technical support
♦ Pledge:
from the customer contracted to buy our equipment the company will establish a special project file for tracking service.Our professional and technical service.Our professional and technical services staff will provide 24-hour technical support,if you have any questions,our technical staff will provide you with a reasonable solution at first time;make a solution within 12 hours if complex situations,engineer go to the scene to resolve the problem to ensure the normal operation of your equipment.
3D diagram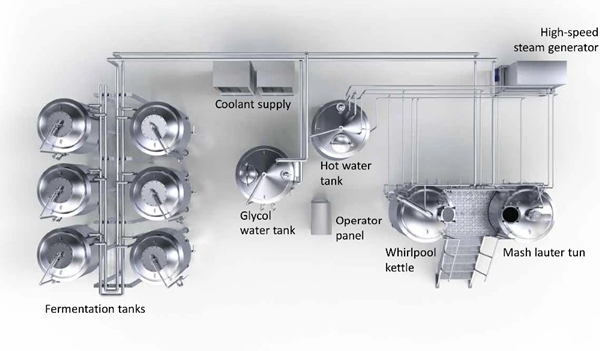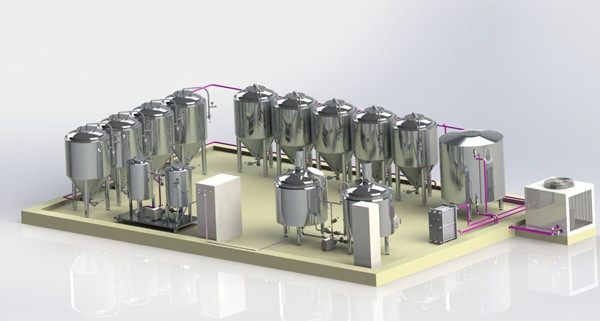 FAQ
Q1.Does your company provide customized service?
Yes, We could produce according to cusotmer's drawing and requirement.
Q2.Does your company offer OEM service?
Yes, We offer OEM service
Q3.What is your MOQ?
We do not have MOQ requirement for most of our products.
Q4.How does your company do the quality control and what is your warranty period?
We are ISO certified factory, and also have CE&ISO certificate.
Our warranty is 1 year (Except the wearing parts)
Q5.Do you make product other than made of stainless steel?
We made stainless steel products only
Q6.Logistics mode
Shipping by Sea, By air, By Courier (DHL/UPS/FEDEX/TNT)
Q7.Payment
T/T, L/C, PAYPAL, ALIBABA ONLINE ORDER, CREDIT CARD, WESTERN UNION
Contact us