Description
Choosing the right tanks to complement your brew house and controls is critical to our turnkey brewery systems. You'll get all the upgraded features you'd expect from your tank supplier, but with the option to customize based on your controls, brewery setup, space constraints, and brewing style.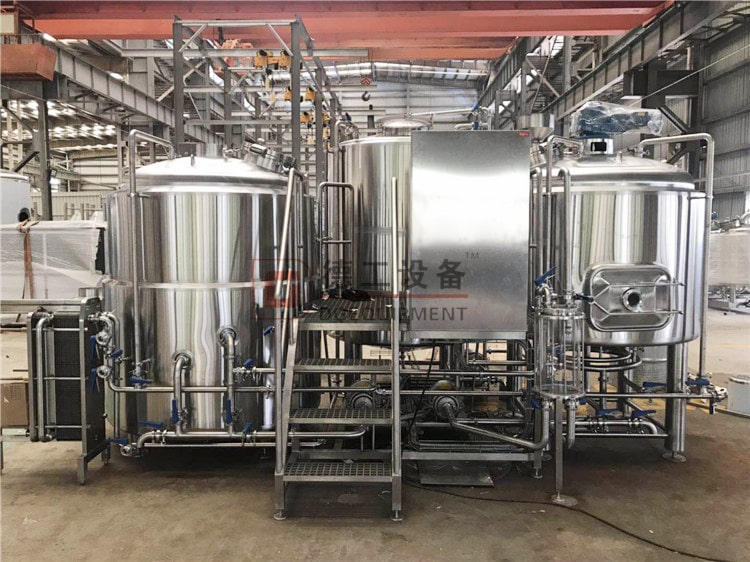 7bbl Turnkey brewery Bigger sight glass can also be a buffer tank
1.Brewhouse system
-2/3/4 vessles or combined system.
-Capacity 100L-5000L, 1bbl-40bbl.
– Steam heated and electrical heated  can be choosed
-Mash tun with mixer, steam jacket, VFD motor, insulated 100mm. Stainelsss steel 304.
-Lauter tun with rake system, milled false bottom, sparging spray ring, VFD motor, insulated 100mm.
-Boiling kettle with steam jacket, inner heated option, insulated 100mm. Stainelsss steel 304.
-Whirlpool with Tangential whirlpool outlet. insulated 100mm. Stainelsss steel 304.
-Insulated HLT and CLT with the pipelines and pumps
-Hops filter, heat exchanger. Wort oxygenation system, working platform.
-All the necessary pipelines and pumps.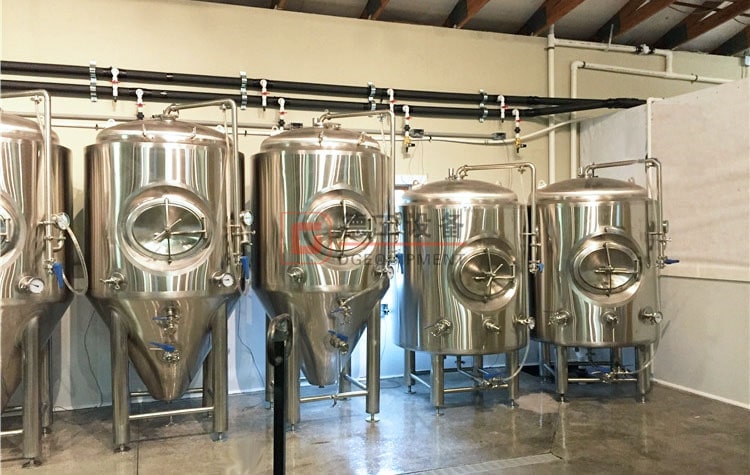 Turnkey brewery Craft  beer fermentation tanks and brite tanks
2. Fermentation System- Beer Fermenter and brite tanks
Usage: fermentation, maturation and storage
1-Domed head and conical bottom
2-Material: SUS 304, inner thickness 3mm, outer thickness 2mm, Insulation: PU=100mm
3-Top/side manway
4-Cone bottom, 60 degree
5-Pressure gauge
6-Safety/vacuum valve
7-Working pressure: 0.15Mpa
8-Testing pressure: 0.3Mpa
9-Cooling jackets on both cylinder and cone
10-Inside 360 rotating CIP ball
11. Rotating Racking arm
12-Thermowell
13-Temperature sensor, Model: PT100
14-Wort piping and butterfly valves, ø32mm
15-Drainage piping and butterfly valve, ø38mm
16-4 legs with adjustable bolts
-carbonation stone (optional)
-dry hops port (optional)
3.Cooling System
Description:chiller + Ice water tank or Glycol tank
Capacity: 3HP, 5HP, 7HP, 10HP, 15HP, 20HP, 30HP+ 500L-20000L tank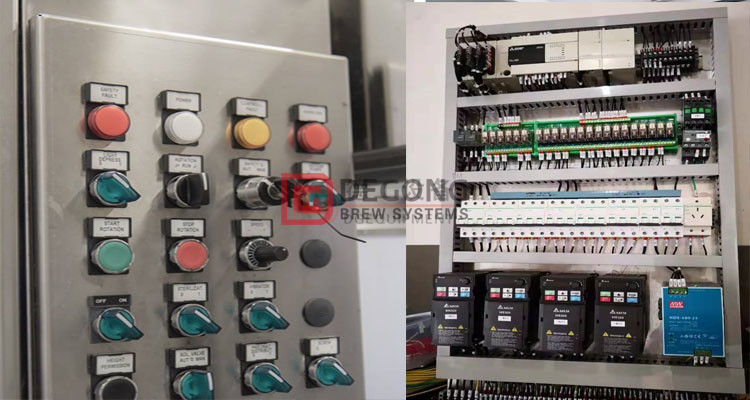 Turnkey brewery PID control panel(PLC can also be available)
4.Control System    
-PID or PLC system
-SIEMENS program, Siemens touch screen.
-Penumatic valves for optional
5. CIP system
1) Alkali tank
2) Sterilization tank
3) CIP pump
4) Control cabinet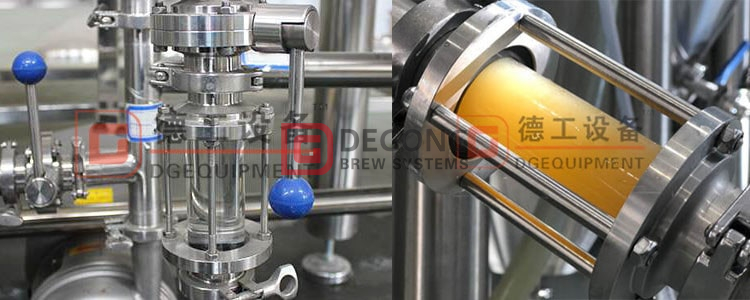 The sight glass is used to check whether the wort is clear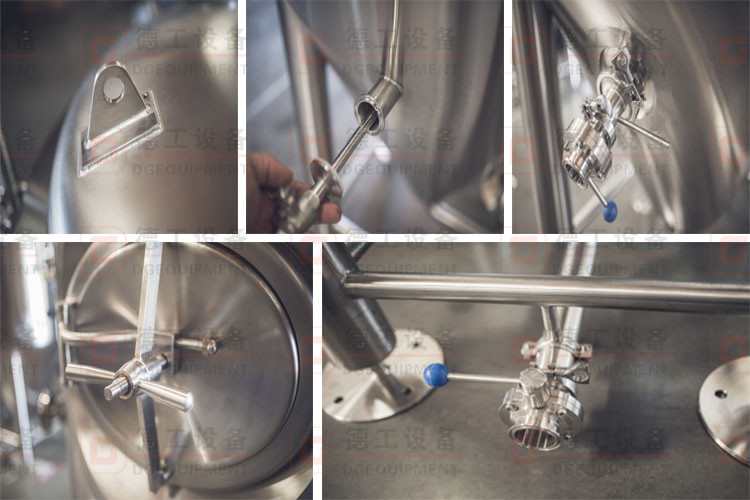 Lifting ears;racking arm;side manhole; drain outlet
More information & post-service: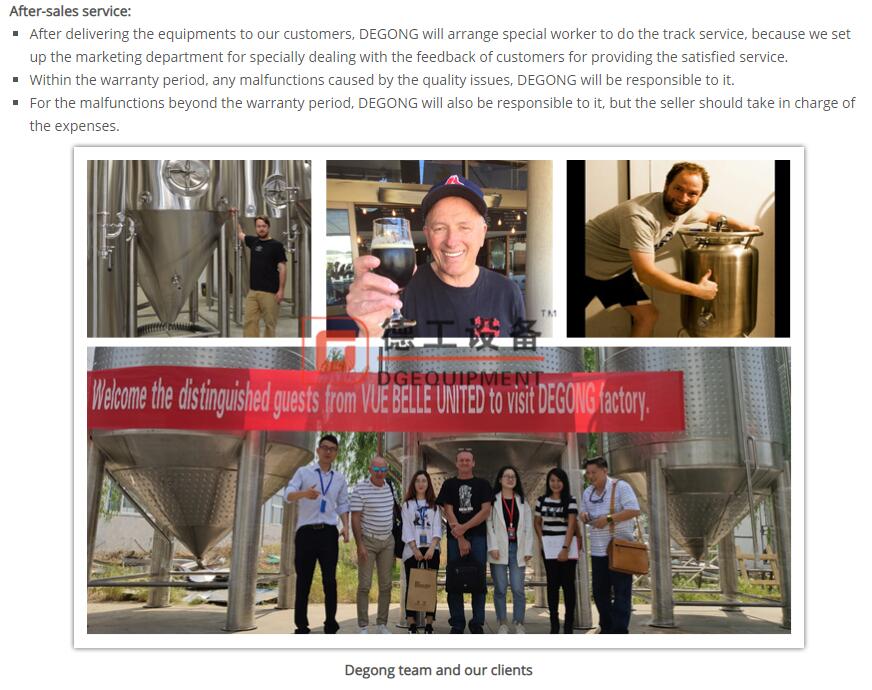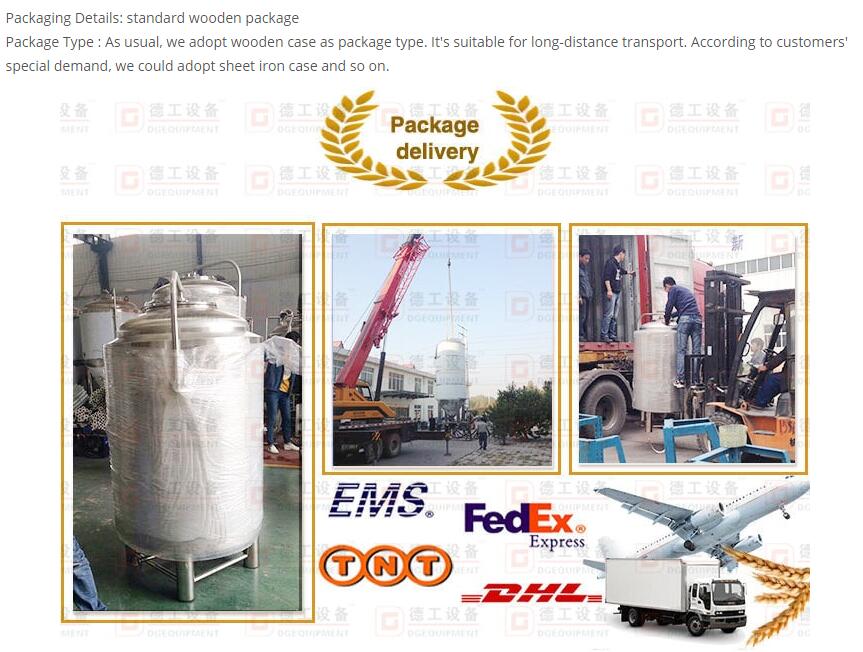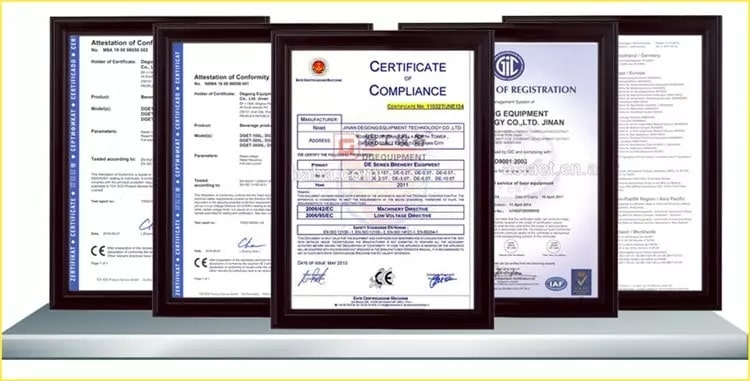 CE&TUV&ISO certification