Description
Craft beer brewing equipment description

1

Malt milling system

Malt mill machine and malt elevator

2

Brewhouse system

The brewhouse system can also be freely combined according to customer needs.

Mash/lauter+Brew kettle/whirlpool

Mash+lauter+Brew kettle+whirlpool+HLT

3

Fermenting system

a. Conical Fermenter(CCT) 

b. Brite beer tank(BBT) 

c. Yeast addition tank 

d. Related parts: PRV, Solenoid valves, Butterfly valves and other parts

4

Cooling system

Glycol tank; glycol pump; chillers

5

CIP

Acid tank; Alkali tank; Sterilization tank; Transfer pump

6

Control system

PLC or Instruments control system;With Siemens VFD

7

Auxiliary system

Keg and other related parts;Keg filler and washer; 

Beer filter system;Bottle line;Water treatment system
The heart of any brewery is an efficient and consistent brewhouse.Utilizing state-of-the-art, PLC's and automation allows DGET to deliver semi-automatic or fully-automated brewhouses that deliver repeatable, efficient and high-yield brews at the right price.
Your brewery needs essential equipment: brewhouse,  boilers, bottling and canning lines, cooling systems, storage tanks, fermentation tanks, filters and beer-labeling machines, piping and tubing, refrigeration equipment, cleaning equipment, kegs,waste treatment systems and tap handles.
Multi-vessels :Brewery equipment
1. Mashing tank / Wort boiling tank – Multifunction vessel equipped with steam duplicator and stirrer for the mashing of malt grains in watert and for the boiling of wort with hops.
2. Filtering tank – the tank wit special sieve to separation of malt rests from wort before boiling wort with hops. This tank is used also for temporary storage part of mash during the decoction mash boiling process.
3. Whirlpool tank – tank equipped with a tangential inlet for centrifugal separation of solid hop rests from wort.
Brewhouse system details:
 Filter board and Wort pump
Working platform and sight glass
Raker;Top manhole;brewhouse pipelines
Rectangular access of grains with slide
Heating Methods:
Steam Heating: dimple plate jacket with inlet/outlet fittings for steam heat transfer;
Electrical Heating: use electrical heaters to heat the medium in the jacket
Beer fermentation tanks are vessels of various size usually made from stainless steel that contain a mixture of malted grain, hops, yeast and water to create a liquid collectively known in the brewing process as wort. Fermentation tanks vary in temperature depending upon the beer being produced.
Fermenter details: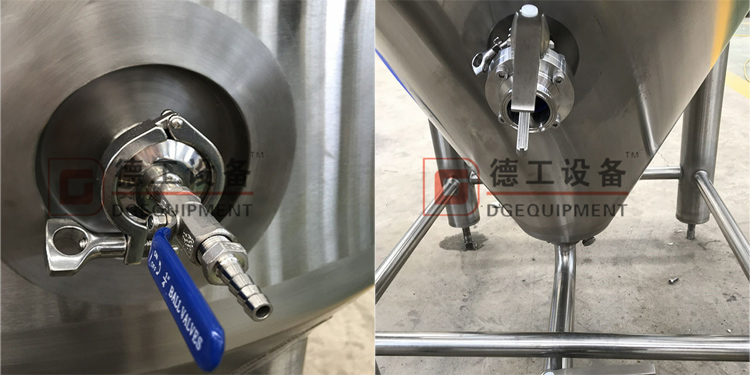 Ball valves and racking arm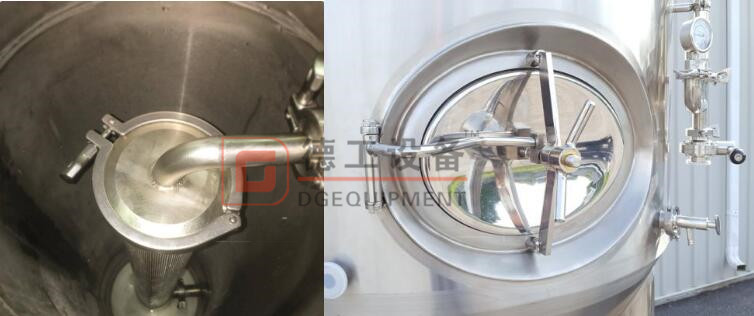 Adding yeast tank and side manhole
Fequently asked questions:
You can custom the product you wanted to reduce the operating costs and meet your branding needs.
Public Accounts
All the payment will be received by our company bank account and all the transaction is monitored by unionpay. Also, alipay and O/A are acceptable too.
Convenient Transportation
We cooperated with efficient logistics which ensure the goods can be reached you timely and save more time for your party.
Pre-consultation
Please contact us before you place an order, or need any technical support or guidance.
Specialty
We have a team of sales, our own factory, long term cooperated logistics and after-sale workers.
All the Time
We will be waiting for you all the day, including the holidays. We are ready to serve you at any time.
CE/TUV Certification 
Contact information
If you are interested in the brewery or just want to discuss your project with me, you can contact me,please.