Description
Commercial SS brewery equipment overview(800L)
Product description
Mill machine
800L 2-vessel brewhouse
Fermentation vessel
Beer storage tank
Cooling system
CIP system
Control system
Output

800L

Material

Interior Shell: SUS304 TH=3mm
Exterior Shell:SUS304 TH=2mm /red copper

Heating method

Electric/Steam /Direct fire for optional

Electric Supply

3phase/380(220, 415,440…)v/50 (60)Hz
commercial SS brewery equipment
---
The technical parameter of 800L brewery equipment, as follows:
Malt mill machine
Particle adjustable rolling crusher
Flexible or steel auger to directly lift the milled grain to mash tun
Mash tun, Lauter tun, Boiling Kettle, Whirlpool tun in various combination
2-vessel:mash/lauter tun + boiling/whirlpool tun
Hot water tank and cold water tank for optional
Stainless steel are popular, easy maintenance and clean, red copper for optional
Two stages or single stage heat exchanger for wort cooling
Completely stainless steel integrated work platform
Sanitary and efficiency wort pump
All pipings and fittings
Fermentation vessel
Standard stainless steel conical cylindrical fermentation tanks
Single size or double size as brewhouse is common used in microbreweries
Tanks quantity is exactly calculated by fermentation cycle for various beers
With all manhole, valves, pressure gauges, fittings etc.
Beer storage tank
150 degree cone bottom bright beer tank or serving tank for beer maturation, conditioning, service
Single wall or double wall is common used in restaurant or bar
Tanks quantity is exactly calculated for various beers and the function
with all manhole, valves,pressure gauges,carbonation stone fittings etc.
Cooling Unit
qlycol water tank, chiller, alkali tank
Controlling Unit
Electrical controlling cabinet with temperature, on-off controlling for brewhouse
Electrical controlling cabinet with temperature, on-off controlling for cooling parts
Temperature controller, thermocouple, solenoid valves etc are included
PLC with touch screen panel for special request
Beer Filter Unit
Craft beer is no need filtration which will keg filling for quickly consumption
Plate-Frame (diatomite earth) filter is used for clarify the beer
Beer Dispense
Keg filling and rinsing machine
Semiauto bottling machine with rinsing, filling, capping, labeling etc
Flash pasteurizer or tunnel pasteurizer is available
---
Commercial SS brewery equipment details show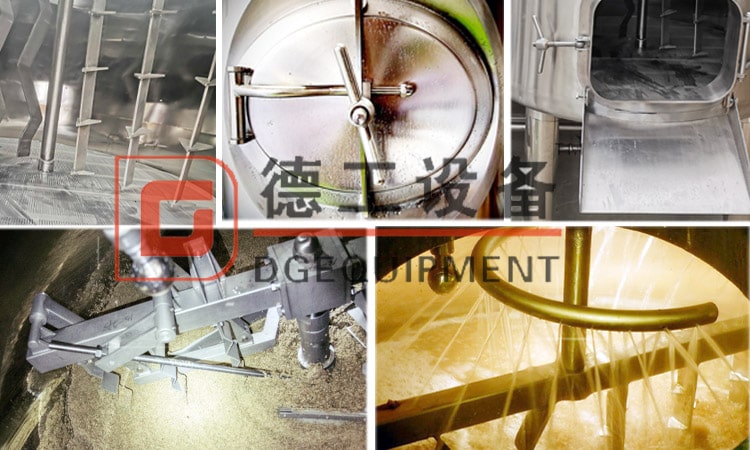 raker with ABB motor, side manhole, spent grain hatch, cleaning ring
cleaning ball and thermometer
a part of commercial SS brewery equipment
---
Know more about DEGONG
If you have interest, det in touch with me freely for a quotation.My pleasure.