Description
Compact brewhouse 2 vessel brewing beer equipment
We can offer 2 vessel brewery,3 vessel brewery 4 vessel brewery or custom
we plan and design complete medium-sized breweries, all systems can be designed with the client's input for a defined process;
a variety of different vessel combinations and a number of vessels: multifunctional tanks (mash mixer – lauter, kettle – whirlpool), individual process tanks (mash mixer, lauter, boil kettle, whirlpool, hot/cold water tanks);
fully piped and wired, including valves and sensors;
integrated pump system;
CIP system: separated CIP for individual tanks to prevent cross product interference;
master brew interface control system (touch screen control panel),
staircases and platform combine the vessels in a compact unit, perforated and sectional construction of the walk-on surface ensures protection against slipping;
automated lautering, automated water mixing(option)
Brewing beer equipment-30 BBL COMPACT BREWHOUSE
(1)Mash/Lauter volume   30bbl
(1)Kettle / Whirlpool volume  30bbl
(1)Hot water tank volume  60bbl
(1)Cold water tank volume  60bbl
Design:
monoblock design, mounted on a stainless steel frame
two-vessel brewhouse (mash-lauter tun and kettle-whirlpool)
completely piped and wired
touch screen control panel
both vessels equipped with thermal oil heated bottom and jacket, insulated (option – steam heating)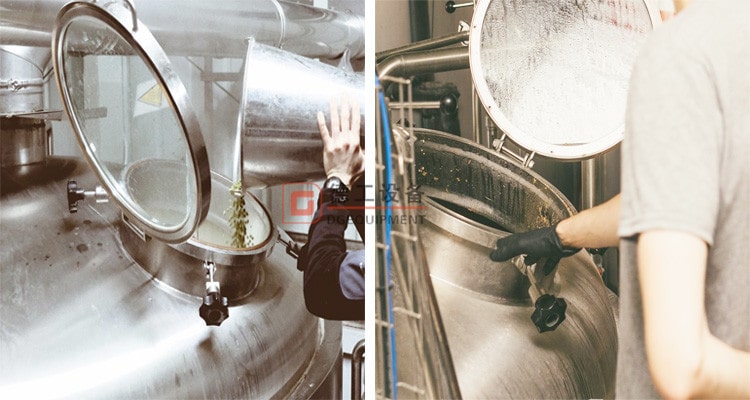 Add hops to kettle brewing beer equipment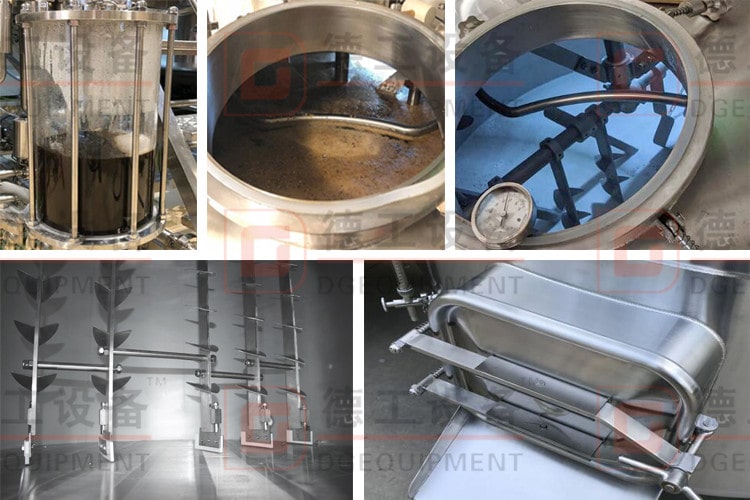 Brewing beer equipment Sight glass;top manhole;rakes spent grain hatch
High quality manufacturing process:
TIG welding
laser welded pillow-plates, orbital welded pipes
automated grinding and polishing of welds and surfaces
certified materials
User friendly:
versatile process
master brew interface control system
manual control (pump on/off, flow regulation, temperature control)
organized manifold system easy accessible from the front
easy cleaning
Brewery fermentation tanks
FERMENTATION TANKS
Tanks are equipped with separate cooling zones which can be individually controlled and entirely insulated. CIP tube and a cleaning head included. The materials used and the surface finishing depend on the intended application and the customers' specifications.
Available in different model (from 2 to 120 bbl)
Material, SUS304
Working pressure in the glycol jacket max. 3 bar
Talk to us about your requirements and we will design a system to work for you and your company.