Description
Available brewery equipment to brew quality beer
We perform expert services for new brewery equipment following expansion and startings.
We sell and manufacture equipment assets for all types of beverage manufacturing, processing, and packaging including: Beer, Coffee, Distilling, Spirits, Kombucha, Soda,  Wine, etc.
Whatever your brewing equipment needs, we are here to help you succeed in the fastest, most cost-effective, least stressful way. Just contact us and tell us how we can help.
Set up the main brewery equipment required for beer
Builds and optimises brewing plants including:
Supply of Brewing equipment
Complete turnkey process lines
Engineering design, consulting and optimisation services
Process, Packaging
The fermenting system is mainly consists of fermentation tank and bright beer tank. According to the production scale and requested output of beer, equipped the quantity and capacity of tanks.
In our factory,there are many brewery equipment fermentation tanks standing
 The back of the fermentation tank brewery equipment
The fermentation tank is to provide a suitable environment for maltose to be converted into alcohols after the wort is cooled and inoculated with yeast.
The fermentation tank is equipped with top butterfly head,built-in miller plate jacketed/CIP spraying ball/sampling valve/liquid level meter/beer outlet and sewage outlet,water-sealed mechanical pressure regulating valve/titanium rod inflating port and other supporting valves.
With polyurethane insulation to ensure that the fermenting temperature is kept at a low. Equipped with PT100 temperature sensor, with PLC auto-control system.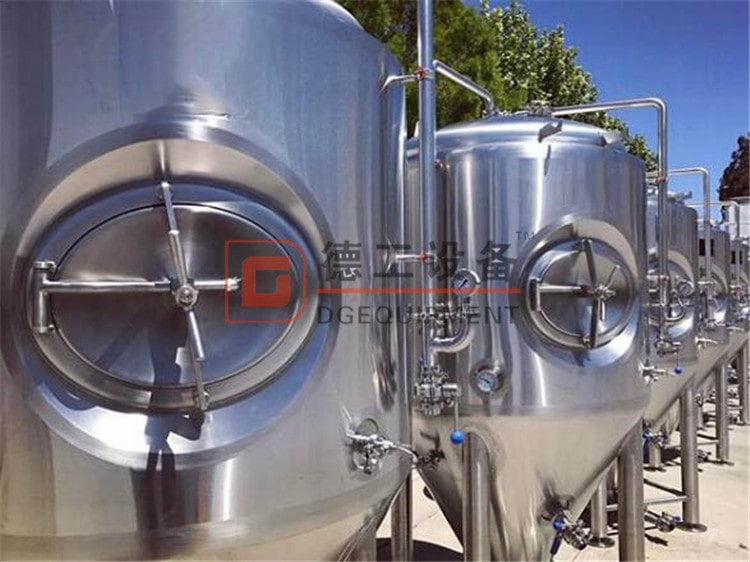 Fermentation tanks side body
Product details
1.Top butterfly head and 60 degree cone bottom;
2.The interior and exterior shell are made of SUS304 stainless stell, the thickness is 2-4mm;
3.Cooling Jackted: miller plate jacketed;
4.Insulation Polyurethane, thickness is 70mm ~ 100mm;
5. Piping and valves: equipped with top pressure manhole or side manhole/ CIP spraying ball/sampling valve/liquid level meter/beer outlet and sewage outlet,water-sealed mechanical pressure regulating valve/PT100 temperature sensor;
6.With heavy duty 304 stainless steel legs,the height is adjustable.
We also supply: 100L,200L,300L,500L,1000L,2000L,3000L,ect.
All specifications can be customized for you according to your requirements.
CIP station of brewery equipment for cleaning all tanks
Brewery equipment tank fitting:carbonation stone;cleanig ball;side manhole
Fermentation tanks configuration:
Made in stainless steel 304
Volume between 200L to 200 HL
Wall thickness 3mm or 4 mm
All welds pickled and passivated
60 degree cone
Cooling jackets in cone and cylinder
CIP line and ball, second line on request
Shadowless manway in cylinder or on top
Cone and cylinder insulated by PU foam
Stainless cladding, completely welded
All necessary connections for sampling, spunding, pressure valve and security valve (pressure and vacuum)
Further connections on request
One or two outlets
Four height adjustable feet
Tank dimensions based on your requirements
CE certification on request
Talk to us about your requirements and we will design a system to work for you and your company. wlcome to consult brewery to get a perfect quotation.