Description
Beer brewing process
2-vessel brewing system mill machine
Material: stainless steel
Working capacity: 300-500kg/h
Component: Malt miller, belt, belt pulley, motor, and so on. It is the first part of beer brewing equipment.
Strengths: New design roller, use excellent steel axle head and new roller material, make dynamic balance design, mill malt more uniformly and more efficiently.
stainless steel mill machine
2-vessel brewing system Brewhouse
Function: mashing, lautering, boiling, and whirlpool.
Material: Stainless steel 304 or red copper
Component: Mash tun/lauter tank, boiling tank/whirlpool tank, motor, pump,manhole, raker, temperature probe,hops adding
Technical parameter: inner:3.0mm outer:2.0mm
Capacity: 3bbl 2 vessels brewhouse (mash tun/lauter tank, boiling/whirlpool tank).
Heating method: Steam heating with a boiler, heat evenly and fast, keep beer's flavor.
Control method: PLC controller cabinet show and control motors, and pumps.
2-vessel brewing system:mash/lauter tun+boiling/whirlpool tun+hot water tank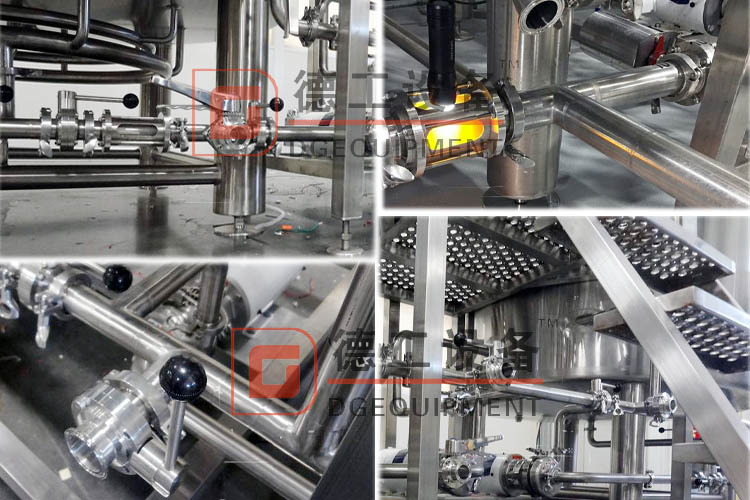 mash system pipe connection
2-vessel brewing system fermentation
Function: wort fermentation or maturation.
Material: stainless steel 304
Component: side manhole, mechanical regulation valve, sample valve, pressure gage, rotating racking arm, butterfly valve, solenoid valve and etc.
Capacity: 3bbl
Technical parameter: inner:3.0mm outer:2.0mm insulation: 80mm polyurethane
Cooling method: dimple plate or glycol cooling jacket both bottom and top.
Cooling media: Complete stainless steel pipeline for cooling between glycol water tank and fermentation tank.
Design pressure is 0.3MPa; Working pressure is 0.15MPa. (standard design, MPa can be customized).
mirror fermentation tanks
Look: the brewmaster is adding hops
Custom options are available for all of our commercial brewing systems. If you have something specific in mind, let us know. We are easy to get ahold of and would be more than happ to discuss options.
If you have interest, please feel free to contact me.