Description
OEM Fermentation Tank ,which have a conical bottom and a cylindrical top. The cone's aperture is typically around 60°, an angle that will allow the yeast to flow towards the cone's apex, but is not so steep as to take up too much vertical space. CCVs can handle both fermenting and conditioning in the same tank. At the end of fermentation, the yeast and other solids which have fallen to the cone's apex can be simply flushed out of a port at the apex .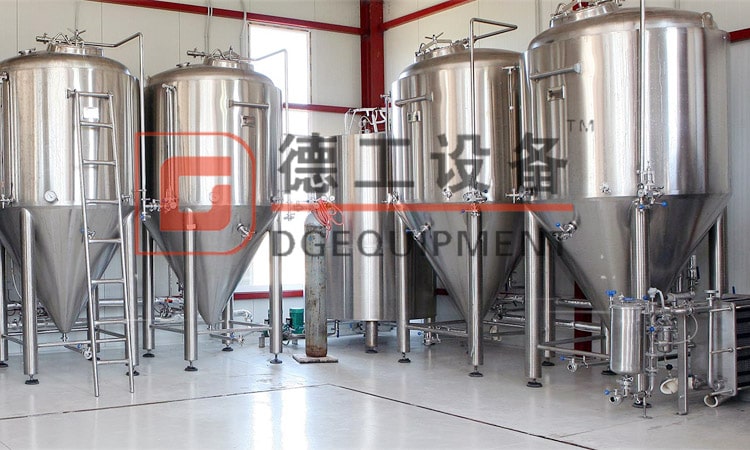 OEM Fermentation Tank (FV,CCV) more information
Function: Under the action of the beer yeast, the beer fermentation is a series of biochemical reaction with fermentable nutrients as the substrate.
Constitute: Fermentation system is made up with 2-10 fermentaters. According to the requirement, the customers can select all kinds of beer equipment from 100L-5000L.
Main features
1. Effective volume: 600L, dish head and cylinder tank
2. Inside surface: SUS304, TH:3mm
Outside surface: SUS304, TH:2mm
Thermal insulation material: Polyurethane (PU) foam, Insulation thickness: 80MM
3. Manhole: top manhole on dish head(or side manhole)
4. Design pressure 3bar, Working pressure: 1.5-2.0bar
5. Bottom design: 60 degree cone for easy to exist yeast(according to room height)
6. Cooling method: Dimple cooling jacket
7. Cleaning system: Fixed-round rotary cleaning ball
8. Control system: PT100, temperature control
With: CIP arm with spray ball, pressure gauge, Mechanical pressure regulator valve, raking arm,sanitary sampling valve, breath valve, Ice water solenoid valve, drain valve, thermometer etc.
9. Stainless steel legs with bigger and thicker base plate, with screw assembly to adjust leg height;
10. Complete with associated valves and fittings.
OEM Fermentation Tank show details
OEM Fermentation Tank (600L) detailed data
With our customers
If you want to order beer brewery equipment, please contact me freely.