Description
Constituent part of craft 1000L brewery equipment
1000L brewhouse
Option A: 2-vessel(M/L+B/W+H), Its cost is relatively low, it is suitable for customers with less budget.
Option B:3-vessel(M/L+B+W+H),this combination helps to improve the efficiency of mash.
Heating method: steam/electric/direct fire, for 1000L brewhouse, most of our customers choose steam heating, because it heats more evenly.
1000L brewery equipment Fermentation system
Fermentation tank:
Jacket conical fermenter tanks/unitanks' capacity&quantity customized;
Stainless steel material, compression resistance design, design pressure 0.3Mpa;
Working pressure 0.15Mpa, 48 hours pressure test for both interior and cooling jacket;
Polyurethane insulation and stainless steel cooling jacket, 60 degree bottom cone;Single tank, single control.
Beer storage tank: Bright beer tank/serving tank, jacketed or non-jacketed, 150 degree bottom cone,with carbonization device assort.
1000L brewery equipment Cleaning system
CIP cleaning, movable with wheel.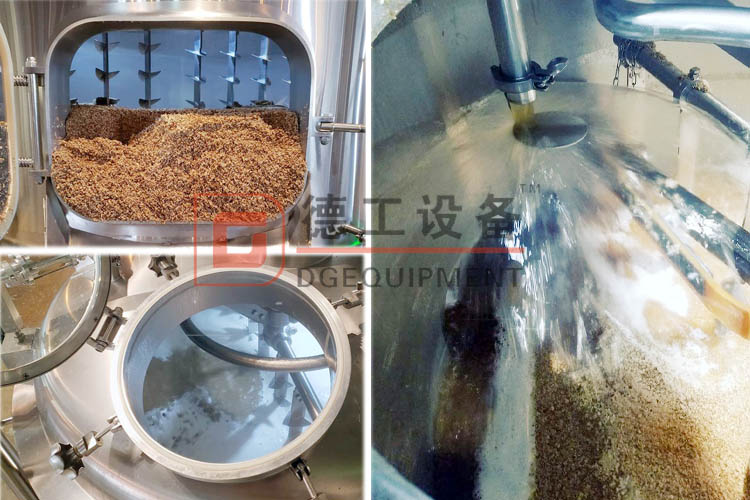 the mash system is working
bright beer tank details
---
Craft 1000L brewery equipment advantage
Material Of All The Tanks: Interior stainless steel 2.5~3.0mm, exterior stainless steel/luxury red copper cladding 1.5~2.0mm
High quality materials:
The raw materials is SUS304 and SUS316, which require materials quality certificate.
We'll test the materials quality using chemical agent when we receive the materials.
Excellent appearance:
All of connection required turn up workmanship and all of welding seam required polishing, which is more smooth tank surface. We're very serious about the excellent appearance of tanks.
Insulation: Polyurethane or rockwool, thickness 80~100mm
The Standard Of BreweryTank
We use plasma torch to cut the materials on the soft carpet, avoid to damaging the surface of stainless steel, and then we adopt double argon protection welding.
Volume: Working volume and 20%-30%additional space.
Inner Shell: SUS304 materials, thickness 3mm, acid washing and passivation treatment, furthermore,polishing and mirror treatment are workable with different cost.
All of the inner surface connection using turnup workmanship and polishing round.
The normal pressure is 0.2Mpa, maximum test pressure is 0.4Mpa.
Cladding: SUS304, 2mmthickness, welding seam polishing, 60mm width.
All of the welding connection polishing treatment, more smooth
craft 1000L brewery equipment polishing
---
If you have interest, please feel free to contact me.