Description
We design and produce a line of complete microbreweries to your specifications. Alternative brewhouse configurations are of 2-vessel, 3-vessel styles and customized. To guarantee breweries' reliable performance, we use quality stainless steel, fittings, and various parts, depending on our good craftsmanship, deep experience and technology in brewing industry. We can provide equipment from 1 to 300BBL,welcome to consult and order!
Pub brewery, 2-vessel mash/lauter + kettle/whirlpool, 500L, 1000L.
Microbrewery, 2 vessel mash/lauter + kettle/whirlpool, 1000L, 1500L, 2000L.
Microbrewery, 3, 4, 5 vessel brewhouse, 3000L, 4000L, 5000L
Hot water tank and cold water tank for optional in special combinations.
Stainless steel are popular because of easy maintenance and clean, copper cladding for optional.
Two stages heat exchanger for wort cooling.
Completely stainless steel integrated work platform.
Sanitary and efficiency wort pump.
All pipings and fittings.
Malt machine(brewery equipment)
Material: SUS304 – 2 roller, – Capacity: 300-500kg, – Power: 3kw – with motor & belt
From the engineering, to the precision manufacturing processes, you won't find a better match of price, performance and quality. Specifically designed for compact brewing spaces, our fully equipped brewhouses include virtually everything you need to get up and running fast! Perfect for taprooms & small breweries! Single phase and 3-phase options available.
BREWERY EQUIPMENT — Mash Tun Included:
Effective volume:30BBL
350mm manway.
Bottom drain fitting with butterfly valve, elbow, and cover.
Tri-clamp ferrule on lid.
CIP spray ball included.
304 brushed stainless steel construction.
Sturdy stainless steel stand.
Temperature sensor port.
Graduated level gauge.
BREWERY EQUIPMENT — Boil Kettle/whirlpool tank & Hot Liquor Tank(Optional)
Effective volume:30BBL
Bottom drain fitting with butterfly valve, elbow, and cover.
Whirlpool fitting.
Tri-clamp ferrule on lid for CIP.
304 brushed stainless steel construction.
Sturdy stainless steel stand.
Temperature sensor port.
Fitting with tri-clamp ferrules for heating elements (2 per vessel).
Graduated level gauge.
Low level float switch.
Brewhouse system details
Domed head;wort pump;top manway and false bottom
Control Panel:
Wash down capable enclosure.
Individual heater breakers.
Temperature control.
Option of 208V 3 Phase – 68 amps. or 240V Single Phase – 100 amps.
Please confirm the local voltage before purchasing.
Semi-Control panel 
Included Accessories:
Chiller – stainless steel plate heat exchanger.
1000l/h Pumps with stands, handles & diaphragm valves.
Tri-clamp end sanitary hoses.
Tri-clamp fittings for all kettles and hose attachments.
Hose spray nozzle.
Sanitary sight glass.
Craft Brewery equipment cylinder-conical fermenter
Fermentation tank components details
CCT/Brewery fermentation vessel configuration:
1.Material Inner (SUS304)thickness: 3.0mm; Outer(SUS304)thickness:2.0mm
2.External-Jacket(SUS304) thickness: 1.5mm;
3.Oval head cone bottom, thickness: 3.0mm.
4.100% TIG welding with pure argon gas shield
5.Interior Finish: Sanitary 2B finish, Pickled and Passivity; (8K Mirror finish optional)
6.Exterior Finish: Oil brushed finish(2B, 8K Mirror finish optional)
7.Interior full polished to 0.2~0.4 μm without dead corner
8.Insulated with high density Polyurethane foam 100mm
9.Glycol Jacket: Dimpled plate on cone and side
10.Sanitary side mounted manway with pressured door
11.Full sanitary metallic sealed sampling valve
12.Mechanical safe valve PVRV 2 bar on top
13.Rotating racking arm and port on cone with butterfly valve
14.Tri clamp discharge arm with butterfly valve
15.Thermowell for high accuracy temperature sensor
16.4pcs completely SUS304 legs
1. How long is your delivery lead time?
A: After 30-45 working days when we receiving your payment.
2. What is your term of payment?
A: Our payment terms are both TT and L/C. 30% for advance payment after signing the contract and before manufacturing, 70% as balance payment after manufacturing all equipments and before delivery.
3 This is the first time I use this kind of machine, is it easy to operate?
A: There are English manual or guide video for showing how to use the machine;
If you still have any questions, we can contact by phone or email, etc;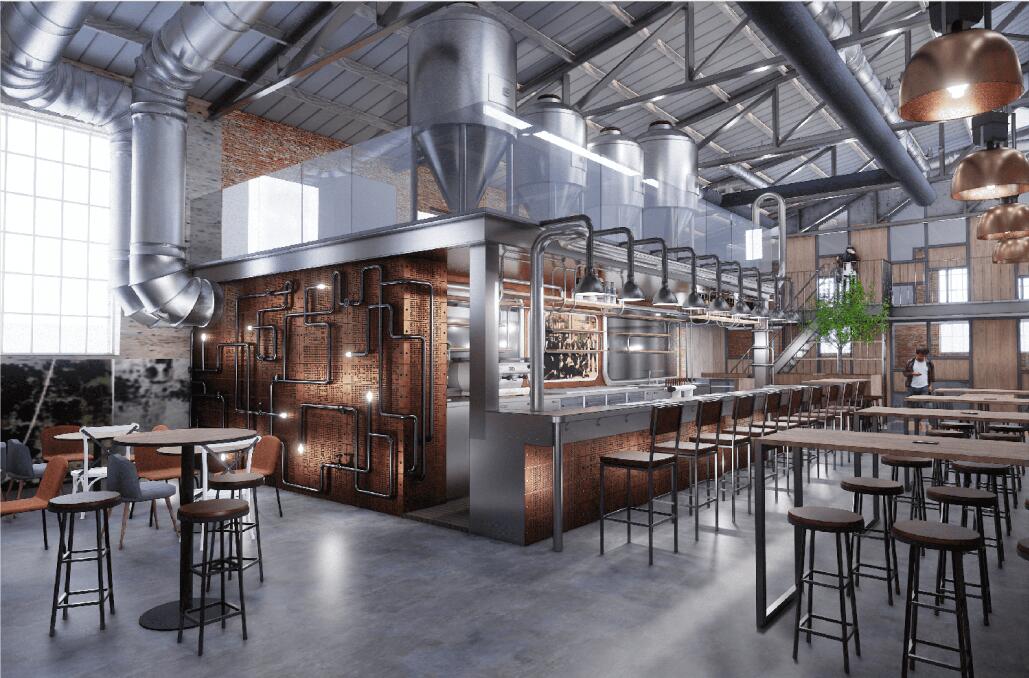 Apply to bars, restaurants, breweries, etc.
Package &delivery:
Packaging Details: standard wooden package
Package Type : As usual, we adopt wooden case as package type. It's suitable for long-distance transport. According to customers' special demand, we could adopt sheet iron case and so on.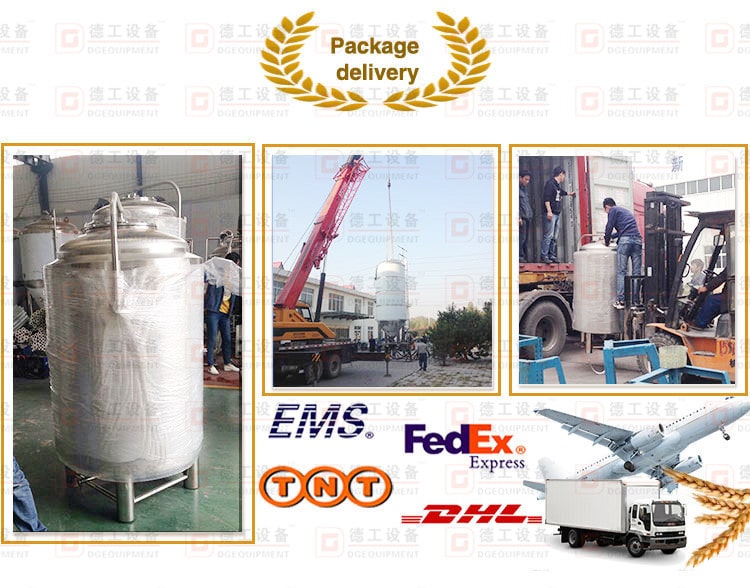 Contact information:
Would you like more information about brewhouse system,please give me message.