Description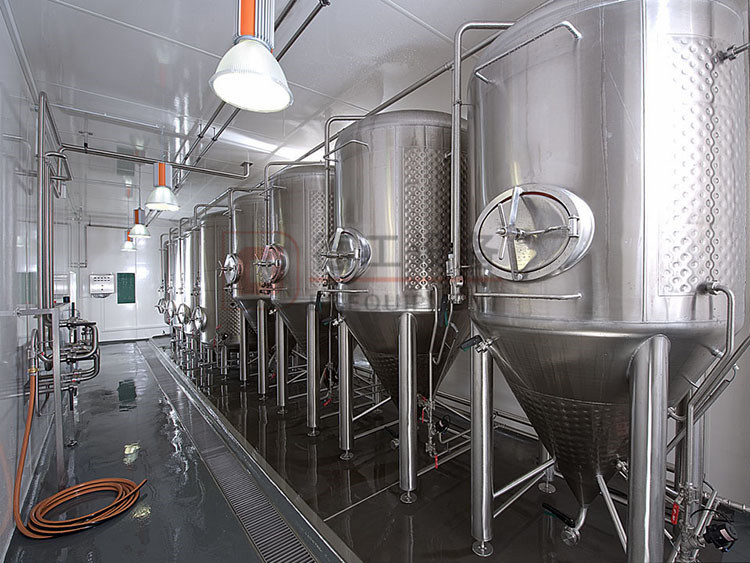 Double jacketed 60º cylindroconical fermentation tanks
We offers a wide array of fermenters(fermentation) and brite tanks(maturation)  tanks that are designed accordingly to our customers' specifications  and their needs. Our fermenter and brite tanks come in three different  generalized builds (customizable tanks are also available): single wall,  un-jacketed and jacketed. All of our tanks can be pressurized (unless  otherwise requested) and the fermenters have an added bonus of  functioning as both a fermenter and BBT tank.
Cylindrical-conical tanks, vertical, cone angle is generally 60 °
Tanks in vertical or horizontal versions
Fermentation tank specifications:
-Outer Shell Thickness: 2.0 mm-Interior Tank Thickness: 3.0 mm
-Polyurethane Insulation Thickness: 100 mm
-Glycol Jacket (Dimple-Welded) Thickness: 1.5 mm
-100% TIG welded and sanitary polished
-Food grade 304 stainless steel construction, interior/exterior
-Dual zone dimple cooling jacket with glycol inlet and outlet
-Sanitary interior finish with all welds ground and polished
-Fully welded exterior
-Polyurethane insulation for cooling jacket on sidewall and bottom
-Side shadowless manway door (optional top manway)
-60 degree conical bottom with 25% free head space
-CIP arm and spray ball
-Racking port with Rotating racking arm
-PRV
-Pressure gauge
-Sample valve
-4 legs with cross braces and adjustable feet
-3 bar design pressure
-Tank valves and fittings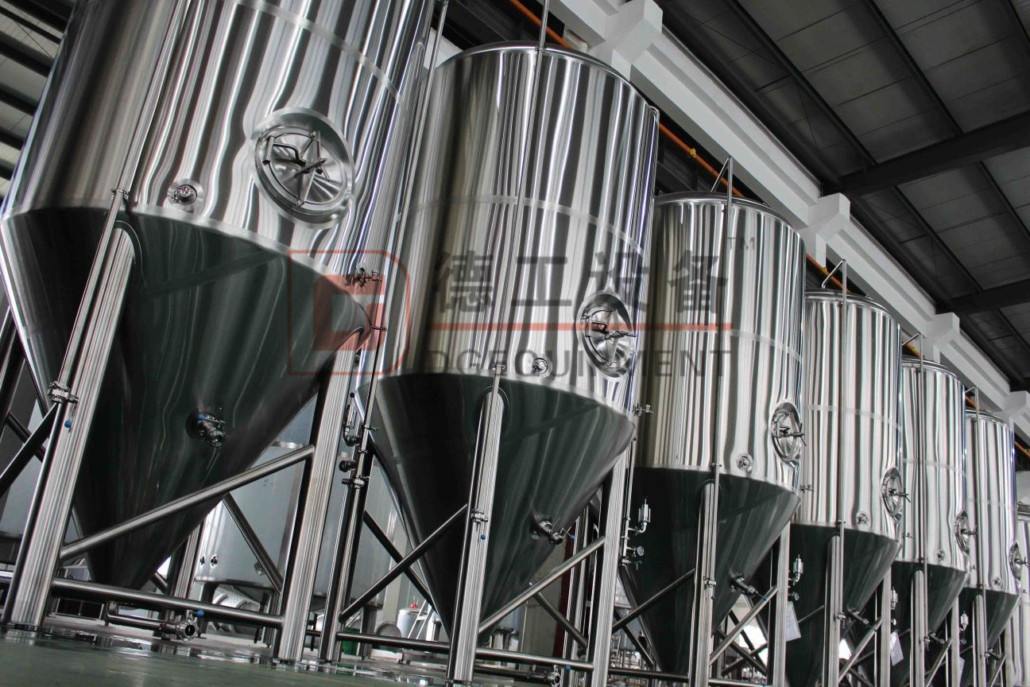 A group of stainless steel fermentation tank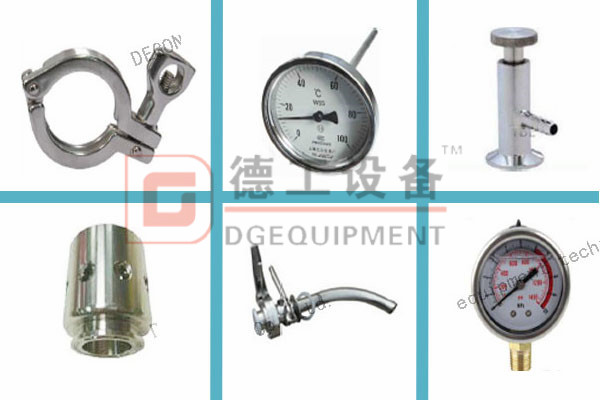 Fermentation tank fittings
(Tri clamp,Thermometer,Sample valve
Safety valve,Rotate racking arm,Pressure gauge)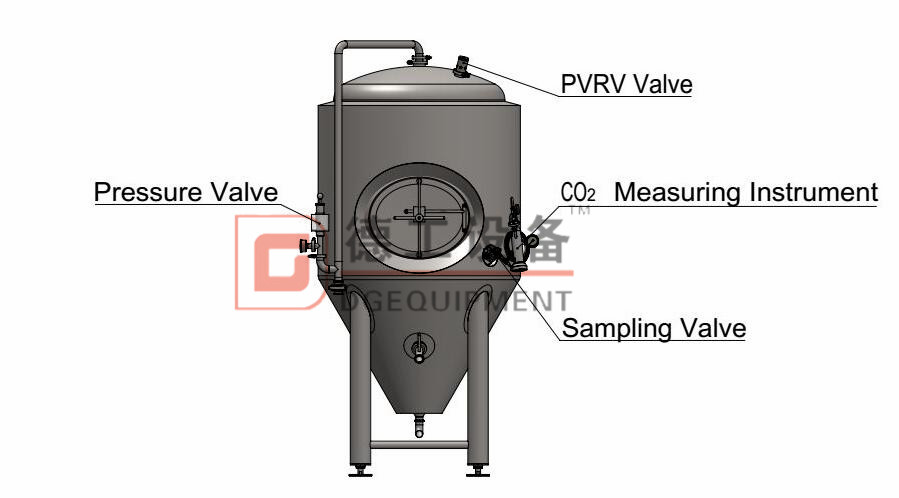 Fermentation tank sample construction figure
Safety valve – This special overpressure relief valve is designed to protect the tank against overpressure by a pressure higher than that for which it is certified and dimensioned. The overpressure relief valve is most often combined with a vacuum relief valve that protects the tank from collapse under vacuum (for example, when the tank contents are drained out using the pump). For bigger tank volumes, both the overpressure valve and the vacuum valve are solved as two separate valves.
Vacuum valve – it protects the tank from collapse under vacuum (for example, when the content is drained out with a pump). With smaller tank volumes, the vacuum valve is replaced with simple non-return valve.
Sample valve – it is used for sampling the product during its tasting and laboratory tests. The valve can be further equipped with a spiral attachment that eliminates the foaming of the beverage and speeds up the sampling process.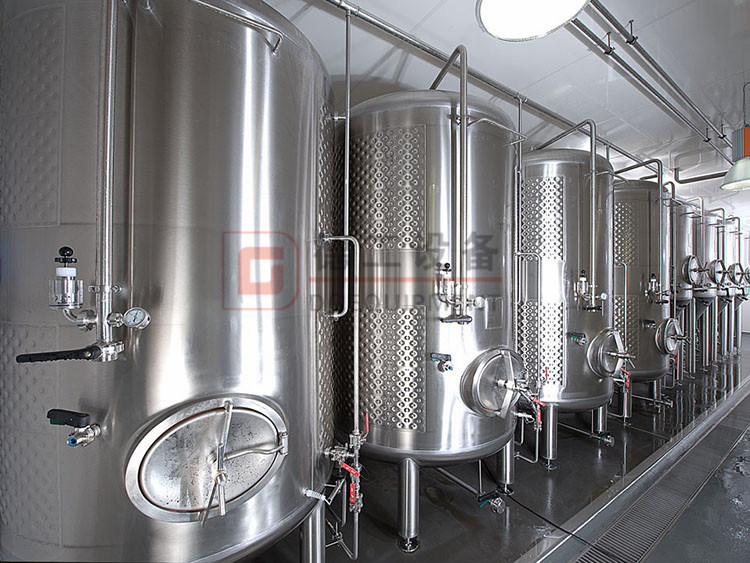 Dimple cooling jacket bright beer tank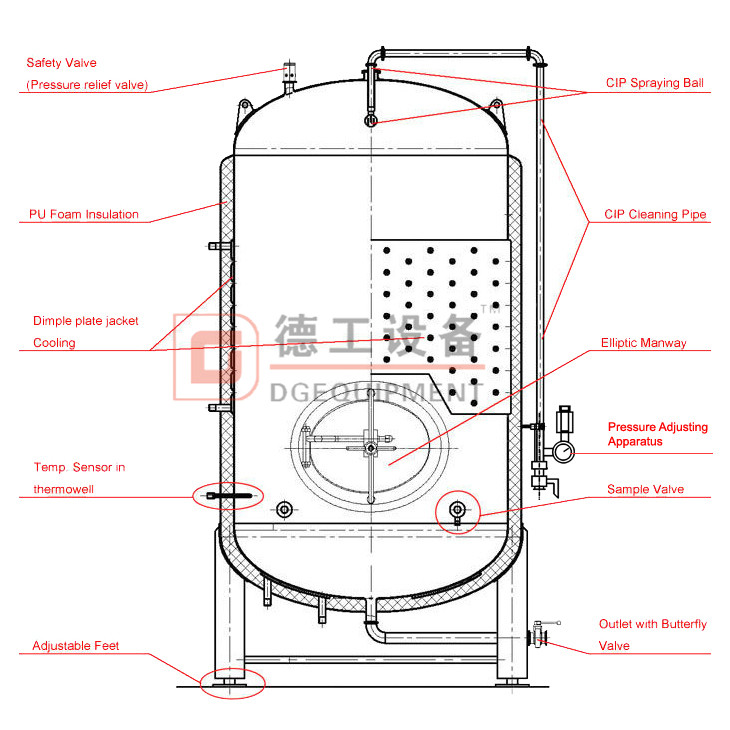 Lager beer tank construction figure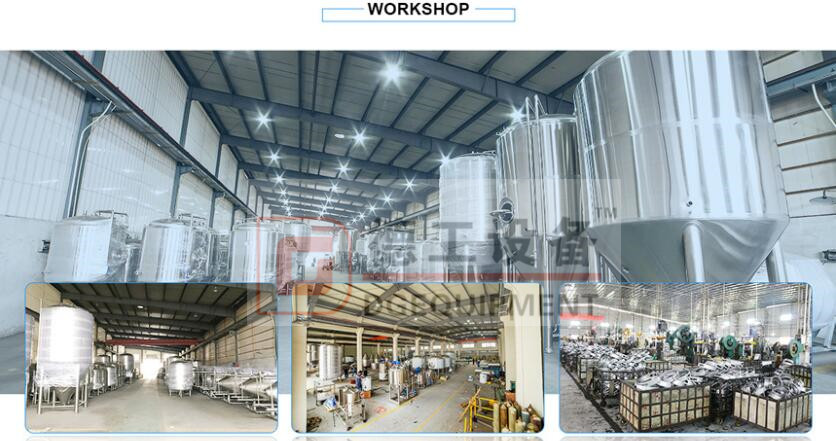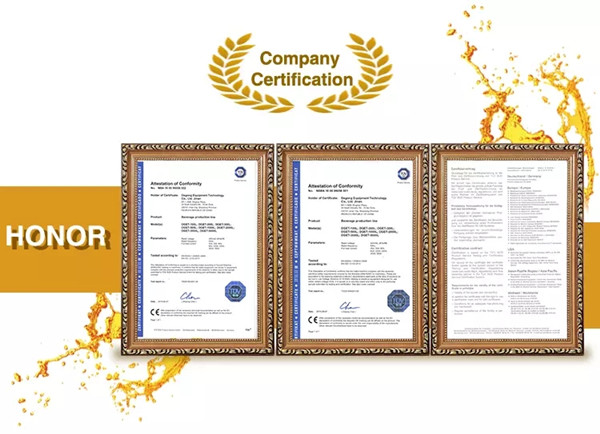 Packaging Details: standard wooden package
Package Type : As usual, we adopt wooden case as package type. It's suitable for long-distance transport. According to customers' special demand, we could adopt sheet iron case and so on.

Ready for shipment
If you are interested in our craft beer equipment, need a quotation or you simply want to discuss your project with us, get in touch and we will be happy to assist you.