Beschreibung
2bbl Edelstahl Brauerei Bier Ausrüstung
2bbl Bierbrauanlage ist eine beliebte Ausrüstung für kleine brewery.All unsere Geräte iscustomized nach Anforderung des Kunden, wie configeration, Heizverfahren oder Menge von Tanks.
Jetzt stelle ich unsere Ausrüstung briefly.The ganze Reihe Ausrüstung enthält: Mühle Maschine, Sudhaus, Gär-, Kühlsystem, Steuerung, CIP-Reinigungssystem.
2bbl Edelstahl Brauerei Bier Ausrüstung

'
| | |
| --- | --- |
| Modell | 2bbl |
| Arbeitsbereich | 2-30M2 |
| Betriebsspannung | DC 24v |
| Arbeitsdruck | 1,5 Bar |
| Material | Innen (SUS304), Dicke: 3,0 mm; |
| Isolierung | Polyurethan-Dicke von 100 mm. |
| Temperatur Art und Weise | Doppel-Metall-Thermometer |
| Outsourcing Oberfläche: | Weld Polierverarbeitung |
| Jacke Druck: | Auslegungsdruck 0,3 MPa, Betriebsdruck <0,2 MPa. |
detaillierte Konfiguration
Sudhaus: mash/lauter tun,boiling/whirlpool tun and hot water tun. steam heating,gas heating or electric heating
Fermentation tank: top manhole or side manhole;Accessories on the tank:breathing valve,cleaning ball,pressure guage,machinery regulator,raking arm,temperature sensor,sample valve,carbonator
Cooling system: Glycol tank &refreigeration unit
CIP systemSterilization tank,alkali tank,circulate pump
Miller:100kg/h,double roller
Control systemIt can be PLC control,all of the element is Schneider,Danfoss,or Siemens
1. This beer equipment machine is brewery for pub ,Bar,Restaurant draft .
2. Stable worktable and 20 years usage life.
3. Easy to maintain saving time and labor.
4. This machine is economy and competitive.
5.All of the equipment is customized according to customer's equipment.

2bbl equipment is very suitable for brewpub,bar,hotel.It will not occupy so much space,and it will also show customer how to brew beer.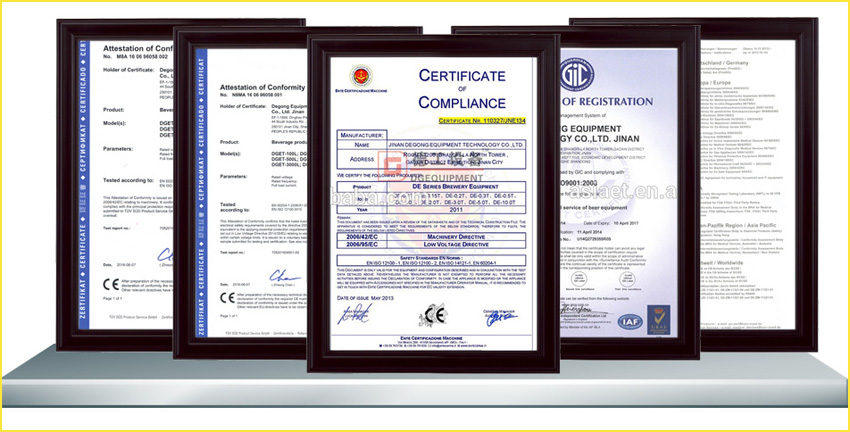 If you are interested in our equipment,please feel free to get in touch with me.
+86 18363007358
market@degonget.com