Description
 High quality fermentation system
The fermenting system is consists of fermentation tank and bright beer tank. According to the production scale and requested output of beer, equipped the quantity and capacity of tanks.
Fermentation tank brief introduce
With top butterfly head,built-in miller plate jacketed/CIP spraying ball/sampling valve/liquid level meter/beer outlet and sewage outlet,water-sealed mechanical pressure regulating valve/titanium rod inflating port and other supporting valves. With polyurethane insulation to ensure that the fermenting temperature is kept at a low. Equipped with PT100 temperature sensor, with PLC auto-control system.
mirror conical fermentation tank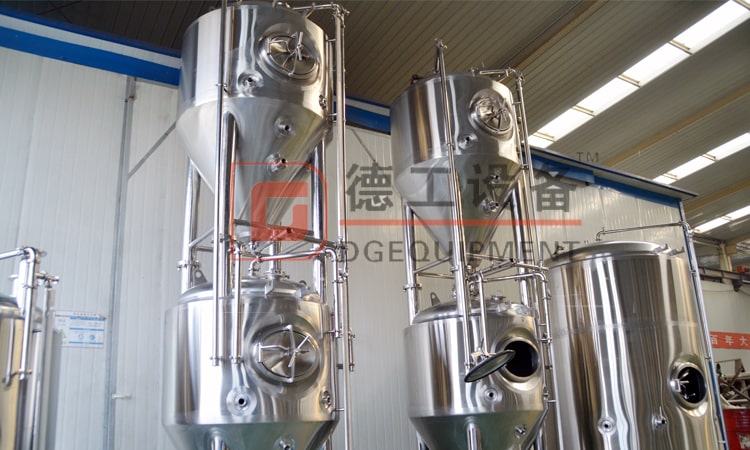 stacked conical fermentation tank
Fermentation tank more information
Standard stainless steel conical cylindrical fermentation tanks
Single, double, triple or more size
Tanks quantity is exactly calculated by fermentation cycle for various beers
Cooling method: dimple plate or glycol cooling jacket.
All manhole, valves, pressure gauges, fittings etc.
Design pressure is 0.3MPa; Working pressure is 0.15MPa.
 high quality fermentation system conical fermenter details
mechanical regulation valve&pressure valve
---
Serving tank brief introduce
Beer serving tank named beer mature tank,it is single wall, placed in the cold room for cooling.
Serving tank more information…
Component: Shadowless manhole, dish heads on two side, Mechanical relief valve, Aseptic valve, Pressure gage, Butterfly valve, carbonation stone and etc.
Capacity: effective volume is 100L-30000L, 1BBL-300BBL
Serving tank feature
20% top space to avoid beer foam out
Accommodate to brew 1/2 batches
CIP rotary spray ball
CO2 blow off tube
Fully welded cladding
Adjustable tank leveling pads
Good quality, reasonable price and excellent quality
 high quality fermentation system bright beer tank details
If you want to set up a brewery of your own, please feel free to contact me. My pleasure.