Description
50L brewing system for sale
Brewhouse Unit(50L brewing system)
Mash tun, Lauter tun, Boiling Kettle, Whirlpool tun in various combination
Hot water tank and cold water tank for optional in special combinations
Infusion or decoction brewing methods are designed exactly
Stainless steel are popular because of easy maintenance and clean, copper cladding for optional
Two stages or single stage heat exchanger for wort cooling
Completely stainless steel integrated work platform
Sanitary and efficiency wort pump
All pipings and fittings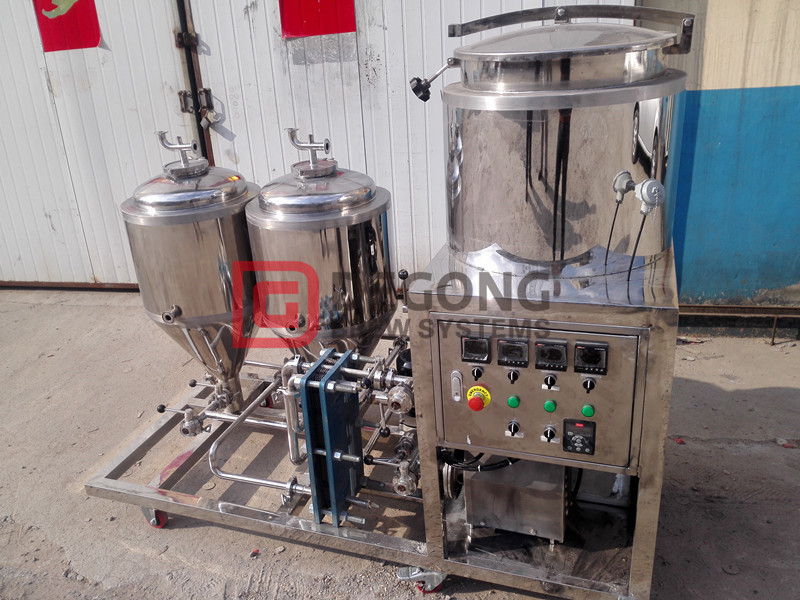 Technical parameters(50L brewing system):
Material: SUS 304
Volume:50L-20000L
Design pressure: 0.3Mpa;Working pressure:0.12Mpa-0.15Mpa
Polyurethane insulation, side and bottom insulated
Dimple plate cooling jacket
Cooling stage: cylinder and cone
Exterior: stain removed, and brightened on regular margin
Interior surface: Polished, and welding joint acid cleaned
Domed top,Stainless steel leg, with adjustable leg bolt
Top fittings: CIP arm, spray ball, manhole (top or side)
Side fittings: Glycol inlet/outlet, thermometer well, sample port, manway (side or top)
Bottom fittings: Drain valve, beer outlet, carbonation unit (optional),CIP arm including pressure gauge, pressure regulating valve
Dry hopping port on top(optional)
Brewery equipment:
We manufacture and supply brewhouse sizes from 50L to infinite based on customer's demand. Our brewery equipment is turn-key and consist of mill system, mash system, fermentation system, cooling system, cleaning system (CIP), control system and accessories. With brewery equipment you are able to produce outstanding full-bodied beers. Beginners will find it easy to brew with this fairly automated equipment.
We design and produce a line of brewing equipment to your specifications. To guarantee breweries' reliable performance, we use quality stainless steel, fittings, and various parts, depending on our good craftsmanship, deep experience and technology in brewing industry. Especially, we focus on your convenient running breweries, by learning your special specifications and realizing them on the brewing systems.
We offer not only fully equipped breweries that include of all needed beer production equipment, but also particular machines, fermentation tanks, components and support systems.
All main components are quickly orderable in default design, but there is not problem to deliver also individually equipped machines and equipment defined by customer's needs.
Contact us