Description
Home brewery equipment advantage
Brewhouse Combination Diversification—Customized micro brewing equipment
Decoction,infusion,multi-step infusion mashing can be realized.
Electric,Steam,Gas directly fire heating method for optional
15 days free installation and training service offered by profession engineer.
Mirror polishing and wire drawing SUS 304 for optional,thickness:3.0mm
Rational layout, Humanized design and convenient operation
Home brewery equipment overview
1.Mill machine: Particle adjustable rolling crusher
Auger: Flexible or steel auger to directly lift the milled grain to mash tun
2.Brew house: Grain mashing, lautering, wort boiling, whirlpool, hot water supply
3.Fermentation tanks: Wort Fermentation or maturation
Single size or double size as brewhouse is common used in microbreweries
4.Bright Beer Tank Unit: beer maturation, conditioning, service, carbonation
5.Cooling Unit: cooling wort and refrigerate the fermentation tanks and bright beer tanks
6.Controlling Unit: Brewhouse/fermentation tanks/bight beer tanks/chiller/glycol water tanks
temperature control
7.CIP system: Supply caustic liquid and sterilization liquid for all tanks cleaning
8.Others: kegs, keg filling machine, keg cleaning machine, bottle filler, beer dispenser
200L red copper beer brewhouse
home brewery equipment brewhouse details
Home brewery equipment 200L brewhouse system
Combination:mash/lauter tun+boiling/whirlpool tun+hot water tank(optional)
Other combinations are available to meet your specific requirements.
Mash system
All tanks of brewhouse system SUS304 full welded double wall, with thickness of 3.0mm for interior shell and 2.0mm for exterior shell.
1.  mash/lauter tun, filter tank, boiling pot, whirlpool tank, hops adding equipment etc.
2.The main body of mash tun, mash copper system all using international standards, high-quality 304 stainless steel. The manufacture is using of modern automatic plasma & laser cutting and the protection of pure argon gas welding and other technology.
3.The full mirror polished technology for the inside of the tanks; external matte polished to ensure customers with high quality and low price, beautiful mash system.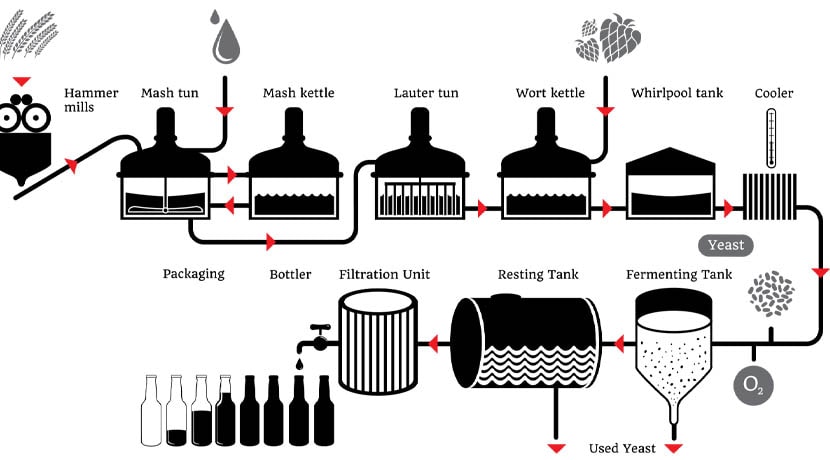 About DEGONG more information
1.What is your payment terms?
30% deposit and 70% balance payment
2.What certification can you provide?
Our equipment has been approved by the TUV institution and got ISO and CE certification.
3.If our electricity is special compare yours,what can you do for it?
Our electricity is customized according to customer's requirement,such as 220V,380V,440V……….
4.What is the price of your equipment?
The requirements of each customer are different, and the specific configuration is also different.Before determining the price, we first need to confirm the specific requirements of the customer.
5.If you tank is not suitable to our room,what can you do for it?
If the customer does not have special requirements for the design of the tank, we will produce it in accordance with the normal design.But sometimes, the customer's space or height is limited, we will design the most reasonable layout and tanks according to the customer's specific situation.
fermentation tank in pub
If you have interest, get in touch with me freely.