Description
DEGONG can design and manufacture conical brewery equipment,which is used for any type beer,such as ale,lager,IPA….All of the equipment is customized according to your requirement.If you don't know more about beer brewing equipment,our engineer can give you the most professional suggestions according to your brewing plan,such as daily output or others….
ALE,LAGER,BRIGHT BEER,DARK BEER 
The turnkey conical brewery equipment includes milling, mashing system, fermentation system, cooling system, CIP and control system.Every system is indispensable and variable.In other words, the system with same size has thousands of different configurations.For example, the mashing system can be two vessels or three vessels or four vessels, heating method can be electricity, steam and direct fire.The fermenting tank's quantity is base on customer's brewing plan,and  the fermenting tank parameters can be customized according to your needs, etc..
Beer mashing system of conical brewery equipment
15BBL 3 Vessels stainless steel conical brewery equipment mashing system
The brewhouse is 3 vessels beer mashing system,which include mash/boiling+lauter tank+whirlpool tank,and additional hot water tank.You can combine the tanks freely according to your requirement.The whole mashing system also includes pumps, heat exchangers, hops filters, platforms, , oxygenation equipment, etc.
Raker,false bottom,VFD wort pump,operation platform,sight glass
Sparging
Sight glass manhole for looking inside of tank, automatic spent grain removable system 
Fermentation tank of beer brewing equipment
Fermentation Tanks are equipped with separate cooling zones which can be individually controlled and entirely insulated. CIP tube and a cleaning head included. The materials used and the surface finishing depend on the intended application and the customers' specifications.
Normally,there are hops hole and vacuum valve on the top,pressure guage and apunding valve on the CIP arm.One-Touch Racking Arm on cone,CIP Spray Ball,temperature sensor and carbonation stone on the tank.
15BBL Conical brewery equipment isobaric fermentation tank for sale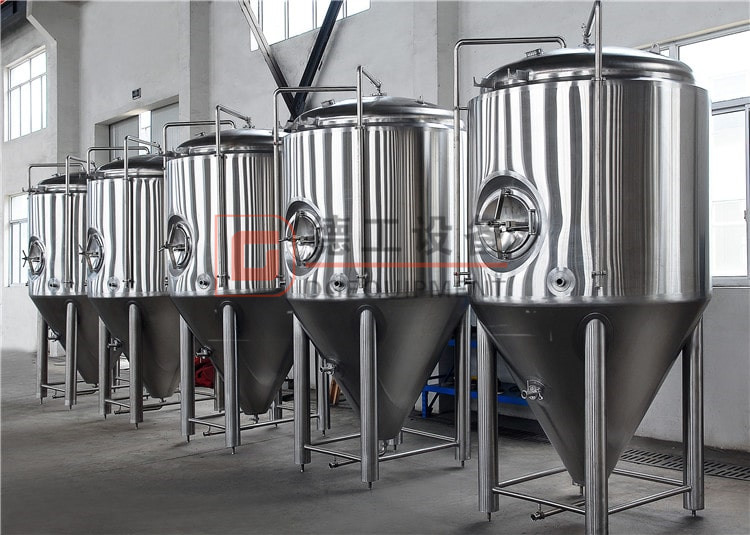 A line of stainles steel fermenter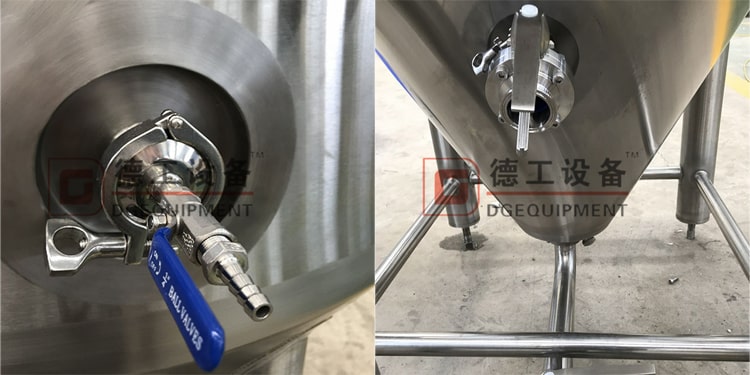 Conical bottom of fermentation tank
Food grade stainless steel accessories
Smooth welding and polishing 
Standard feature
304 SS or 316LSS Conical Fermentation Tankshave a60° Cone Angle.
30% head space at least for each tank
Motorized mash mixers, lauter rakes and spent-grain plow
ABB Siemens motors/pumps on the whole system
Stainless steel process piping, work cabinet and control cabinet
Siemens/Schneider/Omron electric element
Oversized heat exchangers,cooling system,heating element(element,steam generator)
Tempered all-glass manways
Grirst hydrator bowl with hot/cold liquor blending
8- to 10-in. steam condensation pipe with cool water jets and drain
Sight level indicators on fermenting system.
Insulated with a minimum of 80mm Chloride-Free PU Insulation.
#4 overall finish; exterior and interior.
Interior Finish: Overall polishing to 0.4 μm without dead corner
The interior of the shell is Professionally Passivated.
Adjustable Levelers provide a level tank regardless of floor slope; (4) total legs with (4) forklift accessible crossbars.
We will dispatch engineer to install equioment in your area.If you need,they will teach you how to brew beer
If you have interest in our equipment or you want to know more about beer brewing,feel free to contact us