Description
We design and build complete turnkey industrial-style craft breweries toyour specifications and future expansion. Breweries' reliable performanceis guaranteed with our deep experience of 10 years in building turnkey bigbreweries and proven brewing technology in various big and small breweries around the world.
1000L beer brewing system brewhouse introduction
A brewhouse consists of all the components that a craft brewery needs for the initial brewing stage. It typically includes a mash tun, lauter tun, boil kettle, whirlpool, hot liquor tank.
A two-vessel brewhouse is often made up of combinations of a mash/lauter tun and boil kettle/whirlpool tun, while a larger, more advanced three,four five-vessel system separates these components.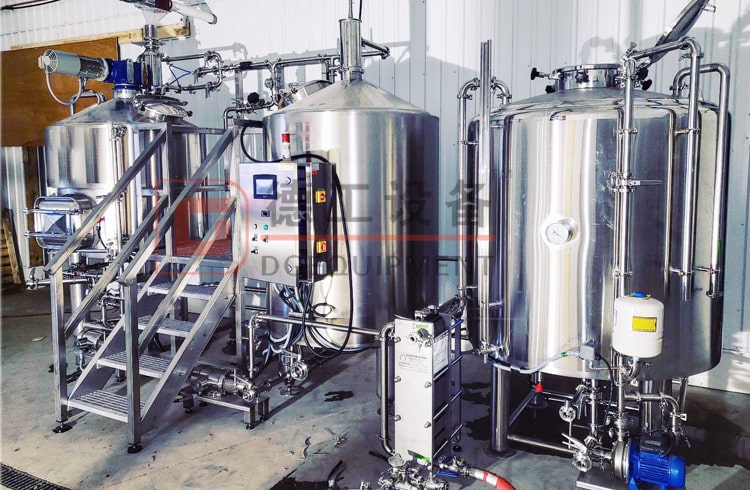 1000L beer brewing system, beer brewhouse construction
If you wanna mass production, you can also choose a 3-vessel or 4-vessel beer brewhouse
3-vessels beer brewhouse with "mash tank+lauter tank+boiling whirlpool tank" can produce 2-3 batches per day.

4-Vessels beer brewhouse with "mash tank+lauter tank+boiling tank+whirlpool tank" can produce 4-6 batchese per day.

Hot water tank as a optional item.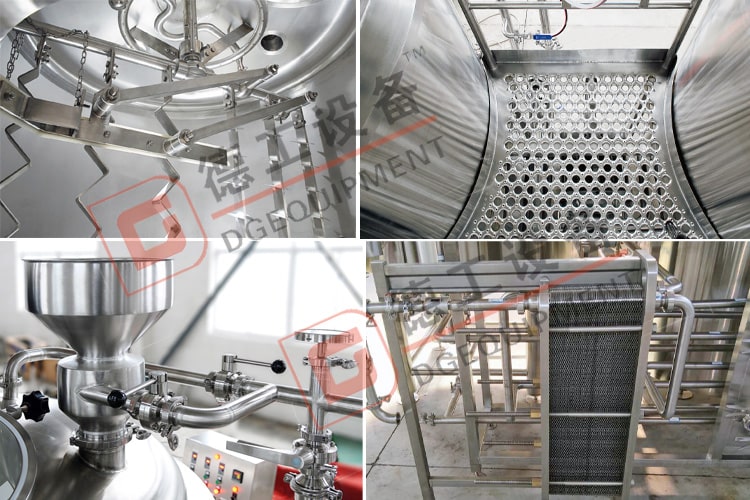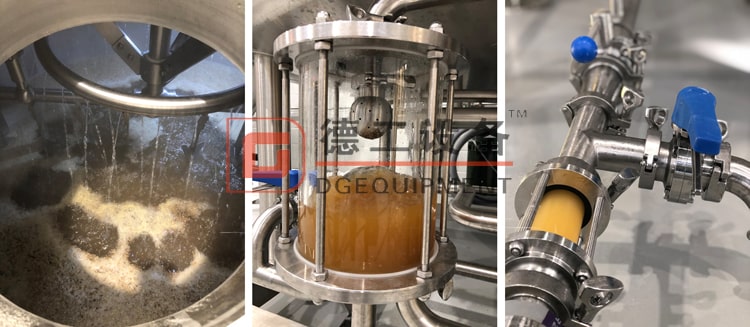 Detailed configuration of 1000L beer brewing system brewhouse: 
Milling: 2-roller or simplified 4-roller
Mash &Lauter tun: Brewing &sparging water blending port, VFD rake, with wort grant, mash hydrator, etc
Kettle & Whirlpool: Dimpled steam jackets or direct burning heating, as well as electric immersion heating
Hot Liquor Tank: Steam heating, direct burning or immersion electric heating.
Pumps: Lautering pump and whirlpooling/castout pump of VFD, HL pump
Piping: Tri-Clamp or DIN standard pre-built
Heat exchanger: 2-step or 1 step, with fittings such as thermometers, venturi aeration unit, etc
Brewhouse control: VFD, switches etc, Automatic Temp. control, etc

1000L beer brewing system fermentation system introduction
Our fermentation tanks are constructed using SS 304 or SS 316 as desired, designed as cylinder conical tanks with cone angle between 60 to 72 degrees. These tanks are equipped with dimple jacketed glycol cooling system and insulated with 50 – 60 mm poly urethane foam. Tanks are fitted with high quality solenoid valves that regulate tank temperature. The cooling surface includes the cone and cylinder area. Independent cooling for cone and cylinder areas can be optionally provided. All tanks are fitted with high quality RTD sensors for accurate temperature indications.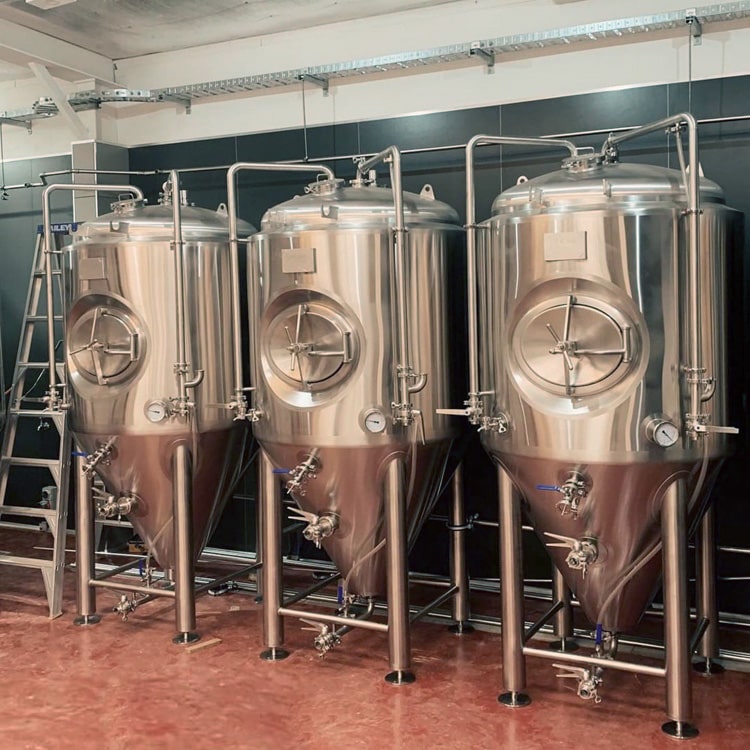 Beer fermentation tank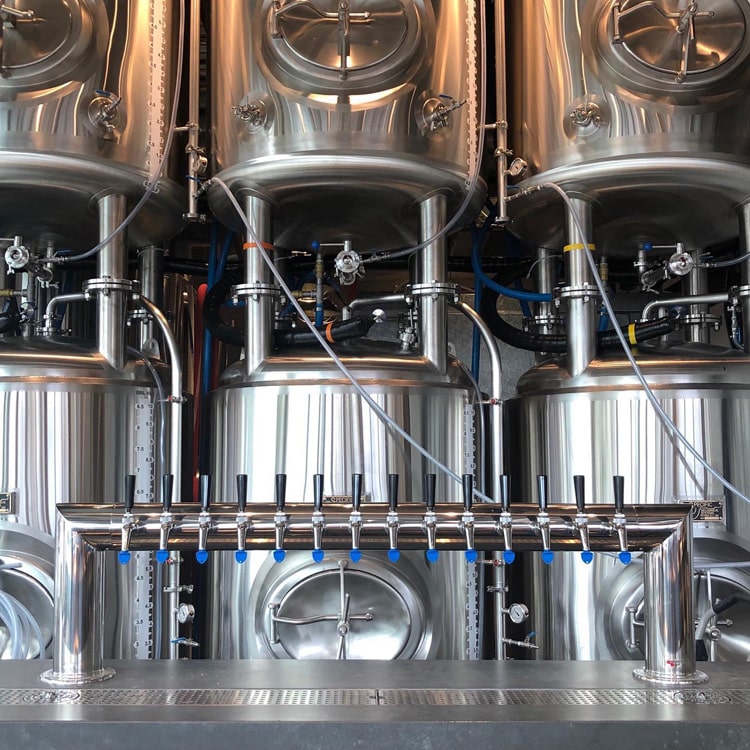 Beer bright beer tank/service tank in brewpub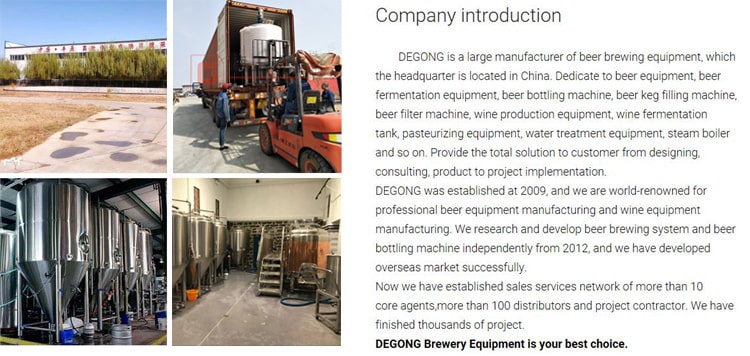 If you have interest in DEGONG 1000L beer brewing equipment,welcome to contact me freely.