Description
200L Mini Microbrewery is a set of technical equipment used to produce "fresh" and filtered beer. The brewing master makes beer attractive to consumers through unique brewing technology and unique beer taste. Many customers ask about home breweries, but they are not sure about the required capacity. The 200-liter beer brewing equipment is low cost and small in size. Suitable for brewing beer at home. In addition to stainless steel, interpreters may also face polished brass and copper. Similarly, if you want to put it in a brewery, so that visitors can observe the beer brewing process. This is an excellent internal design solution and a powerful marketing tool.
500L beer brewhouse equipment(3 vessel)
 200L Mini Microbrewery brewhouse more information
Material:Inner(SUS304),thickness:3.0mm
External-Jacket(SUS304),thickness:3.0mm
Cylinder(sharp type,SUS304),thickness:3.0mm
Inner surface treatment :weld grindede to Ra 0.6μm
Insulation: Polyurethane-thickness 100mm
Temperature way: Double metal thermometer
Outsourcing surface: Weld polishing processing
Jacket Pressure:design pressure 0.3 MPa,working pressure <0.2MPa
CIP 360 degrees Omni bearing cleaning
Wort pump:Stainless steel 304 food
Plate Heat exchanger:Completely 304SS corrugated plates
Operation platform: Platform frame is constructed entirely of stainless steel with a stainless steel diamond plate deck.A stainless waterright electronics enclosure is mounted to the back of the platform.Stairs are constructed of stainless steel diamond plate deck material.
Brewhouse details: side manhole, spent grain hatch, ABB motor, butterfly valves, PT-100, sight glass, raker, food grade pipe, leg and adjustable foot.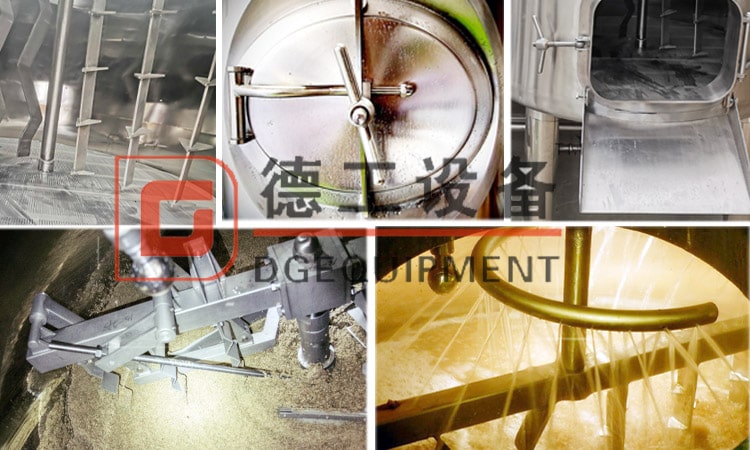 200L Mini Microbrewery brewhouse details
200L Mini Microbrewery fermentation tank more information
Interior Shell: SUS304 full welded; TH=3mm
Exterior Shell:SUS304 full welded; TH=2mm
100% TIG welding with pure argon gas shield
Interior Finish: Overall polishing to 0.6 μm without dead corner
Glycol Jacket: Dimpled plate on cone and side
Stringent tank leakage test by water and pressured gas
Stringent Jacket leakage test by water and pressured gas
Dished head and 60 degree cone bottom
Sanitary top mounted manway
CIP arm with 360° coverage CIP spraying ball
Full sanitary sampling valve
Mechanical relief valve 2 bar on CIP arm
Shockproof pressure gauge on CIP arm
Rotating racking arm and port on cone with butterfly valve
Tri clamp discharge arm with butterfly valve
Thermowell for high accuracy temperature sensor
3pcs completely SUS304 heavy duty legs with leveling pad and legs support
Complete valves, fittings and all parts
Level tube for special request
Carbonation port and stone for special request
200L Mini Microbrewery fermentation tank details
Chiller(refrigeration unit)
Bright beer tank front view and back view
DEGONG advantage
If you want to order beer brewery equipment, please contact me now! Thanks.