Description
Brewery machinery plant 15bbl overview
The best commercial beer equipment must have beer saccharification system. The performance of commercial beer equipment must be the best. We can make the best mash system, and it can be heated in a variety of ways. The heating method of mash system, there are electric heating, steam heating or direct fire heating.
The inner of mash tun:high-quality stainless steel, really firm and durable.
The cladding of brewhouse: stainless steel or copper.
100mm polyurethan as insulation layer.
This is the Grain Remove Door on our mash/lauter tun,it can collecting the spent grain and processing them in a unified way.
There is a chute under the door, it can reduce the spent grain splatter.
It's the Platform and steps of brewhouse.Stainless steel,in  superior quality.
The welding seam is finely treated, without deformation;
External surface brush treatment, in beautiful appearance.
The Pipe layout, opening position, etc. all meet the operational, site installation and visit requirements.
Round glass manhole, dish-shaped head.
 Customized beer brewing machinery systems
15BBL Microbrewery Equipment used for brewing the craft beer with commercial purposes for microbrewery, brewpub, taproom and restaurant.
The brewers will find it easy to brew an outstanding full-bodied beers like Ale, Lager, Stout, IPA, etc. by using our brewery equipment under guidance.
DEGONG offers the complete turn-key solutions consisting of malt milling, heating, controlling, installation, training and beer recipes.

Mash lauter tank+kettle whirlpool tank+ hot liquor tank brewing machinery
Features:
1.Applicable for the microbrewery, brewpub, taproom, restaurant
2.Automatic raking system
3.Accurate control system
4.Advanced design & Low cost to operate
Brewing machinery Clyindro-conical beer fermentation tanks available
Fermentation Tanks
Beer fermentation is the next step in the brewing process after the wort has been prepared.
Fermentation tanks hold the wort while yeast converts to sugar in the wort into alcohol and carbon dioxide. These tanks should have a cone-shaped bottom, which facilities the process of recovering the yeast for later use.
Jacketed fermenters allow you to control the mash temperature more easily, but they're also considerably more expensive.
The fermenters in a range of sizes, primarily for smaller breweries,range from 200L to 200HL.Quotes for other sizes are available upon request.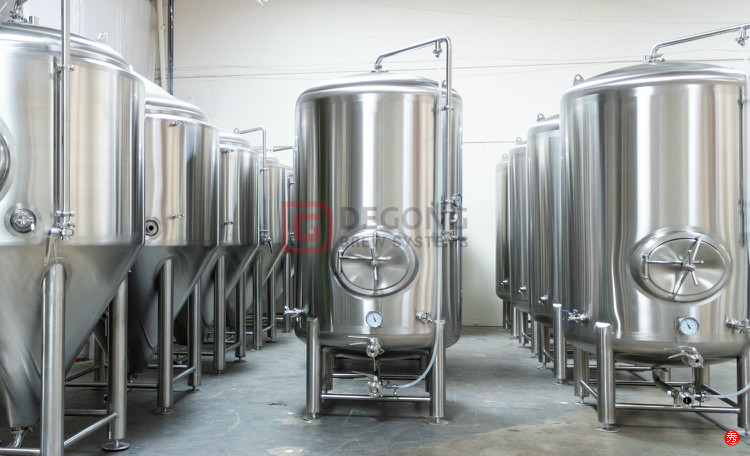 Secondary fermentation or brite tank
Brite Tanks
Beer is filtered and pumped into another tank known as a secondary fermentation or brite tank after the fermentation process is largely complete.
A brite tank allows the beer to further clarify and carbonate before being transferred into a bottle, can or keg for consumption. Some brewpubs also serve beer directly from a brite tank.
Operation brewing equipment
Microbrewing, craft brewing or commercial large brewhouses, we have the equipment, supplies & install engineers. Looking to find bottling lines and tanks for sale we have that covered.