Description
Temperature control is crucial in the fermentation process. Inaccurate temperature control may produce a large number of byproducts that affect the beer taste, so the fermentation process requires a professional refrigeration system to control the temperature in the fermentation tank.
DEGONG beer fermetation system is fully equipped sets with all equipment that is needed for the fermentation and maturation of beer. The set of equipment are equipped with beer fermentation Unitank,bright beer tank and all equipment that is needed for controlled cooling of the tanks during the fermenting of beverages.
1.Beer fermentation Unitank
Beer fermentation Unitank is an important part of brewing process.As the same suggests,it is used for beer fermenation.
2000l beer fermentation Unitank is welded with imported high-quality stainless steel materials, with the accuracy reaching the sanitary standard. The internal part is polished, the external part is polished with stainless steel, imported polyurethane high-pressure foaming and heat preservation, and the conical shape.
Beer fermentation tank
2.Bright beer tank
Our Bright Tanks feature an impeccable interior finish and an easy installation. Bright beer tank is used for beer maturation,storage and beer selling in brewpub,We have included many of the necessities such as a sanitary pressure gauge, stand pipe, and CIP arm with spray ball and all valves and piping so you can purchase with confidence. They also feature dual zone jackets for complete temperature control. Backed by industry leading 5-year warranty.
 Bright beer tank/service tank is restaurant/brewpub
3.Cooling system and control system
Compact water/glycol chiller with two digital temperature regulators, two temperature sensors, pump, cooler and heater.
The measuring and control system for temperature regulation in tank is buit-in the cooler.
The machine is fitted with two digital thermometer. The first thermometer allows to control the temperature in a glycol water tank. The second thermometer is connected to an external sensor and is used to adjust the temperature in the tank with beverage.
When the temperature changes, the circulation pump will automatically start. After reaching the desired temperature, the circulation pump automatically shuts off .
Adjustable pressure valve for controlled fermentation – Overpressure setting mechanism with a glycerine manometer (standard range of adjustable pressure inside the tank : from 0 bar up to 3 bar ) – it allows two processes in the same tank : primary fermentation + secondary fermentation (maturation)
Cooling dimple jacket – duplicators for circulating of coolant in the cooling jacket (one, two or more according type of the tank)
PUR insulation – polyurethane insulation with 100mm thickness according to the size of the tank and the target environment
Guaranteed inner surface roughness : Ra < 0.6 μm or less (grinded surfaces) / Ra < 0.5 μm or less (polished surfaces)
Service door (manhole) on the top cone or on cylinder part, according to customer requirements
CIP pipe – A multifunction pipe with a ball valve for connection of a shower head to the cleaning-sanitizing CIP station , the adjustable pressure valve with manometer, CO2 inlet
Sample valve – cleanable and sanitizable sampling cock for collection product samples
Safety valve – double-acting overpressure (standard = 3.2 bar) and vaccum protection (0.2 bar) Mechanical regulation valve – only pressure version of the tank
Thermometer socket – welded socket for inserting of thermosensor or thermometer (one or more according type of the tank)
Filling level indicator – Sanitizable glass or plastic pipe for visualisation height level of the beverage product in the tank
Adjustable feet – 3 or 4 legs with baseplate for accurate horizontal adjusting of the tank on an uneven floor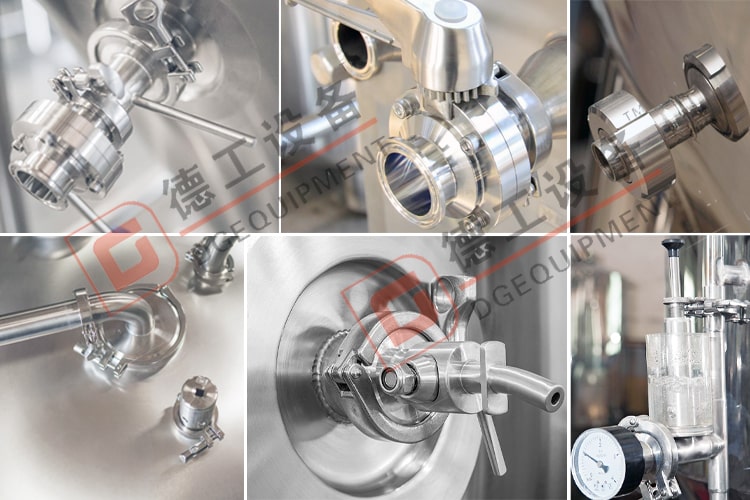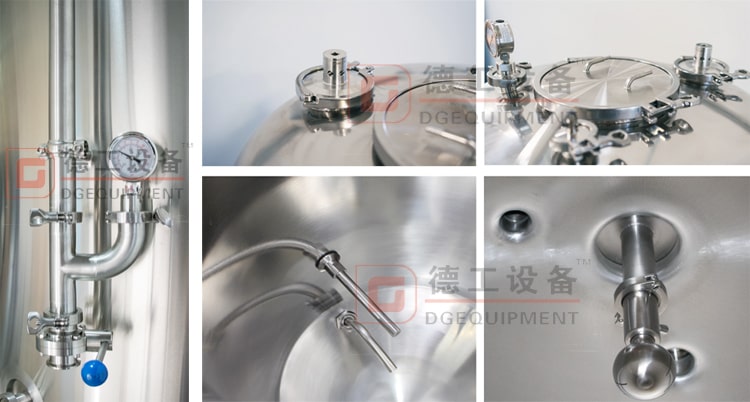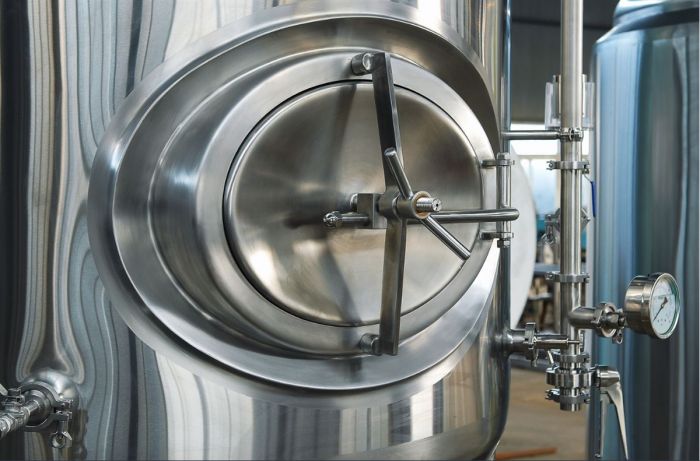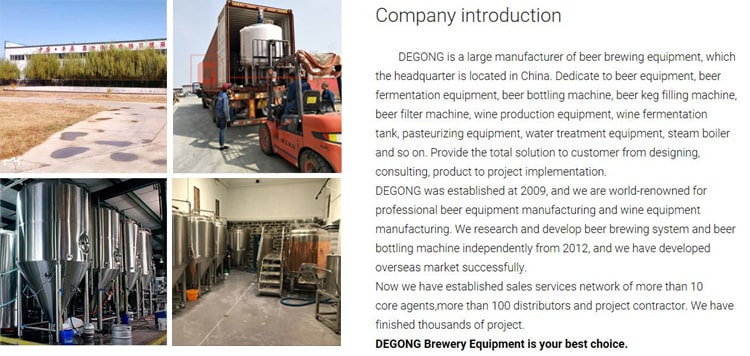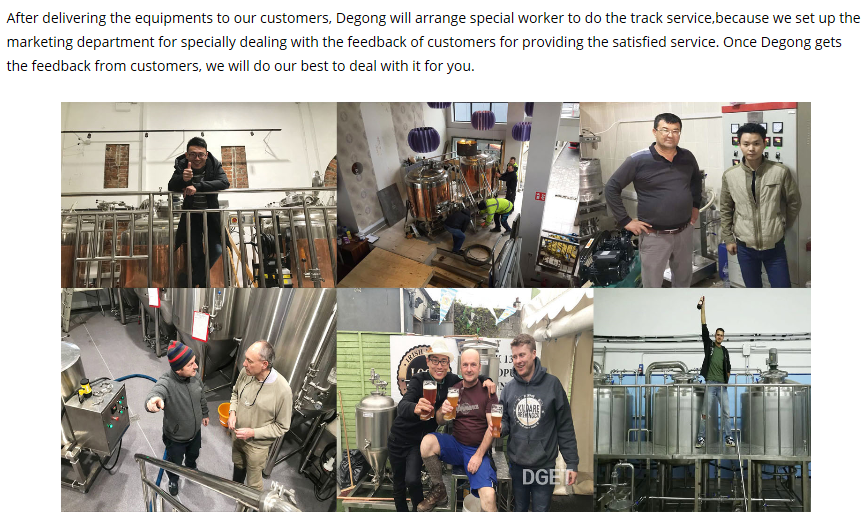 If you have interest in DEGONG beer brewing equipment,welcome to contact me freely