Description
One complete set of 1500L(15HL) craft All Grain beer equipment finished production and test, it just was delivered to our customer this week. The 1500L(15HL) beer making equipment based on brewhouse Mash/Lauter Tun + Kettle/Whirlpool Tun + Hot water tank. Our senior engineers specially tailored whole grain brewing equipment for customers. If you want to order customized brewing equipment, you can contact me freely to provide you with a full range of services.
Raw materials all grain brewing
The main raw materials for brewing beer are wheat, water, yeast, hops, corn. A set of All Grain beer equipment mainly includes 6 parts: mill system, mash system,fermentation system, cooling system, cleaning system and control system. Let's take a look at the components of whole grain brewing beer.
All Grain beer equipment brewhouse
The all grain brewhouse includes Mash Lauter tun, Kettle Whirlpool tun and hot water tank. This is one of the most popular brewhouse combinations today. The advantage: cost saving, high efficiency, and bring you huge benefits in a short time.
Brewhouse Feature
1. All Grain beer equipment material: SS304, the pipes through which the wort passes are all food grade.
2.There are three heating methods: Steam heated, electric heated and direct fire heated. Electric heating: The equipment is heated by electric heating pipes. Steam heating: The equipment is equipped with a steam jacket and a steam boiler is also provided(Steam boiler: electric boiler, diesel boiler, gas boiler) Direct fire heating: There is a boiler under the saccharification equipment to burn gas or coal. Now the direct fire heating equipment mainly burns gas. In foreign countries, the price of steam generators is extremely high.
3.Accessories: manhole, pipe, pump, spent grians hatch, ABB motor, sight glass, spary cleaning ball, raker, false bottom, temperature probe, four legs and four adjustable foots.
Details of Brewhouse
All Grain beer equipment fermentation system
Simply, the fermentation system is mainly composed of fermentation tanks,  serving tank and some accessories.
Fermentation tank feature
1. Appearance clean and generous and the equipment is bright; good insulation effect
2. Low energy consumption: environmental protection, energy saving, low powerconsumption.
3.The Maiyreya plate cooling jacket is double wall, the equipment is divided into two kinds of heat insulation and cold insulation, which is the best to ensure the temperature of the beer brewing process.
4.Control method: temperature control, voltage control and hand automatic control.
5.Yeast addind tank
Dry addition: Yeast and cooled wort are mixed under aseptic compressed air, the mixture is put into fermentation tank.
6.Accessories: pressure gauge, breather valve, solenoid valve, temperature sensor PT100, spray cleaning ball, mechanical regulator valve, sample valve, butterfly valve, four legs and four adjustable foots.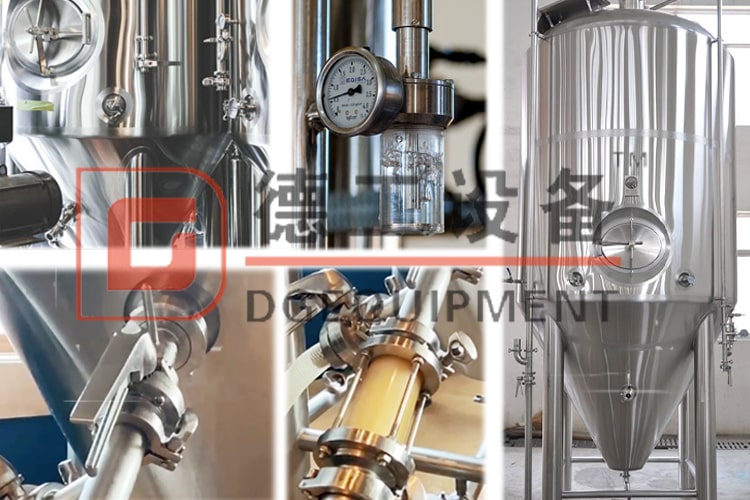 Details of fermentation tanks
DEGT advantages
If you want to own your own beer brand or establish a brewery, please feel free to contact me.