Description
Home Made brewing equipment equipped with semiautomatic control panel. Staff training occurs during installation of equipment,  test brews. The system heating can be steam heated,electric heated or direct fire heated and controlled by manual,semi-automatic or full automatic.The mainstream of two-vessel brewhouse is steam heated and semi-automatic controlled system.
5BBL Brewhouse unit
Control system
Electrical controlling cabinet with temperature, on-off controlling for brewhouse

Electrical controlling cabinet with temperature, on-off controlling for cooling parts
Temperature controller, thermocouple, solenoid valves etc
PLC with touch screen panel for special request
Beer brewing process
Mill grains→grist→grist ia mixed with brewing water(mash tun )→wort→lauter tun→kettle→adding hops→whirlpool→cooling→pitching yeast→cold wort→plate heat exchange→pump→hose→fermentation tank(primary fermentation)→adding yeast→green beer→bright beer tank→beer
Product feature
1. Appearance clean and generous and the equipment is bright;
2. Good insulation effect:,The equipment has two kinds of heat insulation and cold insulation, which is the best to ensure the temperature of the beer brewing process;
3. Low energy consumption: environmental protection, energy saving, low powerconsumption.
4.Accessories: top/side manhole, ABB motor, sight glass, spent grains hatch, false bottom, raker, solenoid valve, mechanical regulator valve, butterfly valve, pressure gauge, breather valve, cleaning ball, adjustable foot and legs.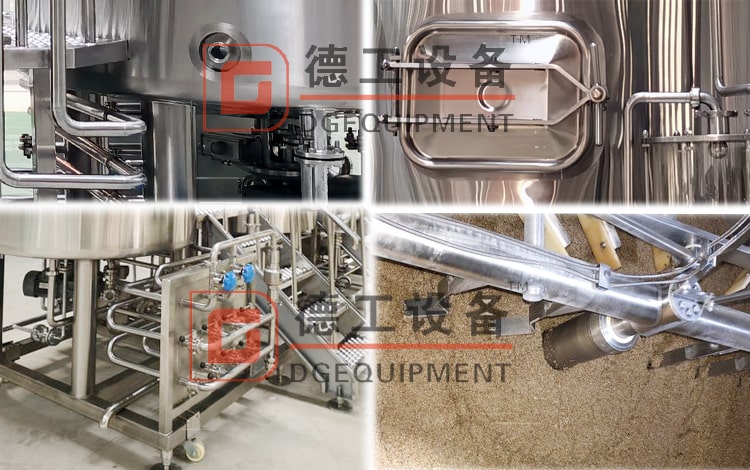 Brewhouse unit details
Fermentation tank details
If you are interested in brewery equipment, please contact me freely.