Description
Beer Equipment To Make Craft Beer brewing process
Mill grains→grist→grist ia mixed with brewing water(mash tun )→wort→lauter tun→kettle→adding hops→whirlpool→cooling→pitching yeast→cold wort→plate heat exchange→pump→hose→fermentation tank(primary fermentation)→adding yeast→green beer→bright beer tank→beer
Beer brewing system of Beer Equipment To Make Craft Beer
Mill system
Malt crushing equipment used disc type mill or roller mill.The size of particle can be adjusted.
7BBL Brewhouse(3-vessel) configuration:
Mash/Lauter tun
Mash is an important factor that affects the composition of wort, and the composition of wort is one of the important factors that affect beer fermentation, beer filtration performance and taste stability. In the mash tun the grist is mixed with brewing water from hot water tank to form the mash. In the lauter tun the wort is seperated from the solids
Kettle/Whirlpool tun
Kettle is used for wort boiling. Attention! Hops are added in the first 5 minutes to reduce oxygen content, in the last 5 minutes to increase the taste. Whirlpool is created by circulating the wort. The solids consist of protein and the hops roughage.
Hot water tank

The main function of the hot water tank is to provide enough hot water during the saccharification process.It can improve the efficiency of saccharification.
Brewhouse three heating method (Optional customer's prefer)
Steam heating:electric boiler, gas boiler, diesel boiler
Electric heating: electric heating tupe
Direct fire heating: burn natural gas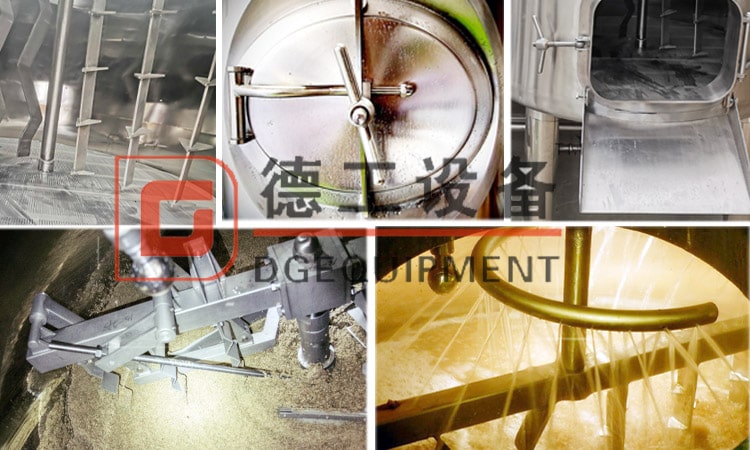 Brewhouse details:Raker, side manhole, spent grains hatch,ring pipe etc.
Fermentation system of Beer Equipment To Make Craft Beer
The fermentation of beer is a complex process, mainly divided into two stages: aerobic respiration and anaerobic respiration. Aerobic respiration is to increase the value of yeast, and anaerobic respiration is to produce ethanol and CO₂. The main metabolites of yeast are ethanol and CO₂.
Fermentation tank configuration 
Interior Shell: SUS304 full welded; TH=3mm
Exterior Shell:SUS304 full welded; TH=2mm
100% TIG welding with pure argon gas shield
Interior Finish: Overall polishing to 0.6 μm
Insulation: Polyurethane; TH=80mm
Glycol Jacket: Dimpled plate on cone and side
Stringent tank leakage test by water and pressured gas
Stringent Jacket leakage test by water and pressured gas
Dished head and 60 degree cone bottom
Sanitary top mounted manway
CIP arm with 360° coverage CIP spraying ball
Full sanitary sampling valve
Mechanical relief valve 2 bar on CIP arm
Shockproof pressure gauge on CIP arm
Rotating racking arm and port on cone with butterfly valve
Tri clamp discharge arm with butterfly valve
Thermowell for high accuracy temperature sensor
3pcs completely SUS304 heavy duty legs with leveling pad and legs support
Complete valves, fittings and all parts
Level tube for special request
Carbonation port and stone for special request
Fermentation tank details: sight glass, spary cleaning ball,raking arm, butterfly valves etc.
Bright beer tank configuration 
Bright beer tank is used in brewpub, restaurant or hotel. The BBT is used to age beer according to brewer's specific requirements. It has the carbonation stone which allows you to infuse the Co2 into beer. The BBT can be horitontal brite tank if requested. It is glycol water jacketed and PU insulated.
Bright beer tank details pictures
Cleaning system
CIP mobile washing disinfection system, automaticalty clean and remove residues, it can prevent microbial contamination, and avoid the influence between batches.
Control system
This system includs crushing,mash, fermentation, filtering, CIP, cooling, packaging and other auxiliary control system. DEGT control: automatic, semi-automatic.
If you want to get more information about beer equipment, please feel free to contact me.