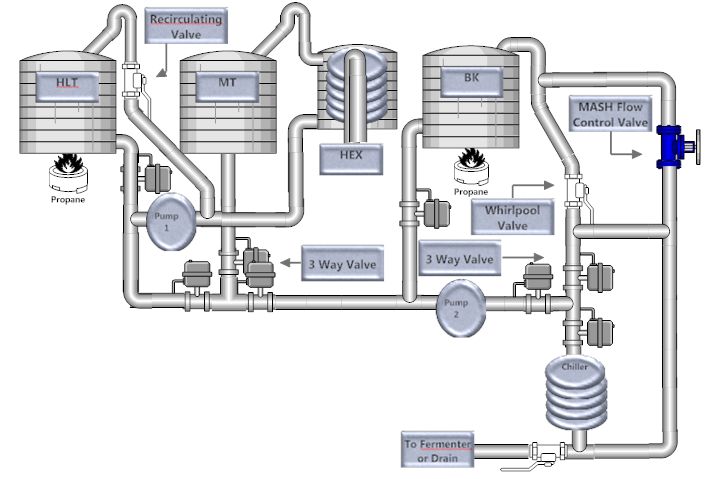 Part 1:
Make an initial communication with your brewery system supplier
You must collect some necessary information and make a general plan of your microbrewery business. Then you are able to talk about your idea with your micro brewery equipment suppliers. They will feedback you if your idea is workable. Most of the equipment suppliers like us have a standard configuration of the whole beer system which they think is reasonable and common. You must get a professional and detailed equipment list. It will very helpful for you to get full information of your brewing equipments. Of course, this equipment list just give you a top view of the whole system. There should be something which is not suitable or customerized for you. So we should talk more.
Part 2:
Work out what you want for your own micro brewery equipment
Pick up the items from the equipment description which you are going to make special design. Make a list of them and show your own idea in the list. For example, the micro brewery brewhouse system in the standard equipment list is steam heated which you may like directly fire. The steam boiler is a problem in a lot of area because it is too expensive and complicate installation. Tell to the representive of the beer equipment supplier. They will design it into directly fired brewhouse and show you their design. Another concern such as the cladding material is customerized too. You may like a copper cladding to make your brewpub more luxury while the list is with stainless steel. One by one, you will figure out a customerized equipment list according to your idea. Please remember, only spend time on the equipment list which you think everything is clear and exact. An upside-down or inaccurate brewery equipment list only waste your time and bring you to a big confusion.
Part 3:
Make sure your brewery system is designed by professional technician.
Nowadays, most of the communication happens by email. What you say about the beer equipment design perhaps or sure is another understanding if the communication is only by 'words'. What is more, doing business with Chinese companies always have some trouble with language and value philosophies. Most beer equipment designers will supply some technical drawings for your system, such as brewing tanks drawing which show you every parts of the tank, the mashing flow chart which show you the brewhouse pipe connections, the floor plan which show you the system dimensiono in your brewery and even some loading drawing to save you money for sea transportation. If your craft brewing equipment is very special and you don't know 2D drawings very well, some suppliers may design the 3D drawing to show the brewery design visually. Of course, it will spend a lot time to design 3D drawing for the technicans. Things are better if you have chance to visit your suppliers and talk your idea face to face. Or please do spend more time to make sure the brewery machine design is what you want.