Description
7bbl beer making equipment to sell
We understand your need:
We help our client to set up micro brewing plant and also help out them in the arrangement of microbrewing needs,
Manufacture your microbrewery plant according to your need
Installation of plant
Production of beer
Dispense your beer from Tap
Available brewhouse customize beer making equipment
1. Water + malt + hops + heating energy = wort
Within the brewery best brewing water and light/dark barley malt or wheat malt are being mashed, heated in several steps and finally purified.
The result of this process is sugary wort which is then cooked with bitter and aroma hops. The brew is done after about seven to eight hours.
2. Wort + yeast + cooling energy = beer
Within the fermentation tank, cooled wort is mixed with top-fermented and bottom-fermented yeast which then leads to the sugar being transformed to alcohol and carbonic acid.
The typical beer aroma forms during maturation at about six degrees under pressure. Your beer is ready for consumption after three to four weeks. It can also be filtrated if needed.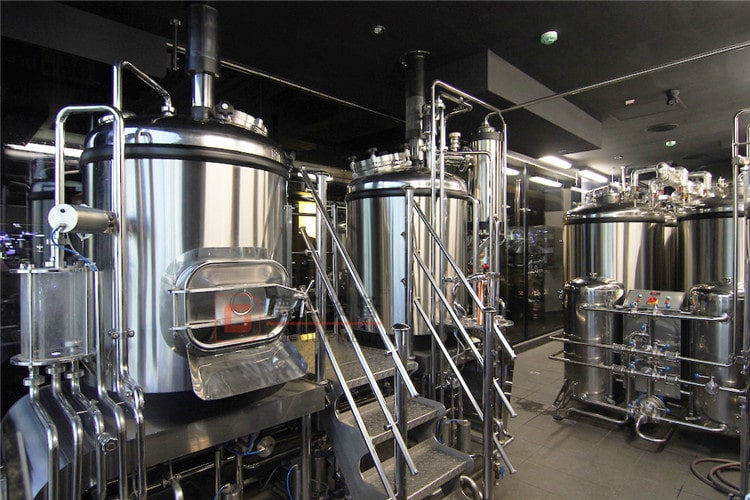 7BBL beer brewing equipment brewhouse with glass wort grant 
7bbl brewhouse system
---
Material: Premium 304 stainless steel(AISI 304 as option)
There are a different ways to configure a 7 bbl brewery.  Our 7bbl brewhouse features:
Insulated mash tun with rakes, plow and grist hydrator
Glass wort grant with automated pump controls
Hard piping and working platform
Stairs with handrail for easy and safe access
On demand water supply control optional
We offer systems with various heating methods including electric, steam and gas fired brewhouses. We also offer various control methods, including  basic or advanced touch-screen panels, a variable-speed pump option and many more.
Other brewhouse sizes to consider:
5 bbl brewhouse
10 bbl brewhouse
15 bbl brewhouse
20 bbl brewhouse
30 bbl brewhouse
7BBL brewery fermenters side manway beer brewing equipment
7 bbl brewery beer fermenter
---
Material: Premium 304 Stainless Steel
Features of this 7 bbl fermenter:
Side Manway for easy cleaning
Racking Arm allowing for separation of clear beer
2 glycol zones (cone and side wall)
Butterfly valves
CIP spray ball and pipe
NPT fitting
Top ports for pressure relief valve and dry hopping
Working pressure = 0.15Mpa;  test pressure = 0.3Mpa
Stacked serving tanks can be save floor space
DEGONG provides complete beer brewing solutions that include:
We provide direct dealing for microbrewery, craft brewery, Industrial or commercial brewery plant.
Design support and facility planning for brewery
Supply and installation of brewery equipment
Fine-tune and testing of equipment
Talk to us about your requirements and we will design a system to work for you and your company.