Description
DEGONG can design and manufacture beer brewing vessel/tank for commercial used or restaurant/brewpub/bar used….All of beer brewing vessel/tank is customized according to your requirement,such as material,brewhouse confirugration,heating method and so on.If you don't know more about the beer production project,you can tell our engineer your application,your brewing plan…..so we can give you the most professional suggestions.
Component of the beer brewing vessel/tank
                                                                                                                              Component

Malt Milling

Particle adjustable rolling crusher
Flexible or steel auger to directly lift the milled grain to mash tun

Brewhouse

Mash tun, Lauter tun, Boiling Kettle, Whirlpool tun in various combination
Hot water tank and cold water tank for optional in special combinations
Stainless steel are popular because of easy maintenance and clean, copper cladding for optional
Two stages or single stage heat exchanger for wort cooling
Completely stainless steel integrated work platform
Sanitary and efficiency wort pump
All pipings and fittings
Grant /hop guns for filter or storage first wort
Wort oxygen system
Optional heating style of steam, electric and direct fire for brewhouse tanks

Fermentation tank

Standard stainless steel conical cylindrical fermentation tanks
Single size or double size as brewhouse
Tanks quantity is exactly calculated by fermentation cycle for various beers
All manhole, valves, pressure gauges, fittings etc are included

Beer Filter

Craft beer is no need filtration which will keg filling for quickly consumption
Plate-Frame or Candle type DE (diatomite earth) filter is used for clarify the beer

Bright Beer Tank

Standard stainless steel bright tanks for beer maturation, conditioning, service, carbonation
Single size or double size as fermenter
All manhole, valves, stone, gauges, fittings etc are included

Cooling System

Insulated glycol water tank with or without copper coil for glycol liquid holding and mixing
Efficiency chillers or refrigerators with fryon to supply cooling energy
Sanitary centrifugal pump for glycol water recycle among tanks and heat exchanger
All pipes, fitting, insulation materials are included

Controlling Unit

Electrical controlling cabinet with temperature, on-off controlling thermocouple, solenoid valves etc are included
PLC with touch screen panel for special request
PLC control panel with Siemens,Omron,Schenider element,and accord with EU standard
VFD controlled reducer and wort pump

Beer Dispense

Keg filling and rinsing machine
Semiauto bottling machine with rinsing, filling, capping, labeling etc
Flash pasteurizer or tunnel pasteurizer is available

Other Facilities

Portable or fixed CIP system for cleaning the tanks
Steam boiler for brewhouse heating
Water treatment for brew water
Oil free air compressor
Brewery lab instruments for beer quality test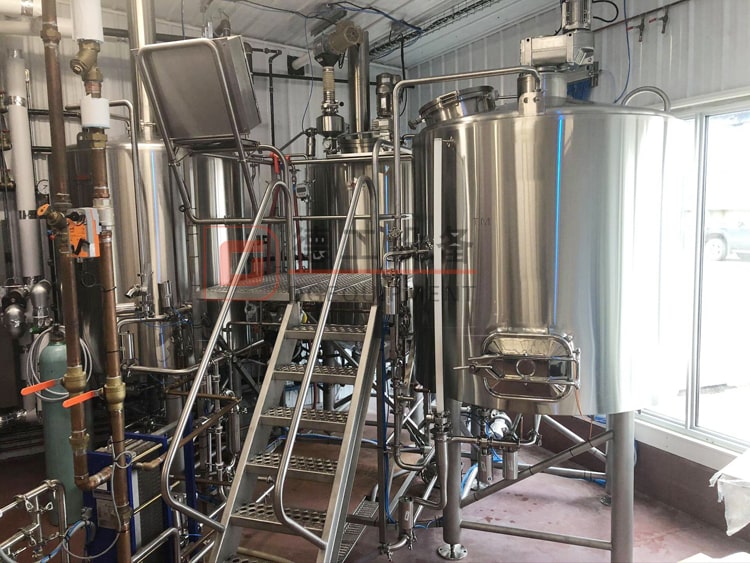 3 Vessels beer brewhouse:Mash/lauter tank+Boiling tank+whirlpool tank-beer brewing vessel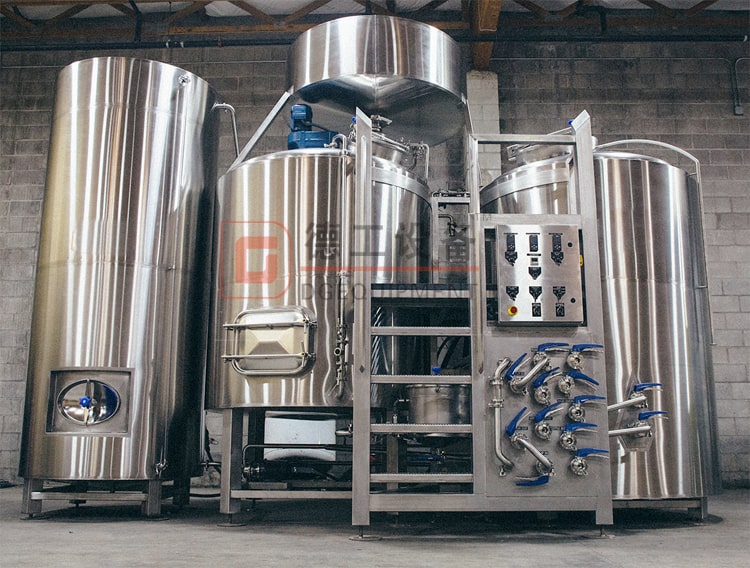 2 Vessels beer brewhouse with double hot liquid tank-beer brewing vessel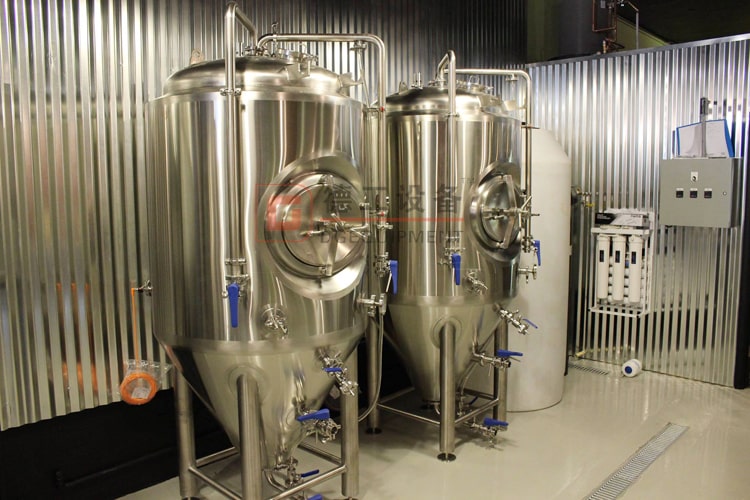 Fermentation tank-Unitank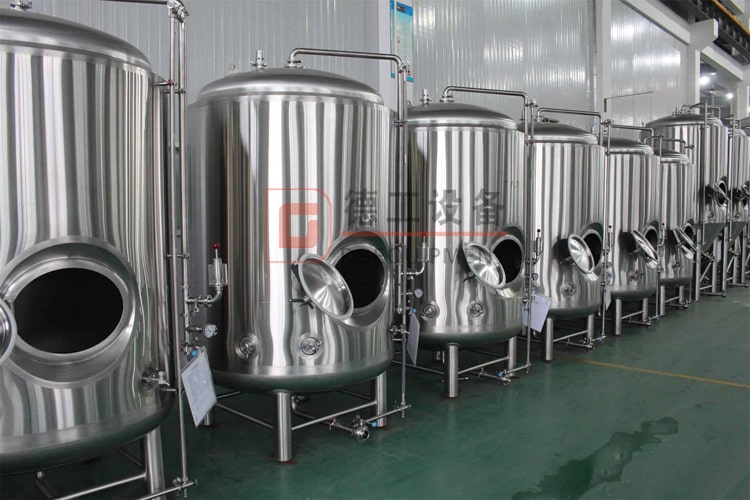 Bright beer tank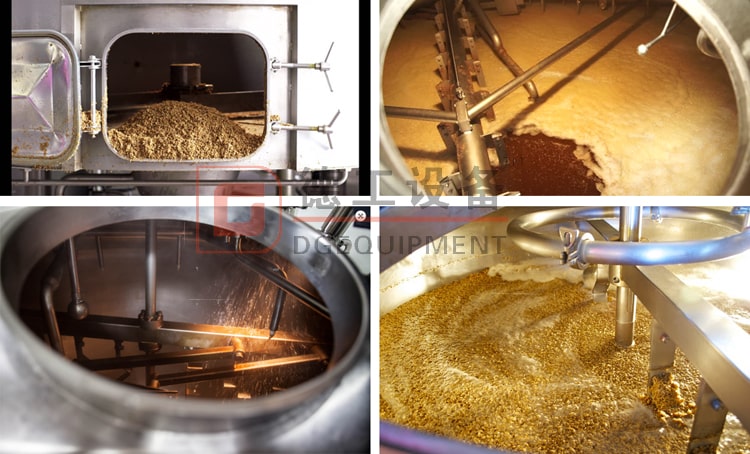 Mash&Lauter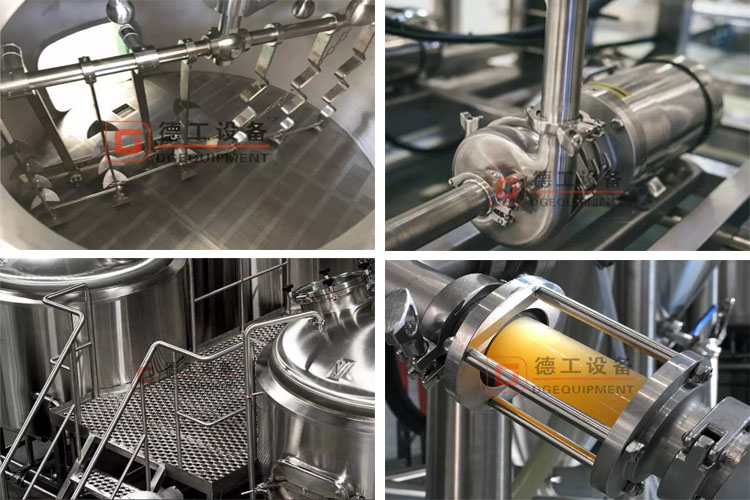 Brewhouse details
Features of beer brewing vessel/tank
100% TIG welding with pure argon gas shield
More competitive price and better quality
CE, ISO, TUV approved equipment
More humanized design which allow you to operate easily
Compact design saving your space
All the materials touching the beer directly are all top quality food grade stainless steel.
We use the first rate valves and manholes for all our equipments.
I am here to guarantee all our customers that the materials are nonmagnetic.
The thickness of the material exactly fit in with what showed in the specification sheet.
If you are a new comer to the beer making field, Don't worry, I will give you our professional recommendations. And the equipment must be top quality engineered.
Engineer is always available to make the relative 2D and 3D drawings for you for your reference.

Wooden packing or Frame Packing to avoid demaging during transportation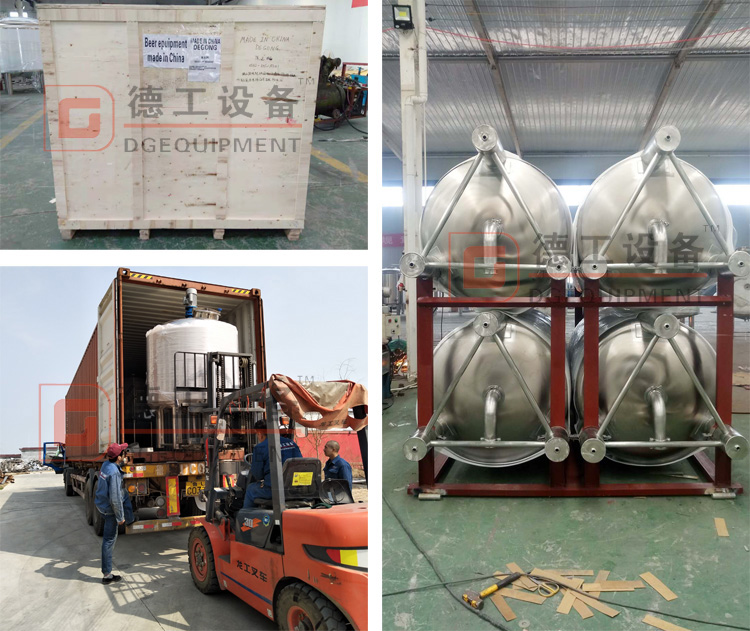 After delivering the equipments to our customers, Degong will arrange special worker to do the track service,because we set up the marketing department for specially dealing with the feedback of customers for providing the satisfied service. Once Degong gets the feedback from customers, we will do our best to deal with it for you.