Description
1200L Nano Microbrewery brief introduce
Material : SUS304/SUS316/red Copper
Application:Brewpub Beer Brewery Restaurant
Function:Brewing beer
Shell:Mirror Polished/Brushed
Brewhouse System:2 vessels, 3 vessels, 4 vessels
Heating method:Electric/Steam/Direct fire Heating
Heat preservation method:Polyurethane insulation
Cooling System:Glycol/cold water tank&Chiller
Control System:PLC
Inner Body Thickness: 3.0mm, outer shell is 2.0mm
Nano Microbrewery mash system
The 1200L brewhouse system includes 3 tanks(mash/lauter tun, boiling/whirlpool, hot water tank), please check the details in the following chart.
Combination Optional:
Mash/lauter tun+boiling/whirlpool tun
Mash tun+lauter tun+boiling /whirlpool tun
Mash/lauter tun+boiling tun+whirlpool tun
mash/boiling tun+lauter tun+whirlpool tun
Mash tun+lauter tun+boiling tun+whirlpool tun
The heating method of brewhouse can be steam,electric,direct fire.
Steam: Dimple plate jacket with inlet/outlet fittings for Steam heat transfer;
Electric: Use electric heaters in jacket to heat the medium in the jacket;
Direct fired: Use gas burner at bottom to heat tank directly.
With plate heat exchanger, wort pump,hot water pump, operation platform,raker with ABB VFD motor, false bottom, sight glass, food grade pipe,CIP spray ball, top glass manhole, spent grains hatch.
Various mash system for your choice
mash system details
Nano Microbrewery fermentation system:
Inner wall stainless steel 304, 3.0mm;
surface wall stainless steel 304, 2.0mm
Dome top, conical bottom,
Top mounted manway
Insulation: polyurethane 100mm
Glycol cooling jackets on both cylinder and cone
With Inside 360 degree rotating CIP washing ball,CIP arm,Pressure gauge,relief&vacuum valve on top,dry hops port on top,sample valve,raking arm,thermometer(temperature PT100),carbonation stone (optional)
100% TIG welding with pure argon gas shield
Interior Finish:Mirror polishing to 0.4~0.6μm without dead corner
Testing pressure: 3 bar, working pressure: 1.5 bar
mirror fermentation tank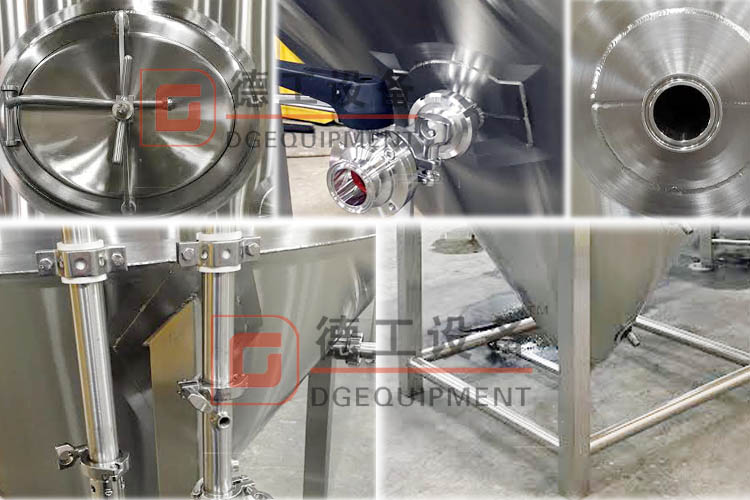 fermenter details
Optional Nano Microbrewery
Beer bottling line: bottle washing machine, filling machine, capping machine,
pasteurization tank, labelling machine.
Kegs washer and filler.(one head or double head)
Beer kegs(20L,30L,50L…).
Steam boiler.(steam heating)
Reference:
1.For electrical elements part, we use SIEMENS, SCHNEIDER, DANFOSS, OMRON, ABB….etc.
2.We have the capacity of 100L, 200L, 300L, 500L, 1000L, 1200L, 2000L, 3000L, 5000L, 8000L…(1bbl, 2bbl, 5bbl, 10bbl….) per patch for your choice.It can be customized, such as the capacity(dimension can be customized), material(stainless steel 304/316 or copper), voltage(like in China 380v, 50Hz, 3phases), heating source(electric, steam or direct fire heating), etc.
3.The brewer can also brew draft beer, pale beer, brown beer, stout beer etc.
Company profile
We, DEGONG are a professional manufacturer and leading supplier of good quality beer brewing system, ranging from 50L-20000L per patch (used for home, pub/hotel, factory, etc.) at a competitive price, with product design, production, sales, and installation support. We have been exporting beer brewing tanks to many places like USA, Canada, Ireland, Germany, Finland, Belgium….etc. Engineers are available for Overseas service. Provide installation, commissioning/testing, maintaining and personal training, beer production technology.
If you have interest, please feel free contact to me. Come on!!!