Description
Brewery system with steam heated brief introduce
The whole set equipment is made of SUS304 stainless steel.The cooling jacket adopts dimple jacket. The jackets are provided at tank body and conical bottom to effectively increase the cooling speed. Heat exchanging area of jacket of different proportions can be allocated according to customers' technological requirements. Widly used in brewery,bar, hotel etc.
Brewery system with steam heated overview
Mill system
(mill machine) Malt and grain raw materials can be well dissolved after being crushed, and the crushing quality plays an important role in the composition of wort, wort filtration and raw material utilization in the mash process.
stainless steel mill machine
Brewery system with steam heated brewhouse
Mash tun, Lauter tun, Boiling tun, Whirlpool tun in various combination
Hot water tank and cold water tank for optional in special combinations
For 1500L brewhouse, we recommend mash/lauter tun+boiling/whirlpool tun+hot water tank
Stainless steel cladding is even the unique,easy maintenance and clean
Two stages or single stage heat exchanger for wort cooling
Completely stainless steel integrated work platform
Sanitary and efficiency wort pump
All pipings and fittings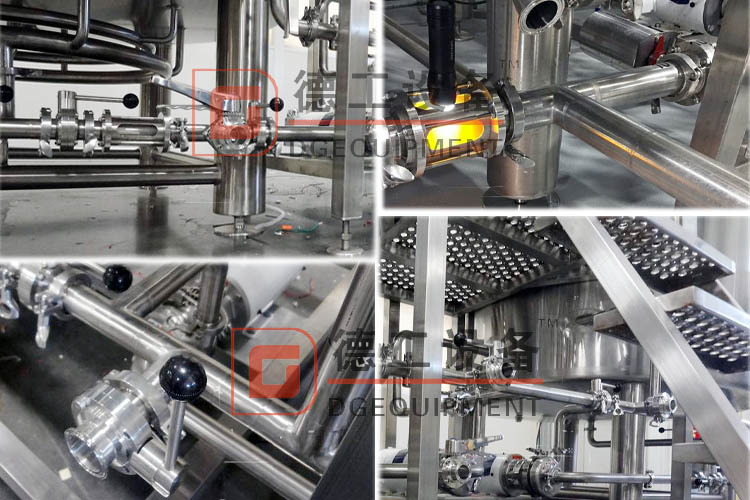 brewery system with steam heated pipe connection details
Brewery system with steam heated fermentation tank more information
Material:stainless304/316
Racking Arm and discharge port with butterfly valve and fittings;
dimple plate cooling jacket.
Insulation thickness: 100mm;
Inner tank thickness: 3.0mm; outer thickness:2.0mm
CIP arm and rotary spray ball
Release and breath valves
sample valve, mechanical pressure regulation valve
Pressure gauge & Thermometer & Sample valve
Dimple plate cooling jacket with glycol inlet and outlet
Four legs with brace and adjustable bolt
Inner body polishing ratio 0.4μm. Out plate surface protection welding line Belt Sander Polished,welding: 100% Argon Arc welding.
fermentation tank details
Cooling system
Function: Used for cooling wort in heat exchanger,cooling wort in fermentation tank in the fermenting period.
Component: Ice water tank, solenoid valve, glycol water ump, stainless pipeline and etc.
Cooling method: Two stage cooling (Glycol water and tap water work cooling).
Control method: Automatically by PLC controller cabinet.
the cooling system includes refrigeration units, circulating pumps, etc
glycol water tank & chiller