Description
Industrial beer brewing system features:
Higher wort wort extract
Lower energy cost and material consumption
Auto temp control for water, steam, wort, beer flow etc.
Well designed steam system to increase heating efficiency and lower energy lost
More reasonable piping construction to avoid the wort aeration problem and decrease the material lost
Internal heater for separate kettle, working with cylinder and bottom jacket for better boiling effect.
Cooling unit for current use and well prepared for future expanding
Automation system with curve indication and production record printing, with recipe storage function, clients can create new recipe as the exact production requirement.
Fresh yeast supply or fixed yeast propagation unit
Whole package line well planned.
---
Industrial beer brewing system basic configuration
Grain handling: all grain handling unit including mill, malt transfer, silo, hopper etc
Brewhouse system: two,three,four vessels, the whole brewhouse unit,
Fermentation system: fermenter, storage tank and bright beer tank, for fermentation of different kinds of beer
Cooling: Chiller connected with glycol tank for cooling, Ice water tank and plat cooler for wort cooling
CIP: CIP with wheel(easy to operation)
Filtration: Diatomite filtration, membrane filter, Plate frame filtration unit etc.
Compressed air unit and N2 generator, all piping line connected with system
Yeast: Yeast storage tanks or Yeast propagation system
Industrial beer brewing system fermentation system
Conical fermentation tank technical parameter
4 stainless steel legs with leveling footpads
Interior shell: 304 stainless steel, thickness 3mm
Exterior shell: 304 stainless steel, thickness 2mm
Interior and exterior finish bright polish to 0.4um, hygiene surface
60 degree cone bottom, other angles can be specified during the design process
Combined drain extensions and beer port in cone are standard
Top manway or side manway door
Dual zone in sidewall and cone dimple cooling jacket with glycol inlet and outlet
Polyurethane insulation thickness 80mm for cooling jacket on side and bottom
Fully welded exterior shell
Non welding CIP arm and rotating 360 degree reach spray ball
Solenoid relief valve, pressure relief valve (safe valve) are standard
Pressure gauge
Temperature sensor well
Sanitary sample valve and port
All clamps and gaskets to attach all accessories
sample valve, carbonation stone, mechanical regulation valve, side manhole
the parts of beer conical fermenter
Horizontal tanks technical parameter
Effective capacity:3000L (30HL)
Material:SUS316L or SUS304
Interior Shell: 2B/mirror plate; TH=3mm
Exterior Shell:2B/mirror/brushed plate; TH=2mm
60 degree cone bottom(adjustable);
Dimple jacket or dribbling cooling ,PU insulation,TH=80-100mm
Tank equip with lifting leg,solenoid valve or mechanical redulator valve,manhole(top or side),
sample valve,temperature sensor, adjustable leg,beer mouth, discharging outlet,coolant inlet and outlet,CIP inlet and outlet,360 degree cleaning ball, pressure gauge.
Option:CO2 filling device with titanium rod distributor;level gauge
Stainless steel horizontal tanks
3000L (30HL) horizontal tanks characteristics
100% TIG welding with pure argon gas shield
The pipe mouth stretch technology and automatic tank welding equipment ensure the tank with no dead angle,
no material residue and easy to clean
Tank polishing precision ≤0.4um,no distortion, no scratches
Tanks and cooling devices are tested for water pressure
3D technology application make customers understand tank from different angles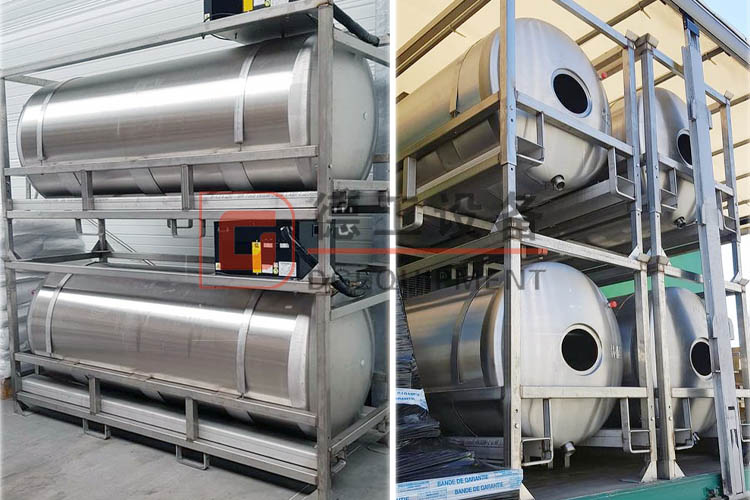 horizontal tanks details
If you have interest, please feel free to contact me.