Description
Looking to start a beer brewery plant or upgrade your existing brewhouse? We have quality made brewhouses at affordible pricing! DEGONG Beer brewery plant Designed for quality beer, flexible brewing space layout and budget friendly priced. Our brew system meets the highest quality sanitary standards in construction with 304 stainless steel material and exclusively designed for professional brewers. All materials are 304 stainless steel, sanitary welded and polished Ra 0.4um.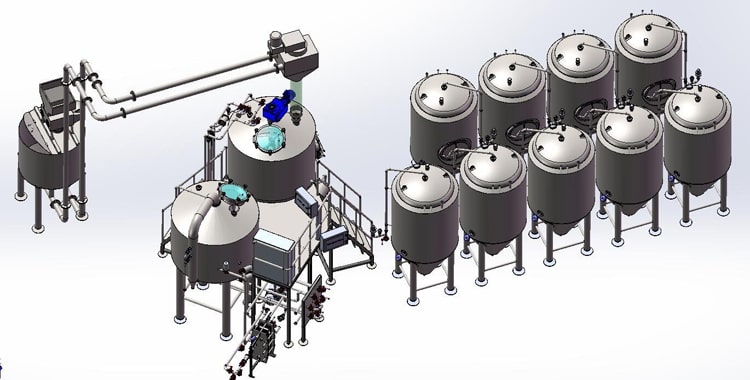 What does a complete 500L beer brewery plant contains
500L brewery equipment usually is placed in restaurants, pub, bars, hotels or independent brewing room, which is common and popular in some European countries.
The six basic brewing system contains malt miller,brewhouse,fermentation system,cooling system,control system and CIP system.Brewhouse/beer mashing system and fermentation system is the most important two part in the beer brewing progress.
Beer brewhouse/beer mashing system:
Our brewhouse system is designed to serve craft brewers for producing high quality beer efficiently. Brewhouse is made of premium quality food grade stainless steel 304, integrated with VFD control pumps, heat exchanger, platform,wort oxygnation system,grist hydrater,hops filter,grant tank, control panel  and valves&pipes in a sanitary modular system.
The two vessel brewhouse consist of a combined vessel of" mash tun/lauter tun,brew kettle & whirlpool,hot liquor tank(optional)", and it complies with highest sanitary processing standards.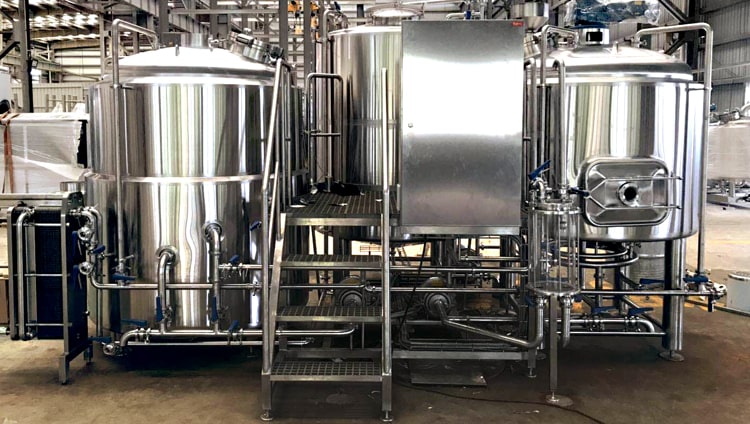 500L 2 vessels beer brewhouse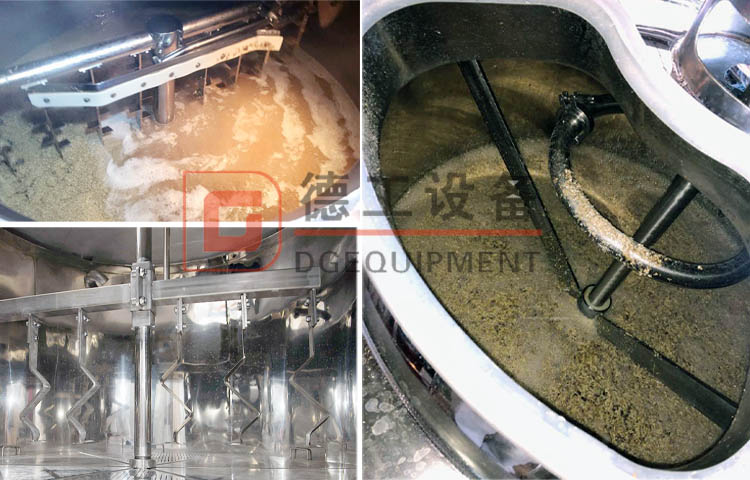 Mashing and lautering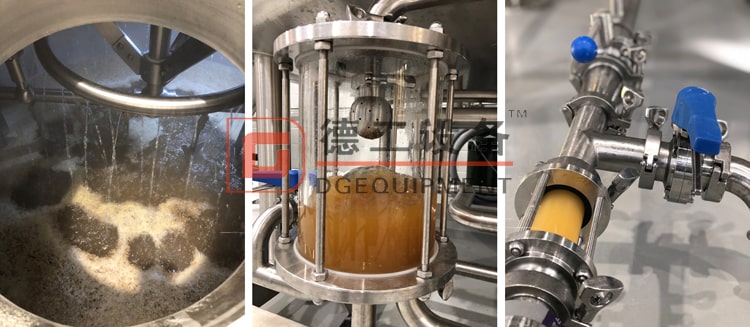 Sight glass
Fermentation tank:
Without a proper fermentation tank, you won't be able to make beer, especially not beer of a decent quality. You won't be able to control airflow, measure gravity, remove yeast, or retrieve the beer. Thus, one of the most important tools for crafting great beer is a great fermentation tank. Fortunately, you can perform all of the tasks we just described with DEGONG fermentation tank.
Tanks are consisted of: shadowless manhole, pressure relief valve, apunding valve,sample valve, pressure gauge, temperature sensor,carbonation stone,rotating racking arm, butterfly valve, solenoid valve and etc. It is the third part of beer brewing equipment for restaurant.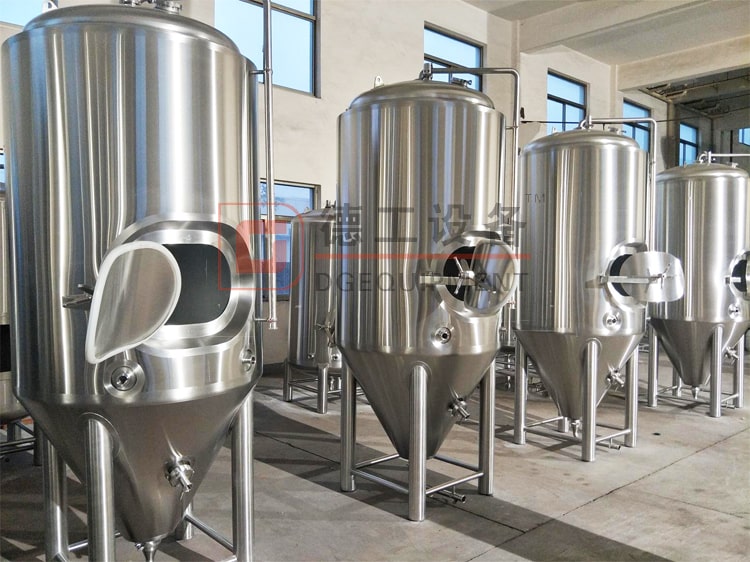 1000L beer fermentation tank
Details on beer fermentation tank
Other systems:
Except the brewhouse and fermentation tank,there are 4 basic system,which is malt miller,,cooling system,control system and cleaning system.Some craft breweries provide fresh beer locally,so they just need to fill beer in keg or bottles and don't need to filter and sterilizer;Some commercial used large breweries also need pasteurizer to sterilize,diatomate filter to filter,packing machine to package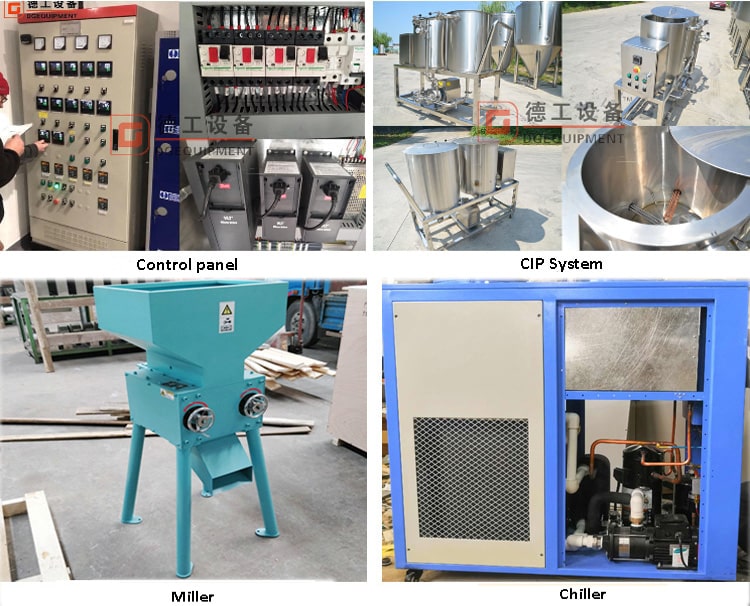 Company information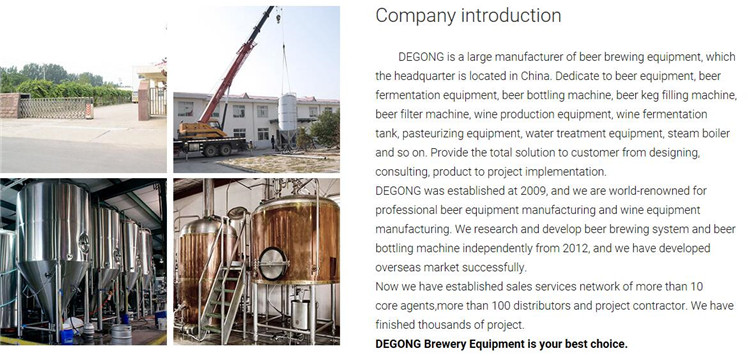 If you have interest in beer brewing industrial,welcome to contact me freely