Description
DEGONG craft beer brewing tanks come in multi-vessel configurations and feature SUS 304 construction with a brewer's platform, wort pumps, grant, and heat exchanger. Our brewhouse systems are available in custom capacities and include automatic and semi-automatic controls
Beer brewhouse/mashing system introduction-craft beer brewing tanks
The beer mashing system can be customized to 2-vessels brewhouse,3-vessels brewhouse or 4 vessels brewhouse.The size and type of mashing system should be based on individual site, capacity requirements and investment budget . DEGONG brewhouse equipment is ideal for breweries of all sizes within craft brewing. We offer individual pieces of equipment including mash and lauter vessels, boil kettles and whirlpools, as well as complete turnkey systems.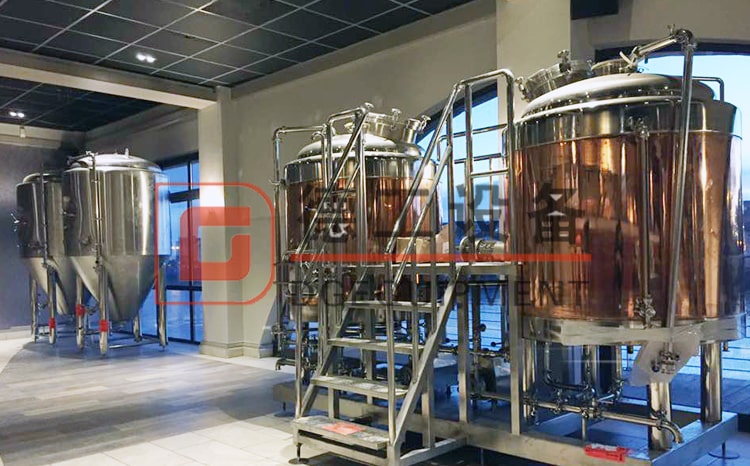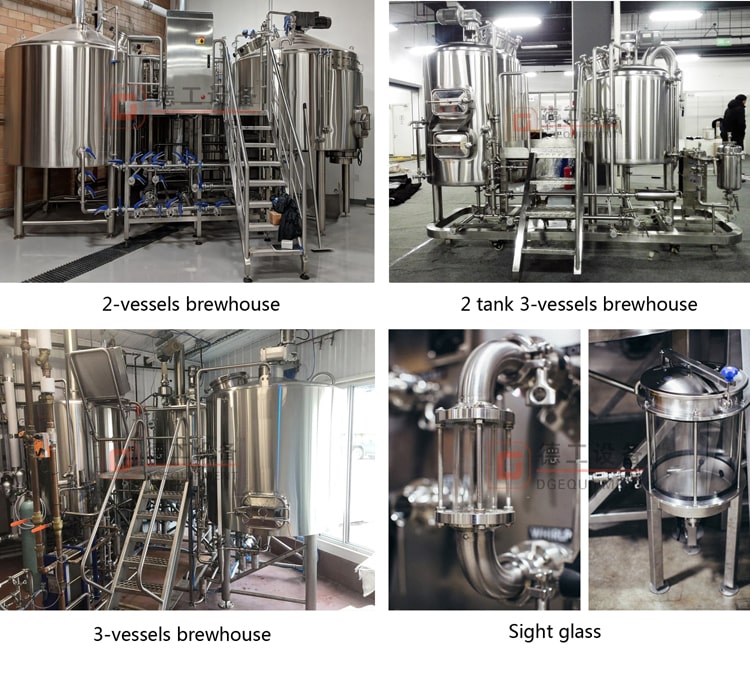 Heating method
Steam heating:More efficiency,suitable for 1000L and more than 1000L brewhouse
Electric heating:Save cost,suitable for brewhouse under 1000L
Direct fire heating:If electric and steam is not convenient for the brewery,so we can choose direct fire heating
Component
mash/lauter tank with VFD Siemens/ABB Motor(Raker)
boiling/whirlpool tank with VFD Siemens/ABB Motor (Agitator)
hot liquid tank(Optional)
VFD CONTROL Pumps
Two stage plate heat exchanger
Operation platform
Hops filter
Aeration system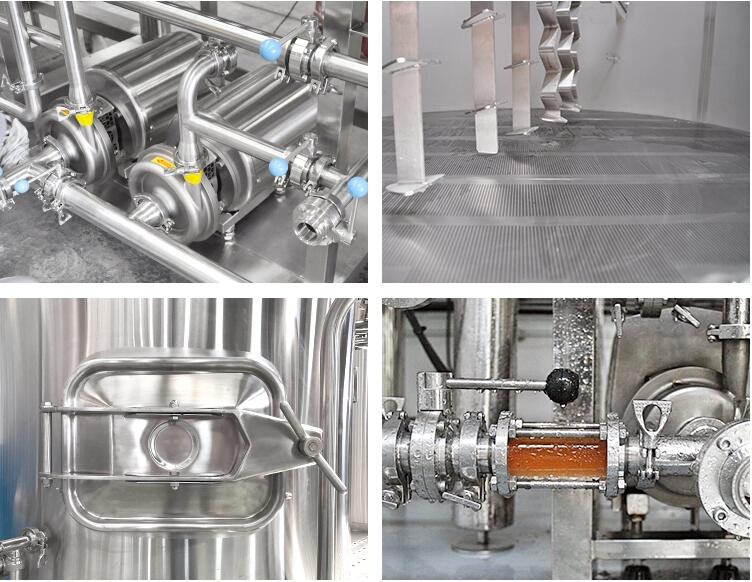 Fermentation system-craft beer brewing tanks
The wort ferment into beer in the fermentation tank. Fermentation tanks are equipped with separate cooling zones which can be individually controlled and entirely insulated. Include CIP tube and a cleaning head. The materials and the surface finishing depend on the intended application and the customers's specifications.
Fermentation tank will contains all necessary accessories,including breathing valve,hops adding port,CIP arm,pressure gauge,mechanical regulation valve,sample valve,temperature sensor,thermometer,carbonation stone,raking arm,drain outlet…..
A list of commen fermentation tank,so that you can check if it is suitable to your room.We can change according to your requirement.
| | | | |
| --- | --- | --- | --- |
| Fermentation tank | Total capacity | Outer diameter | Height |
| 100L | 130L | 640mm | 1300mm |
| 200L | 260L | 740mm | 1750mm |
| 300L | 370L | 840mm | 1850mm |
| 500L | 630L | 960mm | 2200mm |
| 1000L | 1300L | 1300mm | 2550mm |
| 2000L | 2500L | 1500mm | 3150mm |
| 3000L | 3850L | 1700mm | 3850mm |
| 5000L | 6250L | 2100mm | 4900mm |
| 10000L | 12500L | 2200mm | 5600mm |
Service