Description
Mashing or steeping, which is the first step of brewing process, occurs in this vessel.By soaking the milled grains in heated water, sugar extraction (along with color and flavor extraction) as the main purpose of this activity is processed when enzymes (from the malt) break down the starch into maltose to produce wort. The key mechanical device of this process is agitator. We build mash tun with both mashing styles of infusion and decoction.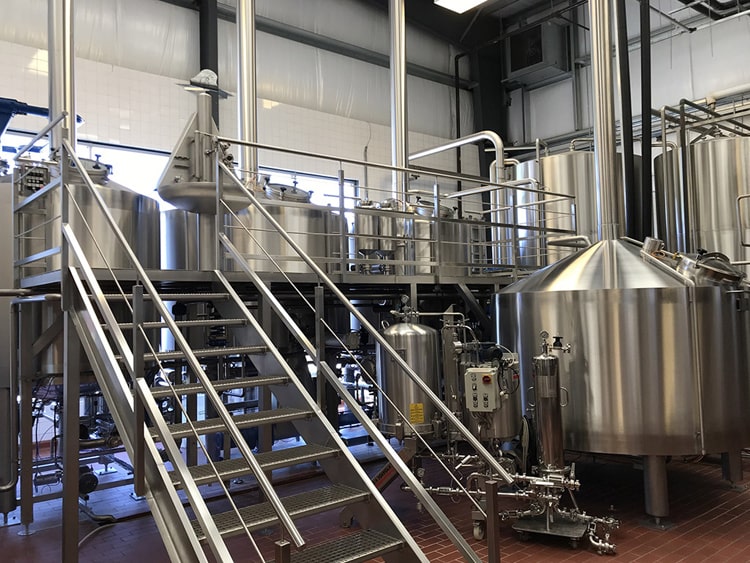 10hl brewing system brewery equipment
What is a Brewhouse?
Brewhouses are comprised of several key pieces of brewing equipment. The whole brewhouse has four function,which is mash,lauter,boiling,whirlpool. In the  hand of the brewmaster, convert grain that has been milled through a specialty grain mill, into sweet liquid called "wort".  Wort is subsequently fermented and finished in specialized beer tanks called fermenters and brite tanks.
1.1  1 Unit – Insulated Mash/Lauter Tun
Stainless steel Mash/Lauter Tu with insulation, Vessel interior and exterior are mirror finish.Insulatation with 100mm Rockwool insulation, glass top manway.
SS304 Raking Assembly with 6 cutting knives and variable frequency drive speed controller. Reversible manual lift spent grain discharge feature to allow spent grain discharge from side manway automatically.
304ss Wedge Wire Screens, 0.7mm filter gaps, in 3 sections and firmly attach to vessel floor, removable sections.
Grist Hydrator Assembly is on top and post hot/cold liquor mixing station for consistent grist hydration of the Mash.
Under Screen CIP System with sprayer head assemblies allow bottom of Lauter screens and vessel dish bottom to be cleaned in place.
Temperature sensor to inspect the temperature inner of tank
Sparge Assembly and Hot/Cold mixing spool with manual globe valves to allow both hot and cold liquor blend in route to Mash Tun or Sparge ring assembly.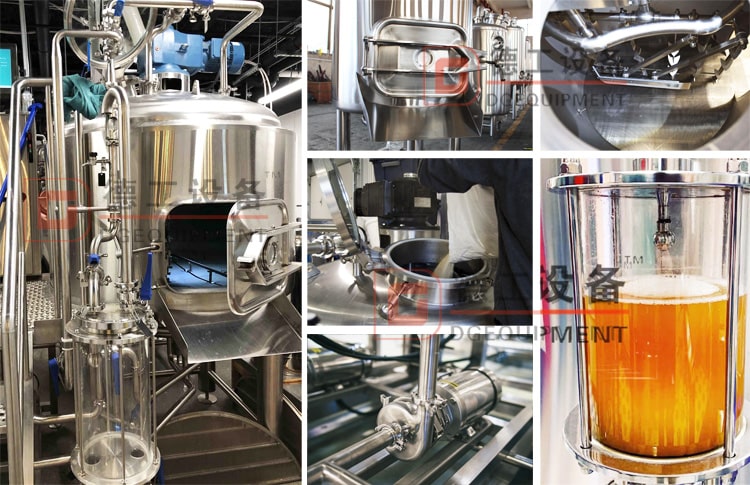 mash/lauter tank of 10hl brewing system
1.2   1 Unit – Brew Kettle/Whirlpool
304ss Steam Fired Brew Kettle Vessel interior and exterior are mirror polishing or 2B. Insulated with 100mm of high heat Rockwool insulation. 18" Glass top manway
Steam Jackets include bottom steam jacket and cylindrical side steam jacket
Integral Tangential Inlet for optimal whirlpool effect and trub/hop settling.
Ventilation Stack Condensation ring, directs condensate outside vessel.
Temperature sensor to inspect the temperature inner of tank
Wort Pump with variable speed frequency drive control, 230/460V 3ph 60HZ.
CIP Tank Spray ball system with dual static spray heads offer an ideal spray pattern for clean-in-place operations and complete interior vessel coverage.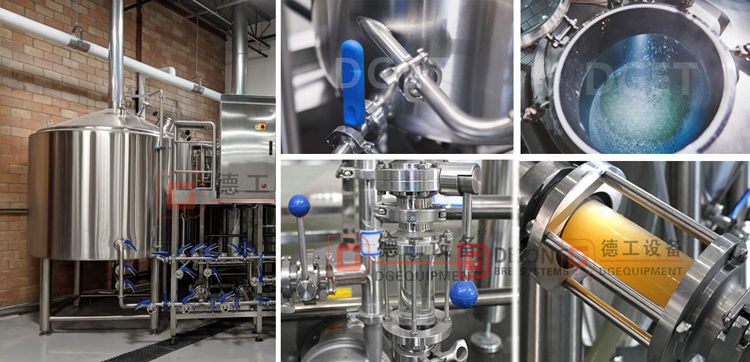 Boiling/whirlpool tank of 10hl brewing system
1.3   1 Unit – Integrated Control Panel
Industrial Touchscreen Control Panel, 304ss, watertight case. Mounted on brewer's platform with  touchscreen Siemens controlled brewers CPU Integrated module.
Pump Controls and Variable Speed frequency drive for Mash Pump and on/off controls for Hot Liquor Pump.
1.4   1 Unit – Plate Heat exchanger
304ss 2-Stage Plate Heat Exchanger for chilling 200°f Wort to 50°f with 10bbl/30minutes knockout capability. Stainless steel plates and frame assembly.
Wort Thermometer upon exit of PHE to accurately stabilize wort temperature.
Aeration Stone Assembly, including 3A certified Tee's, non-threaded sanitary sintered aeration stone and sanitary gas check valve, with sight glass.
1.5   1 unit – Working Platform
304ss Staging Platform between Brew House Vessels, with stainless non-slip grating, stairs, and handrails.
304ss Frame Assembly, with mounted hard piping firmly affixed.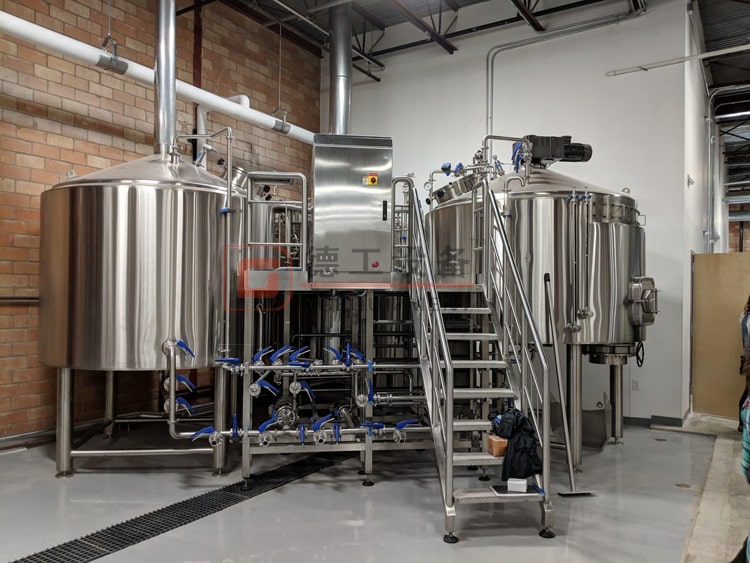 10hl brewing system
Delivery
Standard packing:
Cord ,film membrane
Firm membrane, wood box for free fumigation
Delivery :
– We put your order into our tight production schedule to ensure the punctual delivery time.
– Production or inspection report before delivery
Company information
DEGONG Brewery equipment can used in commercial brewery or brewpub or restaurant.DEGONG can provide any type of brewing equipment according to your requirement.If you have interest,please get in touch with me freely.