Description
Fermentation is a process that converts the sugar (long-chain and short-chain molecules) obtained from starch during brewing to alcohol and CO2. The process of fermentation ends when all fermentable sugar has been converted to alcohol. A certain amount of residual sugar is needed to carbonise the beer during maturation (second fermentation). Carbon dioxide is produced during the fermentation of the sugar.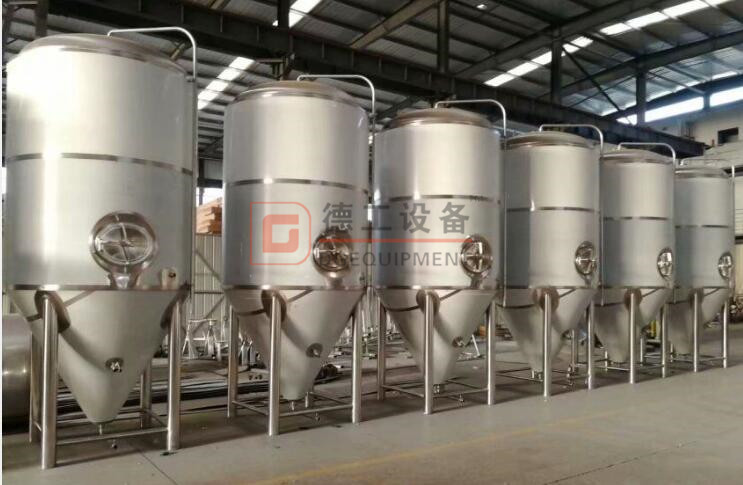 15HL stainless steel fermentation tank
CCT have a cooling jacket over the entire height of the cylindrical and conical part.  ССT are warmed by polyurethane foam 70-100 mm thick. The external covering of CCT is made of food mirror stainless steel.
Pressure manhole/compression pressure/Elliptical manhole/Side manhole/Top manholeThe conical fermenter is the most common type of beer fermentation equipment, because of the conical design of their bottom can quickly make yeast precipitation. The angle of the fermenter is 60 degrees, you can look at the picture of the below and it was processed fermenter by our company.
Sampling valve and temperature sensor are in a same horizontal plane.
Drain tube/Pressure gauge/beer belt/Spray ball/Two-way pressure regulating valve/Temperature control solenoid valve
The tank consists of the following four layers, insulation, inner thickness 3mm, outer thickness 2mm and jacket 1.5mm.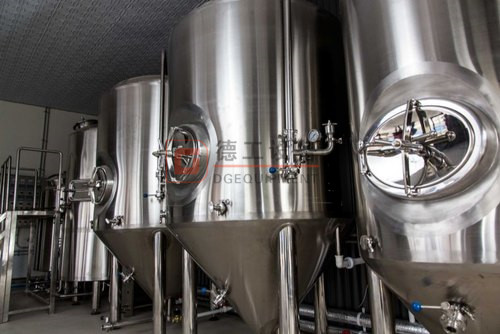 stainless steel beer fermenter
Fermentation tank main features
All material according to euro standard. (Certification is available upon request.)
Inner Shell: 3mm, 304 Stainless Steel
Outer Shell: 2mm, 304 Stainless Steel
Inner cooling jacket design pressure 3 bar;working pressure 1.5bar
25% head space for fermenting process.
Thermal Polyurethane Insulation with both cone and shell coolant jackets.
Chloride ion barrier paint on the out surface of the inner shell to prevent any potential corrosion to ensure longevity.
Tank inner side is polished within 0.6µm sanitary finish.
Tank outside is 2B or #4 (brushed stainless) stainless steel plate
Shell and bottom cone cooling jacket for better temperature control.
Pillow Plate on shell body and cone;
Other customization possibly available upon request.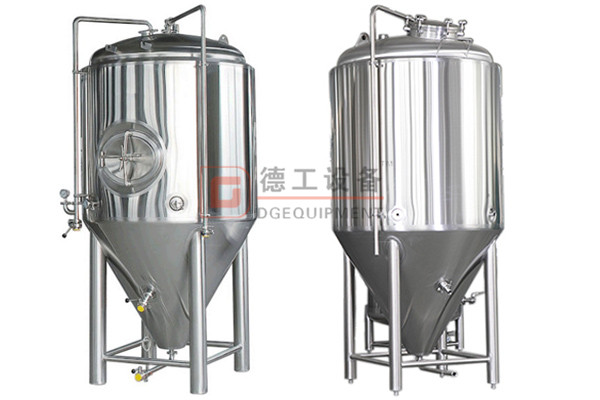 Side manway and upper manway fermentation tank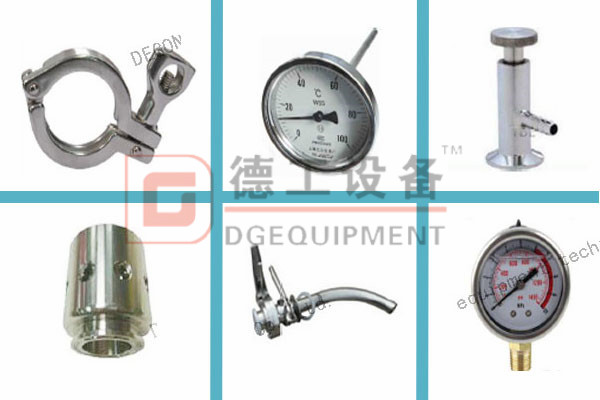 Tri-calmp,thermometer,sample valve 
safety valve,rotate racking arm and pressure gauge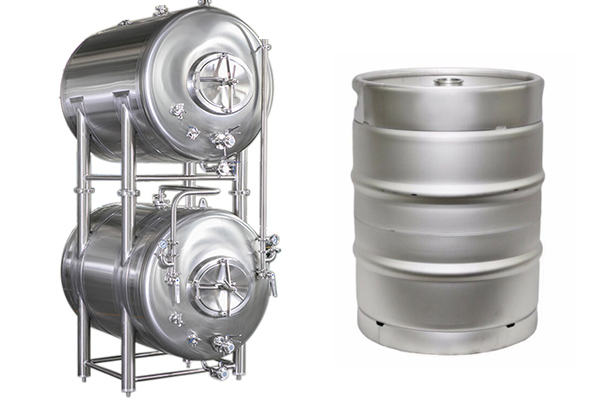 Horizontal storage tanks and beer kegs
Horizontal fermentation tank
Material:SUS316L or SUS304
Interior Shell: 2B/mirror plate; TH=3mm
Exterior Shell:2B/mirror/brushed plate; TH=2mm
Dimple jacket or dribbling cooling ,PU insulation,TH=80-100mm
Withstand voltage of tank is 4bar;
Tank equip with lifting leg,Electromagnetic valve or mechanical pressure regulating valve,manhole(top or side),
sample valve,temperature sensor, adjustable leg,Rotating  beer mouth, discharging outlet.CO2 outlet,coolant inlet and outlet,
CIP inlet and outlet,wort inlet and yeast outlet,cleaning ball, pressure gauge.
Option:Dry hop mouth,CO2 filling device With titanium rod distributor;level gauge
Beer keg
The keg can be EURO Standard,DIN Standard and US standard.Which standard would you like?
The types of keg spears are A type, S type and G type, etc.
Beer keg capacity:20/30/50 Liters
1. Drain port (no port of out of beer )The bright beer tank is a tank of store beer, so people also called it a storage tank. They most of apply in the beer industry, Why they call it "bright beer tank"?In fact, after beer fermented and mature, then need to filter and wipe off the mixed and yeast from the fermentation liquid, make beer clarify and shine, at last, the fermentation liquid finished filtering is bright beer. This is also the last step of the brewing process, then beer bottling.
2. Ice water inlet and outlet
3. The carbon inlet
4. Pressure manhole
5. Breath valve
6. Pressure gauge
7. CIP inlet
8. Sampling valve
9. Temperature sensor: PT100
10. Level gauge, was made of Pu and Plexiglass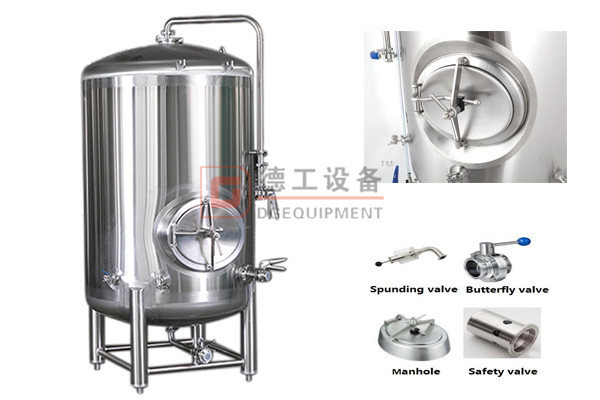 Brite beer tank with side manway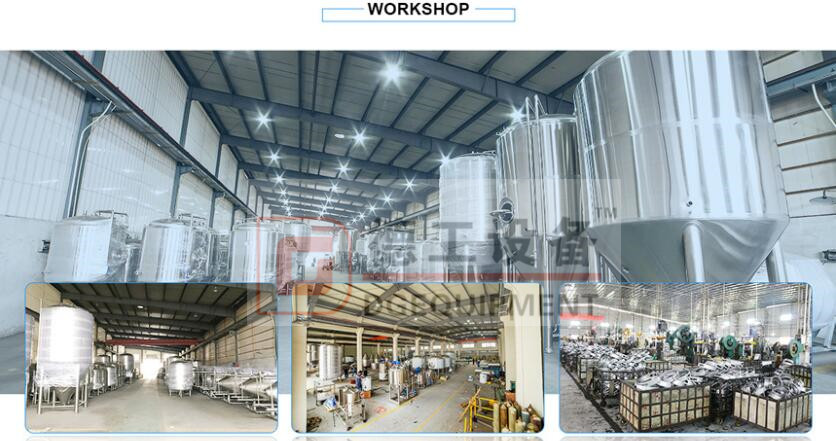 A: After 30-45 working days when we receiving your payment.1. How long is your delivery lead time?
2. Could you calculate the shipping for me?
A: Yes, please kindly let us know which port is nearest your place.
3. What is your term of payment?
A: Our payment terms are both TT and L/C. 30% for advance payment after signing the contract and before manufacturing, 70% as balance payment after manufacturing all equipments and before delivery.
4. This is the first time I use this kind of machine, is it easy to operate?
A: There are English manual or guide video for showing how to use the machine;
If you still have any questions, we can contact by phone or email, etc;
Package Type : As usual, we adopt wooden case as package type. It's suitable for long-distance transport. According to customers' special demand, we could adopt sheet iron case and so on. Packaging Details: standard wooden package

Ready for shipment
If you are interested in our craft beer brewery equipment, need a quotation or you simply want to discuss your project with us, get in touch and we will be happy to assist you.