Description
    Beer minibrewery overview


Unit

Constitute

Function

Mill system

malt miller machine

grist case

Grain crushing

Mash system

mash tun/lauter tun 

boiling/whirlpool tun

Hot water tank(optional)

Mash/wort/hot water pump 

Wort oxygenation device

Operation platform(sus304)

Plate heat exchanger

Grain mashing

lautering

wort boiling

whirlpool

hot water supply

Fermentation system

fermentation tanks

Bright beer tanks

Yeast adding tank

Accessories, such as sample valve, pressure gauge, safety valve and so on

Wort Fermentation or maturation

Cooling system

Glycol tank
Refrigerating unit
Glycol pump

Glycol water supply for wor

tcooling and fermentation cooling

Cleaning system

disinfection tank & alkali tank &cleaning pump etc.

Supply caustic liquid and sterilization liquid for all tanks cleaning

Control system

we have PLC automatic and semi-automatic, the elements brand include LG, Siemens and so on.

Brewhouse controlling

Fermenter controlling

Bright beer tank controlling

Kegging system

kegging system ( keg washer and keg filler machine), the control system brand is Siemens.

Filling kegs and washing kegs
About beer minibrewery brewhouse system
1-For heating method, it can be steam/electric/direct fire heating, you can depend on your own. But, usually we recommend electric heating.
2-For combination, except mash/lauter tun+boiling/whirlpool tun, it can be mash/boiling tun+lauter/whirlpool tun. Hot water tank is optional
3-For brewhouse material, it can be stainless steel 304/316 or red copper.
SUS304 brewhouse beer minibrewery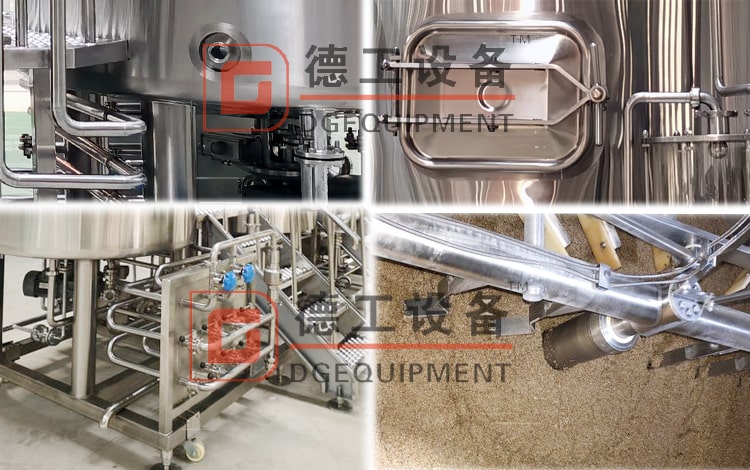 beer minibrewery brewhouse system details
About beer minibrewery fermentation tank
1-The fermentation tank can be single-wall or double-wall, you can depend on your own.
2-If you choose double-wall fermentation tank, it need cooling system, the cooling system includes glycol water, chiller and so on.
3-About fermenter accessories, it includes breather valve, hops hole, mechanical regulator valve, sample valve, pressure gauge, thermometer(temperature probe) and so on.
side manhole, carbonation stone,mechanical regulator valve
sample valve & drain outlet