Description
Turnkey brewing equipment generally included the Malt miller, Brewhouse, Fermenters, Glycol cooling system, Controlling system and CIP Cart. The Microbrewery system is popular used for opening a micro brewery or starting your own brewpub, bar, hotel, restaurant etc.
---
system
machine
details
Mill system
mill machine

Malt crushing equipment used disc type mill or roller mill.The size of particle can be adjusted.

Mash system

mash/lauter tun

kettle/whirlpool tun

hot water tank

wort/hot water pump

operation platform(Stainless steel)

plate heat exchanger

Material: sus304/316 or red copper

Interior Shell: sus304 full welded

Exterior Shell:sus304 full welded

100% TIG welding with pure argon gas shield

Interior Finish: overall polishing to 0.4 μm

Insulation: polyurethane

Heating: steam(recommendation) direct fire, electric optional
Steam Jacket: dimple plate on bottom and side

Dished top and sloped bottom

With:

raker and wort pump with VFD ABB motor to adjust the speed.

laser cutting sieve plate with the gap 0.7mm and thickness is 4mm.

manhole, sight glass

Two stage type plate heat exchanger, stainless steel type.

Fermentation system

fermentation tank

bright beer tank

yeast adding tank

Material: sus304/316

100% TIG welding with pure argon gas shield

Glycol Jacket: Dimpled plate on cone and side

Dished head and 60 degree cone bottom(Best cone for fermenting)

Dry hopping port with solid end cap

Carbonation port and stone for special request

Cooling system

Refrigeration unit

Qlycol tank

Circulation pump

Insulated glycol water tank with or without copper coil for glycol liquid holding and mixing
Efficiency chillers or refrigerators with fryonto supply cooling energy
Sanitary centrifugal pump for glycol water recycle among tanks and heat exchanger
All pipes, fitting, insulation materials

with:

pressure gauge, thermometer, regulation mechanical valve, spray cleaning ball

CIP system

Washing pump

Alkali tank

Sterilization tank

stainless steel 304

 inner surface treatment: welds grinded to   Ra 0.6µm.

Control system

Control cabinet

semi-automatic

European standard Siemens,Schneider,Omron component
Turnkey brewing equipment feature
All the tanks insulation use argon arc welding and inner tank will do pickling and passivation or mirror polishing;
Adopting advanced world famous brand components in pneumatic parts ,electric parts and operation parts;
All the steam heating beer brewery tank will do water and pressure test when finishing.
Closed grant system improves runoff performance;
Variable speed drives on pumps, motors and agitators;
Stainless steel work platform for integrity, no rusting and long life
Turnkey brewing equipment advantage
Complete, new, and high quality configuration.
Auxiliary systems selection of leading and imported brand.
The auxiliary systems are long life, high-performance, high-quality, low-loss.
Certified stainless steel(304,316) material for all tanks.
Electrical accessories reach UL, cUL, CE, PED, export standards.
Supporting auxiliary system voltage and frequency match your standard exactly.
New production technics.
Stable quality, high performance, strict quality control.
All the equipment are adopted 100%TIG welded joints, mirror Polishing.
CAD layouts, installation assistance, assembly, training.
---
Turnkey brewing equipment show
1000L red copper brewhouse
fermentation tanks
brewhouse details with hopper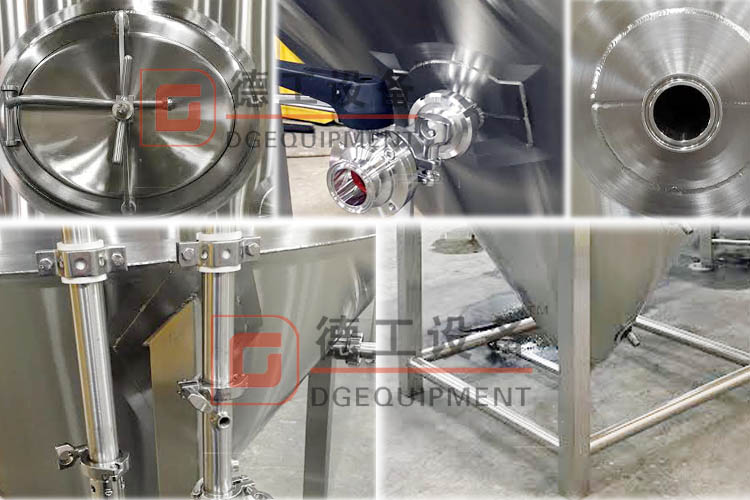 fermentation tank details
---