Description
Beer brewing process:
Malt is ground in the grain mill.
The milled grains are transported with bags to mash kettle.
In the mash tun the grist is mixed with brewing water from hot water tank(to form the mash)
In the lauter tun the dissolved liquid extract (wort) is separated from the solids (spent grains)
Brewing kettle is used for boiling.
Whirlpooling is creating by circulating the wort.
The cold wort is pumped through a hose from the heat exchanger to the fermentation cellar via the brew house pump.
Wort ferments in the fermentation tank.
Green beer matures in the serving tank.
After the ageing process the beer can be served directly from this tank.
Design:
two-vessel brewhouse (mash mixer-lauter tun and kettle-whirlpool)
completely piped and wired
control panel
both vessels equipped with steam heating
High quality manufacturing process:
TIG welding
laser welded pillow-plates, orbital welded pipes
automated grinding and polishing of welds and surfaces
certified materials
A basic set of brewery as follow:
Part1

Malt milling system

Malt miller machine

Part2

Mash system

 Mash tun/Lauter Ttank
 Brew kettle/whirlpool tank  Hot water tank(optional)
 Mash/wort/hot water pump Motors
 Wort oxygenation device
 Operation platform
 Plate heat exchanger

Part3

Fermenting system

 Beer fermenters
 Bright beer tanks
 Yeast adding tank
 Accessories, such as sample valve, pressure gauge, safety valve and so on

Part4

Cooling system

 Glycol tank
 Refrigerating unit
 Glycol pump

Part5

CIP cleaning system

 Disinfection tank & alkali tank &cleaning pump etc.

Part6

Controller

 Control system, we have PLC automatic and semi-automatic.
Brewery 2 Vessel brewhouse +hot liquor tank(optional)
Fermentation tank is being made by workers
Packaging Details: standard wooden package Whether you are a start-up, a well-established craft brewery or a market leading brand – you can benefit from DGET in the brewery industry. Our catalog of high-quality equipment ranges from complete systems to process units to components.
Package Type : As usual, we adopt wooden case as package type. It's suitable for long-distance transport. According to customers' special demand, we could adopt sheet iron case and so on.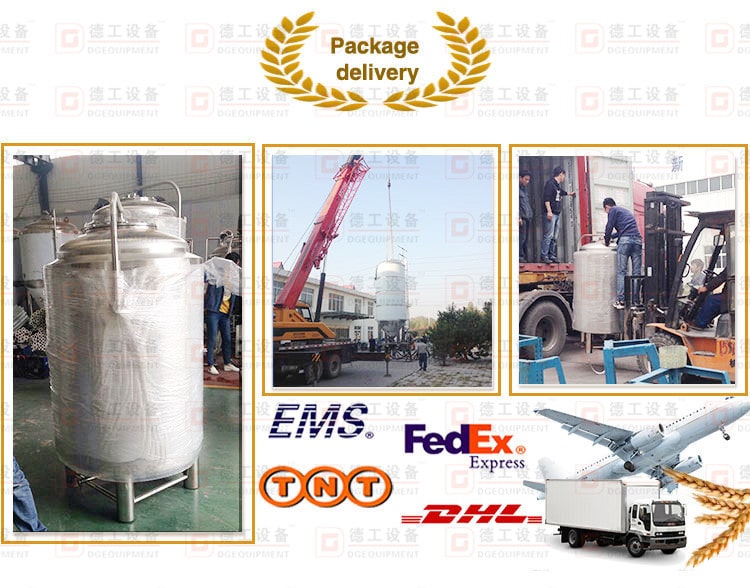 Welcome to contact me for getting more information!!!