Description
Various sizes brewing equipment
The full scope of our products and services cover includes:
Initial designs of the system using the latest software and CAD systems.
Detailed specifications for each specific piece or product to be manufactured
Fabrication of each element of the system
The installation of the turnkey system
Configuration of any required PLC software
The commissioning of installed equipment
Operational training on location
Post installation support
Maintenance and servicing
---
---
Details of brewing equipment:Brewhouse
1. Effective volume: 3000L
2. Inner-jacket (SUS304) TH: 3.0mm
3. External-jacket (SUS304) TH: 3.0mm
4. Insulation layer: PU Thickness: 100mm
5. Raker, motors,VFD mash pumps
6. Top manhole: round glass manhole, side grain outdoor with grain chute
7. Temperature measurement way: PT100
8. Heating method: electric, steam or direct fire heating
2 vessels brewing equipment
3 vessels brewing equipment
We provide specialist brewing and fermentation vessels, with bespoke and extensive technical designs to deliver innovative engineering techniques involved in the brewing and fermentation stages of production.
Fermenting is the process whereby efficient fermentation takes place. The fermentation vessel allows easy flushing of yeast at the end of the process.
DEGONG can provide engineering solutions for all stages or production such as cooling, piping and controls and manufacture high quality fermenters, blending and mixing vessels, mash tun vessels, lauter tun vessels, boilers, Bright beer tanks (BBT) and more.
We can offer our vessels in 304 and 316 stainless steel and provide solutions for any of your brewing needs. We build all our vessels can CE mark and provide FAT testing in-house with all certs for materials and procedures.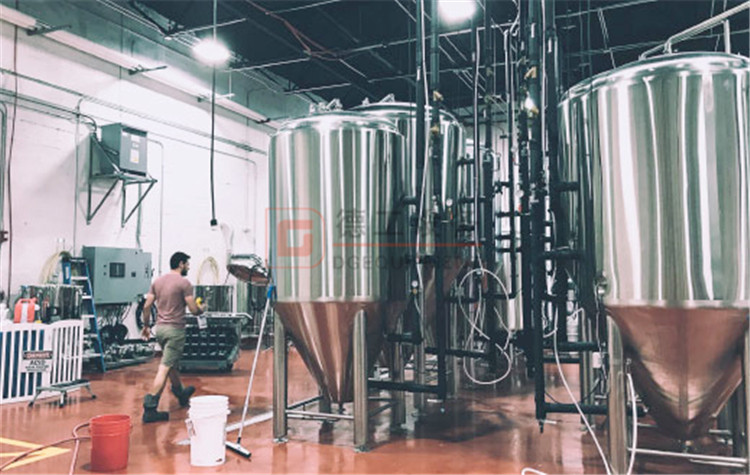 Fermenting vessels brewing equipment
---
---
Configuration of fermenting vessels:
Function

Wort Fermentation

Total capacity

Effective capacity +25% Head space minimum

Interior Shell

SUS304 full welded; TH=3mm

Exterior Shell

SUS304 full welded; TH=3mm

Insulation 

polyurethane, TH=100mm

Glycol Jacket

Dimpled plate on cone and side

surface treatment

Surface brushed; Polish treatment

Polish precision

0.4µm

Control way

Individually temperature controlled by PLC

Washing way

CIP spray ball, in the center of the inside tank

Bottom cone

60 degree

Cooling way 

chiller

Manway

top manhole or side manhole

Welding way

Perfect argon arc welding, Ra <=0.4 μm

Temperature control ways

Platinum resistance thermometer and Direct reading thermometer,display temperature from intelligent data meter

Temperature measurement system

Temperature sensor PT100, temperature display by intelligent data meter

Pressure control system

Pressure gauge

Tank pressure

Design pressure 0.3MPa; Working pressure 0.2Mpa

Valves and fitting

Matched valves SUS304
1)Solenoid valve;
2)Butterfly valves 
3)Sample valves;
4)Beer outlet valves;
5)Drain valves:

optional

Capacity:100-200 HL

Top hop additional port; Carbonate stone
Talk to us about your requirements and we will design a system to work for you and your company.