Description
7bbl beer brewing equipment with 14bbl fermneters
Get all of the beer making equipment you'll need to brew your own without spending a fortune. Our beer making supplies are some of the highest quality available online.
Specifications

Output/Brew

7 bbl

Brew/Week

2~6

Output/Week

14~42 bbl

Electric Supply

3phase/380(220V)/50 (60)Hz;Single Phase/ 220(110, 240…)v/50(60)Hz

Heating Source

Electric/Steam 

Brewmaster

1
2 vessel brewhouse beer system
Configuration of 7bbl brewery equipment
1.Malt Milling Unit
Particle adjustable rolling crusher
Flexible or steel auger to directly lift the milled grain to mash tun
2.Brewhouse Unit 7bbl
Mash tun, Lauter tun, Boiling Kettle, Whirlpool tun in various combination
Hot water tank and cold water tank for optional in special combinations
Infusion or decoction brewing methods are designed exactly
Stainless steel are popular because of easy maintenance and clean, copper cladding for optional
Two stages or single stage heat exchanger for wort cooling
Completely stainless steel integrated work platform
Sanitary and efficiency wort pump
All pipings and fittings
Customized beer system fermenting vessels and kegs
Two arms fermentation tanks 14bbl beer system
3.Fermentation Unit 7bbl or 14bbl 
Standard stainless steel conical cylindrical fermentation tanks
Single size or double size as brewhouse for microbreweries
Tanks quantity is exactly calculated by fermentation cycle for various beers
All manhole, valves, pressure gauges, fittings etc
4.Beer Filter Unit
Craft beer is no need filtration which will keg filling for quickly consumption
Plate-Frame or Candle type DE (diatomite earth) filter is used for clarify the beer
5.Bright Beer Tank Unit 7bbl or 14bbl 
Standard stainless steel bright tanks for beer maturation, conditioning, service, carbonation
Single size or double size as fermenter is common used in restaurant or bar
Tanks quantity is exactly calculated for various beers and the function
All manhole, valves, stone, gauges, fittings etc
6.Cooling Unit
Insulated glycol water tank for glycol liquid holding and mixing
Efficiency chillers or refrigerators with Freon to supply cooling energy
Sanitary centrifugal pump for glycol water recycle among tanks and heat exchanger
All pipes, fitting, insulation materials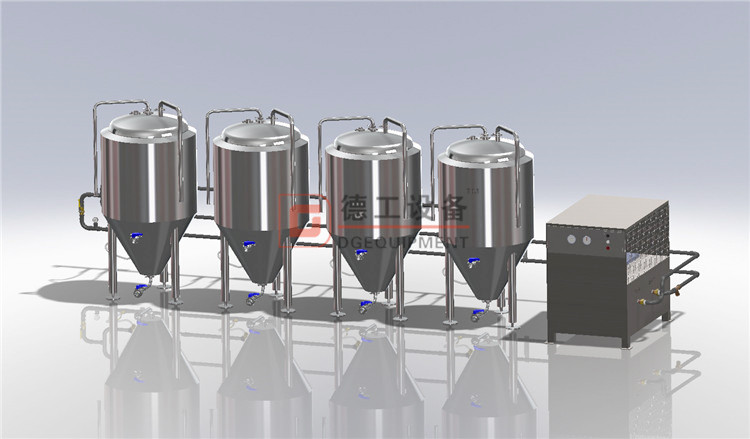 Beer system Chiller for cooling fermenting vessels 
7.Controlling Unit
Electrical controlling cabinet with temperature, on-off controlling for brewhouse
Electrical controlling cabinet with temperature, on-off controlling for fermenting parts
Temperature controller, thermocouple, solenoid valves etc
PLC with touch screen panel for special request
8.Beer Dispense
Keg filling and rinsing machine
Semiauto bottling machine with rinsing, filling, capping, labeling etc
Flash pasteurizer or tunnel pasteurizer is available
9.Other Facilities
Portable or fixed CIP system for cleaning the tanks
Steam boiler for brewhouse heating
Water treatment for brew water
Brewery lab instruments for beer quality test
Microbrewing, craft brewing or commercial large brewhouses, we have the equipment, supplies & install engineers. Looking to find bottling lines and tanks for sale we have that covered. If you want to more information for brewing process or buy beer equipment,please contact me.