Description
1000L Customized brewing system description
It's not about selling you equipment, it's about ensuring you get the right equipment for your needs. With us, you get a team of experienced commercial brewers eager to share our experience. Let us give you the tools to make educated decisions about your brewing equipment and space. We stand by the quality of our craft brewing equipment and are confident that when comparing apples to apples no one can compete with our quality and pricing.
Leading the Craft Brew Industry
We are the leading supplier of brewing equipment to the craft brew industry. With over 500 systems built, we continue to innovate new products and are committed to the success of our craft brewers.
Home Brewing Equipment
We were the first to engineer professional grade features into home brewing equipment. Get the control you need over your home brewing process and bring the authentic "pro" brewing experience home.
Pro Brewing Equipment
Innovative designs, large brewery technologies. Choose from Turnkey Electric Brewing Equipment up to 15 bbls, InDirect Fire up to 15 bbl, Steam Brewing Systems up to 30 bbls, and Cellar Tanks up to 100 bbls.
Turnkey Brewing equipment
We offer turnkey brewing systems up to 50 bbl in size. Our commercial turnkey brewing systems are tailored to your unique brewing needs and production space.
10BBL brewing equipment with Ergonomic platform
 Configuration of brewhouse
2-vessel:

mash/lauter tank;brew kettle/whirlpool tank

2-vessel:

mash/kettle tank;lauter/whirlpool tank

3-vessel:

mash tank;lauter tank;brew kettle/whirlpool tank

3-vessel:

mash/kettle tank;lauter tank;whirlpool tank

4-vessel:

mash tank;lauter tank;brew kettle;whirlpool tank

Hot water tank is available to deliver brewing effiency.

The heating method can be electric,steam and direct fired.

The tanks can be combined freely according to your brewing process and beer types.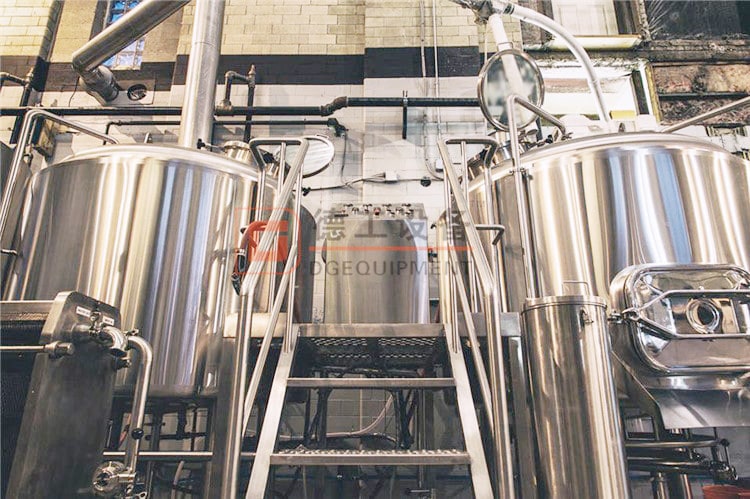 2-vessel brewhouse brewing equipment
There are many different ways to configure a 10 bbl brewing system.  This 10 BBL Brewhouse features:
Advanced touch-screen plc controls with remote-control capability
Insulated mash tun with rakes, plow and grist hydrator
Glass wort grant with automated pump controls
Hard piping and platform
Stairs with wheels for easy access under platform if necessary
On demand water supply control optional
Top manhole for feeding and side manhole for removing spent grains on brewing equipment
Two stage plate heat exchanger and transfer pump
Kettle tank for boiling wort and adding hops
From home brewing to commercial brewing, we have you covered. When it comes to brewing equipment features and overall value, there is no other fermenter that can compete with DEGONG.  Our jacketed conical fermenters is premium 304 stainless steel.  The interiors with mirror finish.  Shadowless manways, racking arms, spray balls, and 4 inch dry hopping ports. The tanks with glycol jacketed and insulation
 
Brewery brewing equipment beer fermenters/unitanks
All of our jacketed fermenters is 0.3Mpa, and as they come with a carbonation stone port as a unitank. Fermenters sized 5bbls and larger have dual zone jacketing.  Conical bottoms, with a 60 degree cone interior angle, are standard.
Microbrewing craft brewing or commercial large brewhouses, we have the equipment, supplies & install engineers. Looking to find bottling lines and tanks for sale we have that covered. If you want to more information for brewing process or buy beer equipment,please contact me.