Description
Large commercial beer brewery project and restaurant/brewpub used micro beer brewery project that produced by DEGONG are composed of high quality components ensuring the strict, easy and energy save process. These breweries configurations designed for multi process operations, ensures a wide range of beer types manufacturing by using all brew technology types, that makes the breweries universally useful.
Our beer brewery project enables production of all styles of beer: from infusion-ales to triple- decoction-lagers.All brewing operations as well as fermenting & conditioning process can be controlled manually,via semi-automatic-control with programming system.These breweries performed in 2 hl/batch – 50 hl/batch in turnkey solution according to customer location and special project planning.
2000L Commercial used beer brewery project introduction
3-vessels beer brewhouse:
DEGONG Beer brewhouse adopted for all kinds of brewing methods like decoction and infusion.
3-vessel brewhouse assembly adopted with three vessels: Mash Brew Kettle, Lauter tun and Whirpool tun. The vessels are separated in order to maximize system efficiency and adopted with working platform to provide productive conditions for operating personal.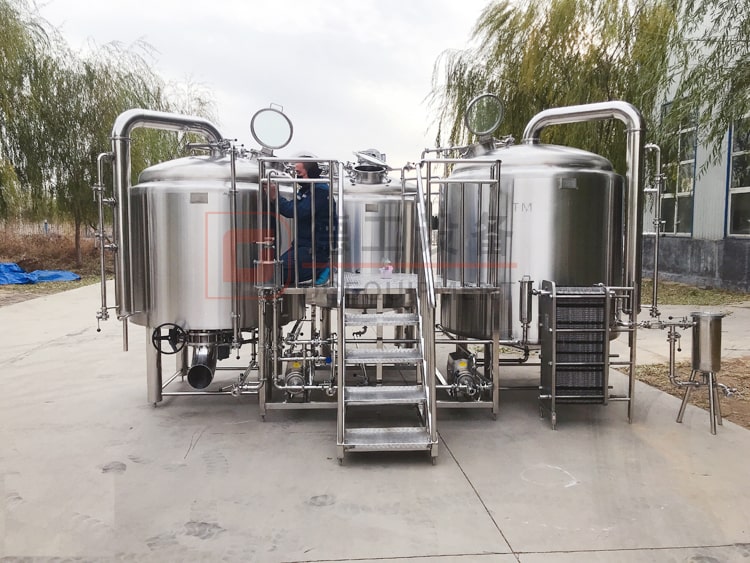 3-vessel beer brewhouse
1.Brew kettle assembled with mash agitator, boiling channels and has whirpooling functions. 

2.Lauter tun assembled with rakers and screen plate for grains separation.

3.Whirlpool tun is multi functioned for wort whirpooling, water heating and hot water storing.

4.Two stage heat exchanger used for wort cooling by cold water and meanwhile heating the tap water for next brewing or for system sanitation process that provides an energy savings.

5.Also assembled with two sanitary frequency controlled pumps ,providing a low transfer speed for filtration and sparging and high transfer speed for intensive and effective system cleaning.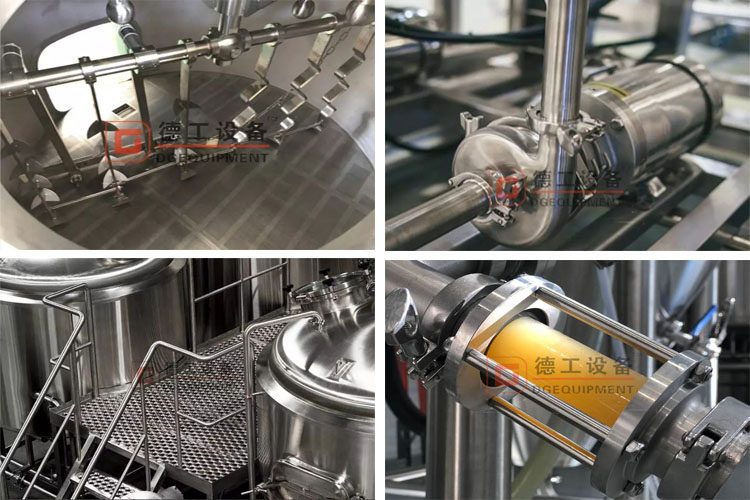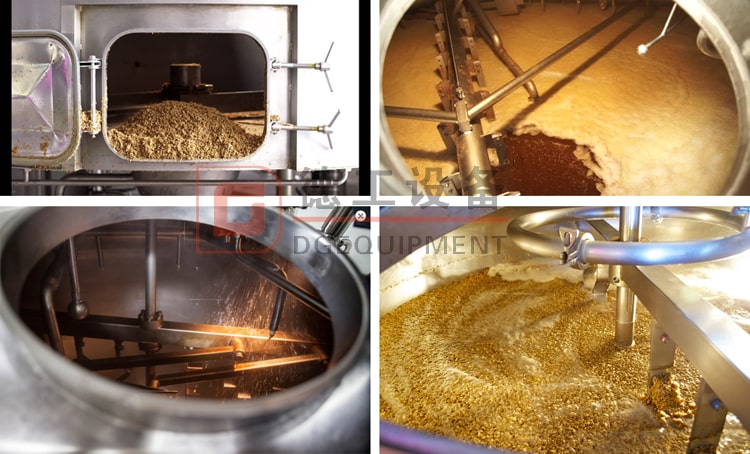 | | |
| --- | --- |
| Items | Technical Parameters |
| Working capacity | 2000L per batch |
| Brewhouse type | MLT+KWT, M+L+KWT, M+L+K+W, Customized. |
| Raw Material | Food grade stainless steel or red copper cladding. |
| Heating way | Electric heating, Steam heating, Direct fire. |
| Insulation | Rock wool / 80-100mm |
| Tank wall | Outer wall 2mm / inner wall 3mm |
| Plate gap | Milling sieve plate ≤0.6mm; Material is SUS 304. (false bottom) |
| Polishing | Polishing precision up to mirror polish; better than Ra0.4µm |
| Platform | Food grade Stainless steel 304 |
Beer fermentation system
Fermentation tank, bright beer tanks and beer serving tanks produced by DEGONG are double jacketed, cooled, insulated by 100 mm of polyurethane and equipped with all needed accessories for successful beer fermentation. Our fermentation tanks produced as "Uni Tanks" and can be used as bright beer tanks also. Manholes can be side or up located according to the customer wishes.
Our fermentation and bright beer tanks have two separate cooling zones at cylinder and the cone of the tanks.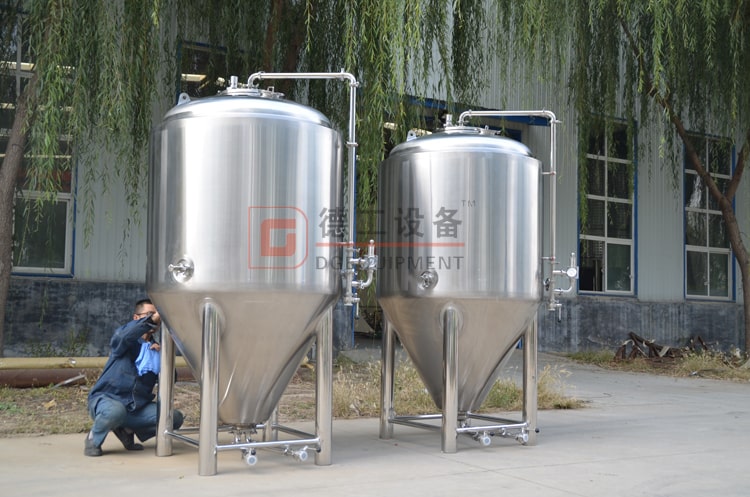 Beer fermentation tank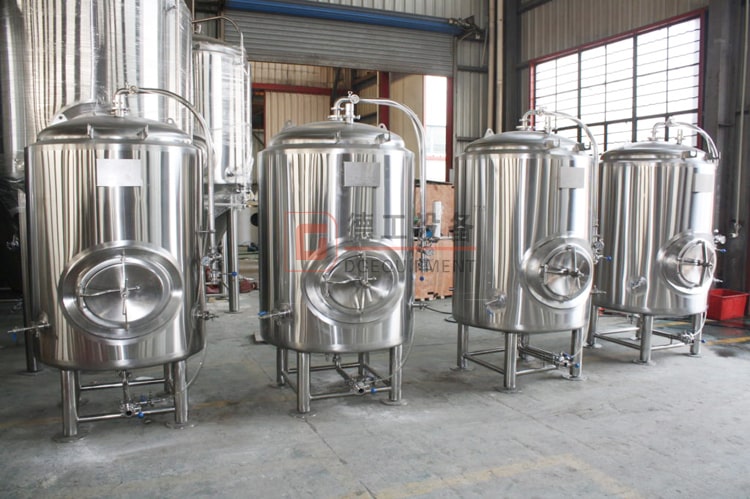 Vertical brite tank
Horizontal brite tank
| | | | |
| --- | --- | --- | --- |
| Useful capacity | Total capacity | Inner/outer diameter(mm) | Total height(mm) |
| 100L | 130L | 500/640 | 1300 |
| 200L | 260L | 600/740 | 1750 |
| 300L | 370L | 700/840 | 1850 |
| 500L | 630L | 800/960 | 2150 |
| 1000L | 1300L | 1100/1300 | 2550 |
| 1500L | 1800L | 1200/1400 | 2900 |
| 2000L | 2500L | 1300/1500 | 3150 |
| 3000L | 3850L | 1500/1700 | 3750 |
| 5000L | 6250L | 1800/2000 | 4350 |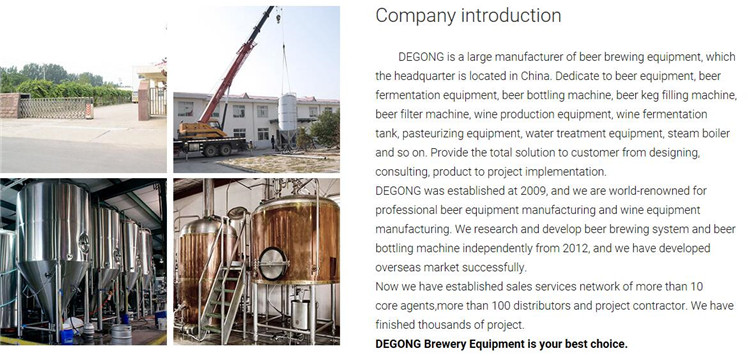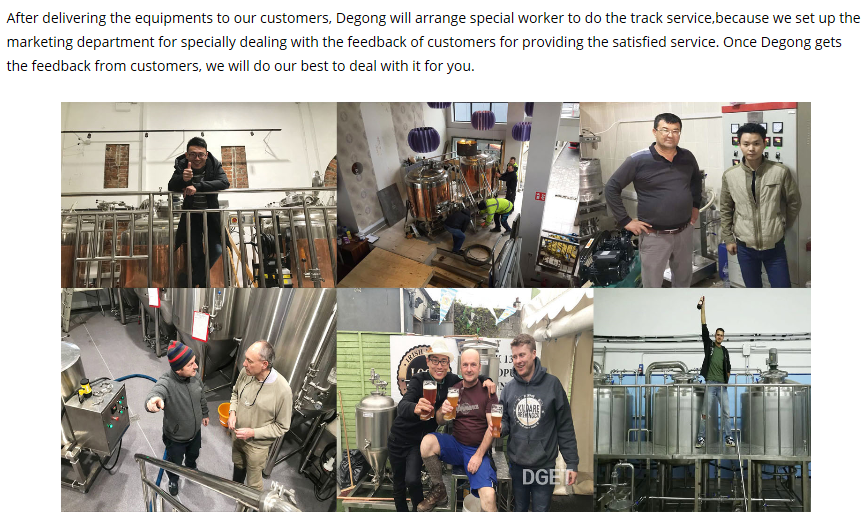 If you have interest in beer brewing industrial,welcome to contact me freely