Description
Whether you are a start-up, a well-established craft brewery or a market leading brand – you can benefit from DGET in the brewery industry. Our catalog of high-quality equipment ranges from complete systems to process units to components.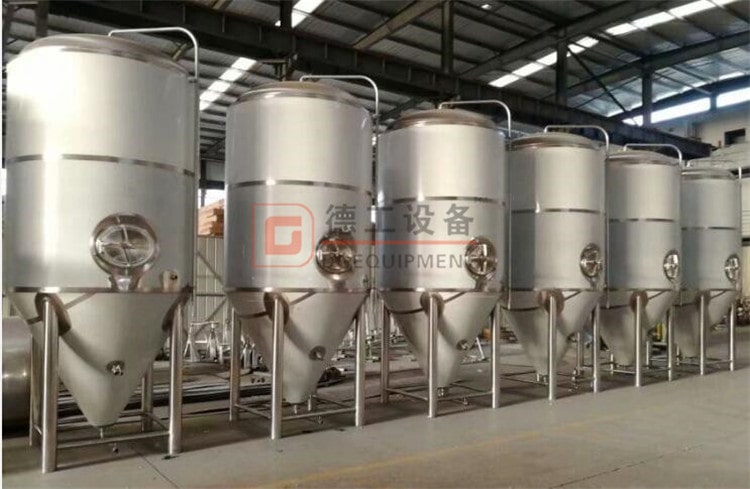 The outer membrane of the fermentation tank prevents damage
We offers a wide array of fermenters(fermentation) and brite tanks(maturation)  tanks that are designed accordingly to our customers' specifications  and their needs. Our fermenter and brite tanks come in three different  generalized builds (customizable tanks are also available): single wall,  un-jacketed and jacketed. All of our tanks can be pressurized (unless  otherwise requested) and the fermenters have an added bonus of  functioning as both a fermenter and BBT tank.Well designed fermenters are the cornerstone of a quality cellar operation. All of our tanks are rigorously inspected to make sure every last seam is smooth and sanitary polished. We aren't about to give beer ruining bacteria a place to hide and grow. Our fermenters also feature multiple zone, dimpled jackets to ensure fast, efficient crash cooling when you're ready to get beer to the next stage of production.
Specifications:
Interior Tank Thickness: 3.0 mm
Outer Shell Thickness: 2.0 mm
Polyurethane Insulation Thickness: 100 mm
Glycol Jacket (Dimple-Welded) Thickness: 2.0 mm
Stainless steel (304) sanitary construction
100% TIG welded and sanitary polished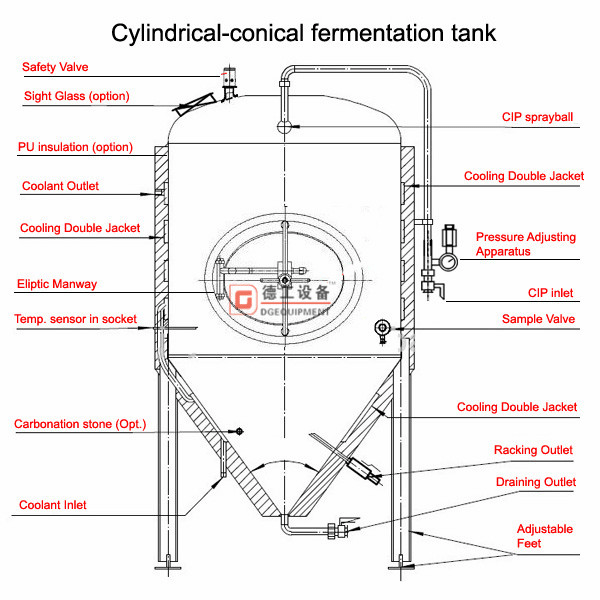 Includes:
(x1): CIP Arm
(x2): Pressure Relief Valve
Units will be located on Top Dome & Blow Off Arm
CIP arm with rotating 360° spray ball
Pressure Gauge
Carbonation/Aeration Stone
Racking Arm with DIN Fitting
Sample Valve
(x2):  Lifting Lugs
Side Shadowless Manway
Dual Zone Cooling Jacket with glycol inlet and outlet
Glycol Inlet & Outlet located on Cylinder
Glycol Inlet & Outlet located on Conical
Hop Addition Port
Thermo-well Port
RTD Probe not Included
(x4): Heavy-Duty Stainless-Steel Legs
Leg Heights are easily adjustable with foot leveling pads
Assortment of Tri-Clamp Sanitary Fittings, Gaskets, & Butterfly Valves
*Premium Package Includes (x1) Spundling Valve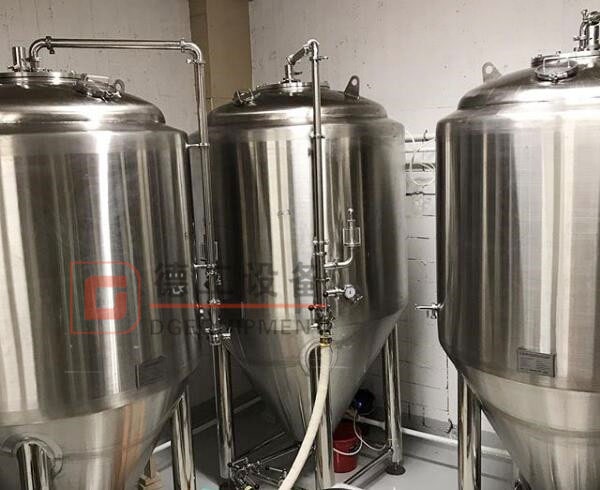 Fermentation tanks in brewery
Unitanks
Revolutionary tanks that combine both the functions of a fermenter and brite tank. The all-in-one vessel where you can ferment your wort and carbonate your beer all in one vessel.
Lagering tanks
Horizontal fermentation tanks designed to produce cleaner, brighter, and smoother beer.
Bright tanks
Storage vessels for all beers, wines, distillates. Includes carbonation stone to give that crisp taste to your drinks.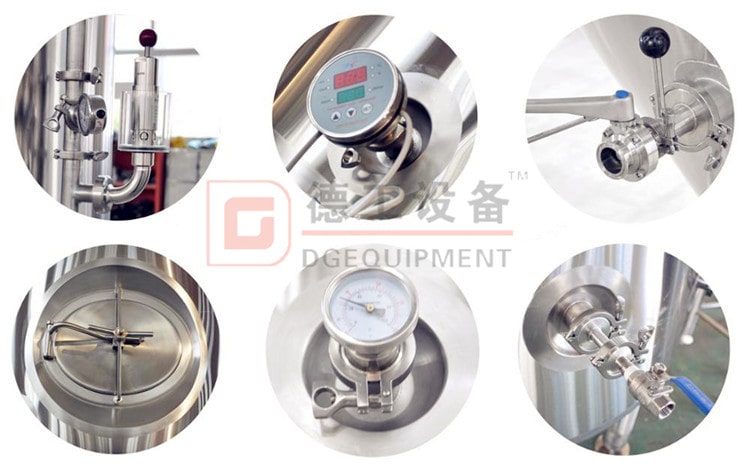 Fermentation tank components, such as side manholes, pressure gauge, ratating raking arm,
-Food grade 304 stainless steel construction, interior/exterior
– Dual zone dimple cooling jacket with glycol inlet and outlet
– Sanitary interior finish with all welds ground and polished
– Fully welded exterior
– Polyurethane insulation for cooling jacket on sidewall and bottom
– Side shadowless manway door (optional top manway)
-60 degree conical bottom with 25% free head space
– CIP arm and sprayball
– Racking port with Rotating racking arm
– PRV
– Pressure gauge
– Sample valve
– 4 legs with cross braces and adjustable feet
– 3 bar design pressure
– Tank valves and fittings
Staff installs fermentation tank
1.Specialist manufacturer
We have own factory. We get CE certification.We specialize in manufacturing beer brewing equipment.
2.Quality and price
We have professional purchasing team. Comparing multiple vendors,choose best raw materials and the most preferential price. We have skilled worker and strict quality control system,provide the best quality products to our customers.
3.Clear order process
We have clear order process. From mails &calling→→Order confirmed→→Make advance payment→→Workshop produce→→Pay the balance→→ Arrange goods delivery→→Buyers receiving confirmation→→Satisfaction survey.
4.Quality of service
We will provide photos make our customers to know the order status.Of course,we welcome our customers to our factory to inspect any time!
At DGET we want to be sure that each tank we fabricate is specific to the production and display needs of each customer we serve. Our beer fermenters are no exception. Our polished, ground smooth, and passivated welds ensure quality sanitation characteristics.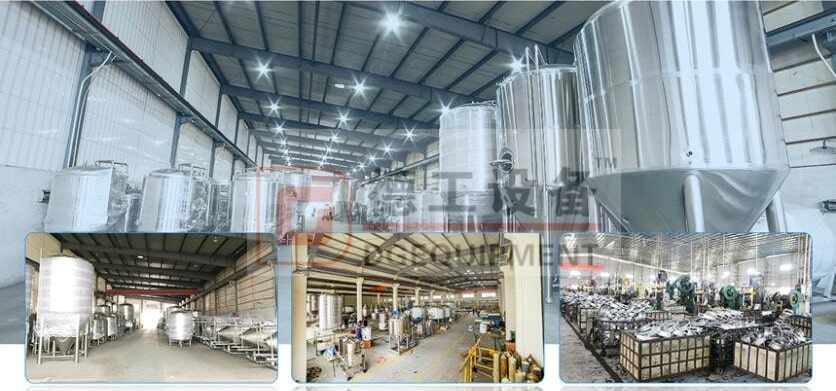 Workshop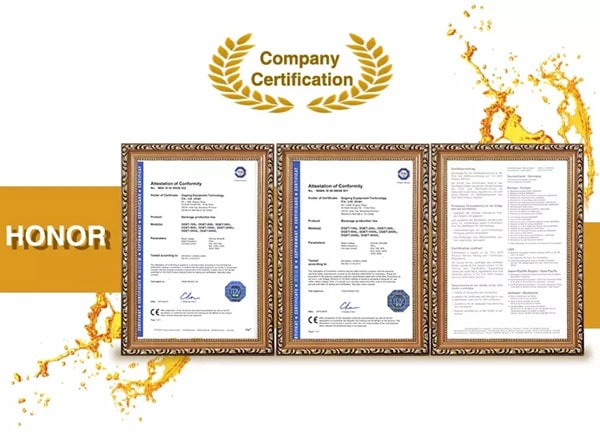 Certification
Packaging Details: standard wooden package
Package Type : As usual, we adopt wooden case as package type. It's suitable for long-distance transport. According to customers' special demand, we could adopt sheet iron case and so on.

Fermentation tank ready to load
If you are interested in our craft beer equipment, need a quotation or you simply want to discuss your project with us, get in touch and we will be happy to assist you.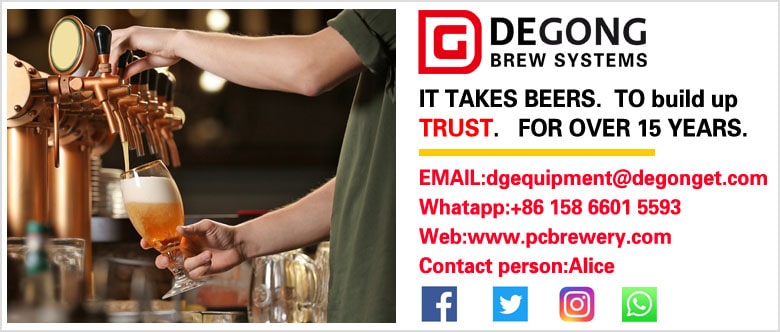 Contact information