Description
With the birth of a variety of different craft beer, more and more brewing enthusiasts choose small beer brewing kettle to brew craft beer, some are for home brewing supplies, and some are for commercial use to provide fresh beer for local bars,restaurant and other places. These fresh beers are not filtered and sterilized, so the local characteristics are relatively strong.For for this microbrewery,  500L beer brewing kettle is a very good choice.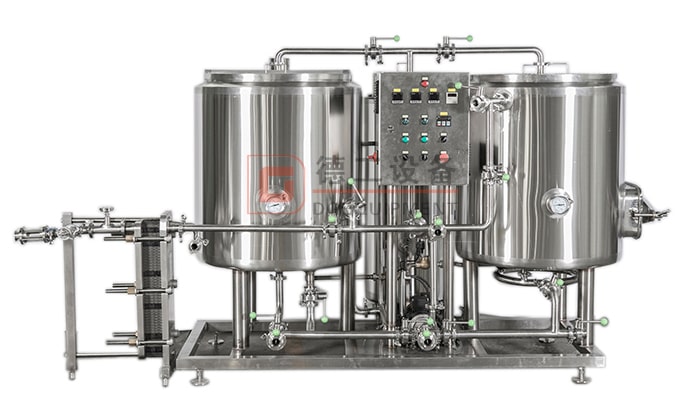 Introduction of complete microbrewery beer brewing kettle
The basic material of beer brewing is water,hops,yeast and malt.And some brewers like to add some auxiliary material,such as rice,corn,barley…But in Germany,beer brewing just allow to use these four basic material
The basic brewing system is composed of 6 systems.which is malt miller,mashing system,fermenting system,cooling system,control system and cleaning system.Some craft breweries provide fresh beer locally,so they just need to fill beer in keg or bottles and don't need to filter and sterilizer;Some commercial used large breweries also need pasteurizer to sterilize,diatomate filter to filter,packing machine to package
                                                                                      6 basic systems brief introduction

Miller

Usually, we will match the Flex auger and hopper to transfer the crushed malt to mashing system.

It is easy for brewmaster brew beer.

Brewhouse

Mash/lauter tank+Boiling/whirlpool tank+hot water tank is the common configuration

Steam heating or direct fire heating or electric heating

Component:

Balance tank

Hops filter

Oxygen filling device

Plate heating exchanger

Operation platform

pumps and pipelines

Fermenting system

Fermenter,same capacity to brewhouse or double size of brewhouse

Bright beer tank,same capacity to brewhouse or double size of brewhouse

Cooling system

We need cold water tank,  glycol water tank, chillers and pumps and so on.


Control system

We suggest we match 2 pieces PLC control system to control mashing system and others system(fermenting system and cooling system).

CIP system

Alkali tank, Sterile water tank,pumps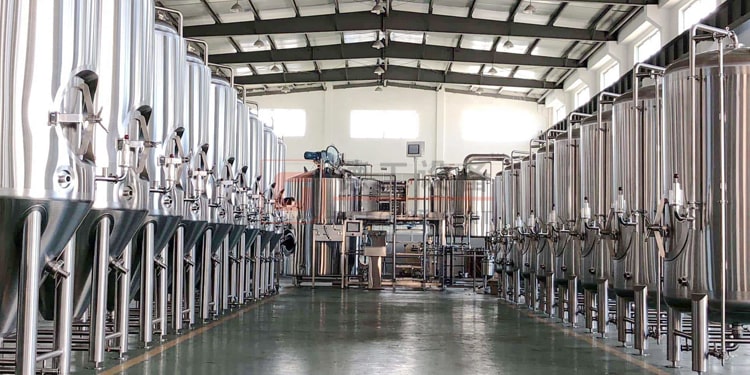 A complete brewing system
More information of brewhouse 
1.Mash/lauter tank
* Grain rake with VFD
* Easy clean and detachable sparging spray ring
* CIP sparing ball
* Side mounted grain outdoor with grain chute
* Multihole wort collect ring
* Anti-rinser
* False bottom
2.Boiling/whirlpool tank
* Bottom/top agitator
* Motor with gear box
* Elctric tube or Steam generator or Burner
* Indoor condesate system or outdoor condensate system
* Professional Tangential whirlpool inlet design
3.Hot water tank
* Double size of mash/lauter tank
* Elctric tube or Steam generator or Burner
* Glass top manhole or heavy side manhole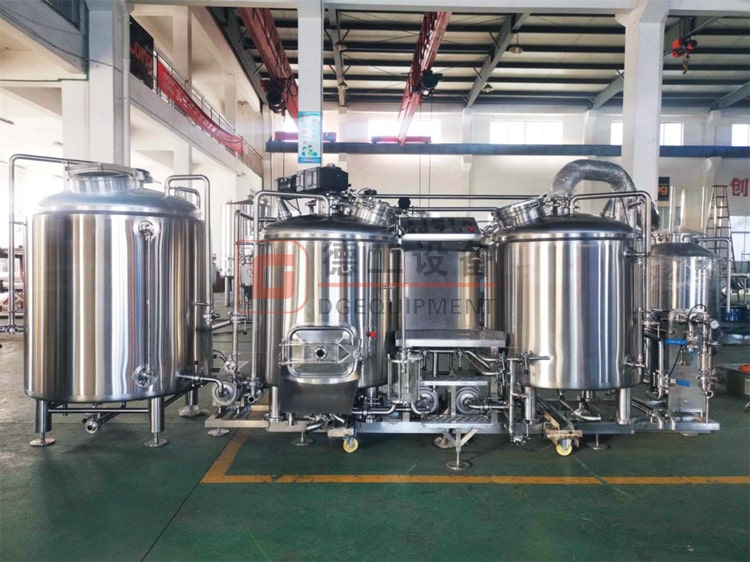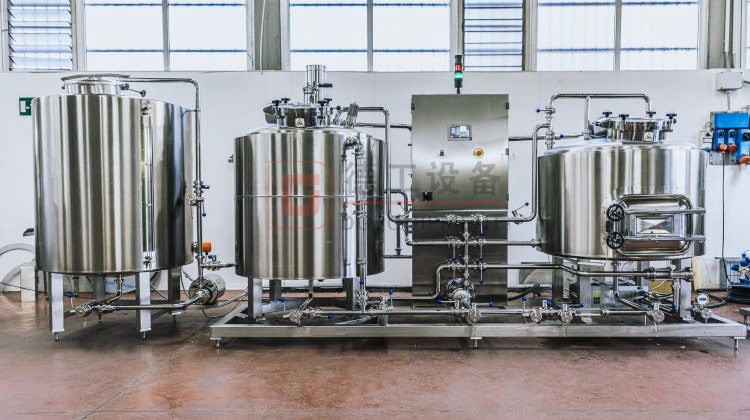 500L beer brewing kettle
More information of fermenting system
Fermenters can be customized based on brewhouse scale.We usually configure same capacity with brewhouse or double size of brewhouse. They are built for sanitary construction from 304 stainless steel; 60° cones with fully rotating racking arm assemblies come standard, along with dry hop ports and separate CIP and blowoff downpipes. Mechanical valve&pressure to supervise and adjust pressure in the tank.Sample valve on the tank's body to check the fermentation degree.The outlet of the tank comes with a fully removable 3" port reducer to make yeast cake removal easier, and all tanks are fully jacketed and insulated for glycol cooling,temperature sensor to show the temperature in the fermenter.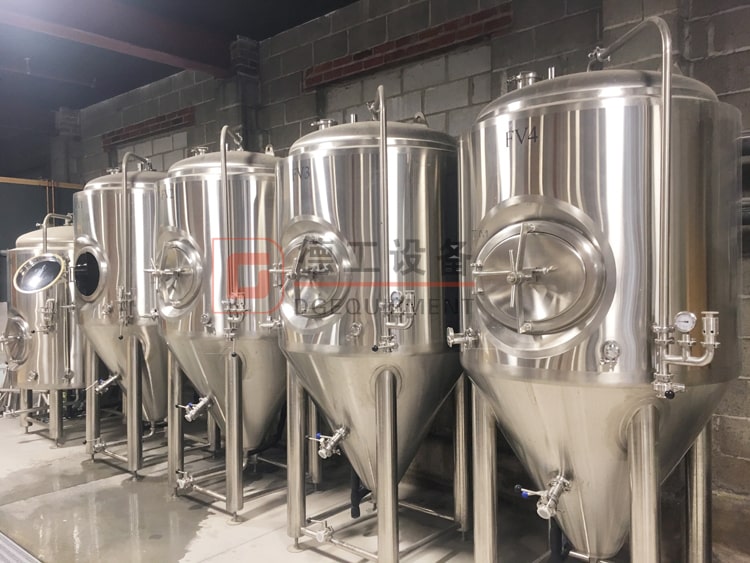 Stainless steel beer fermenter-beer Unitank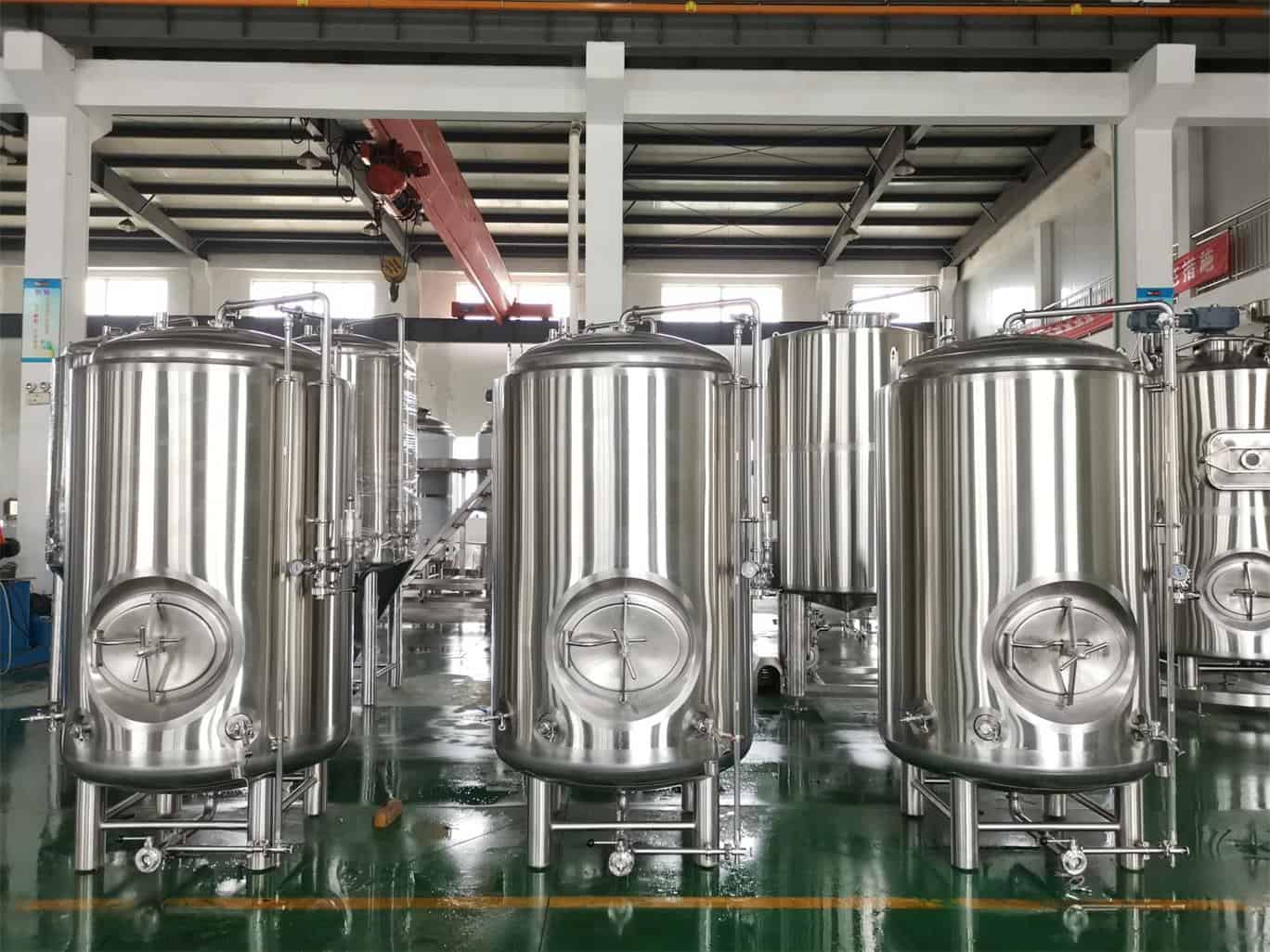 Double wall beer bright tank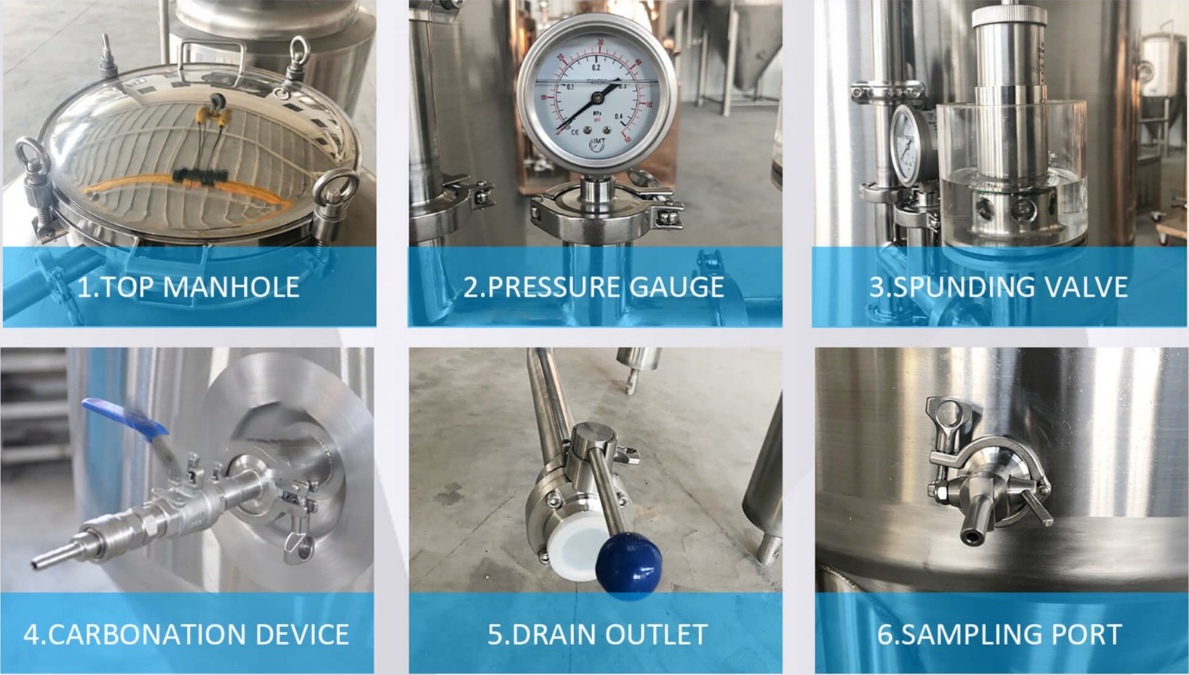 Equipment shows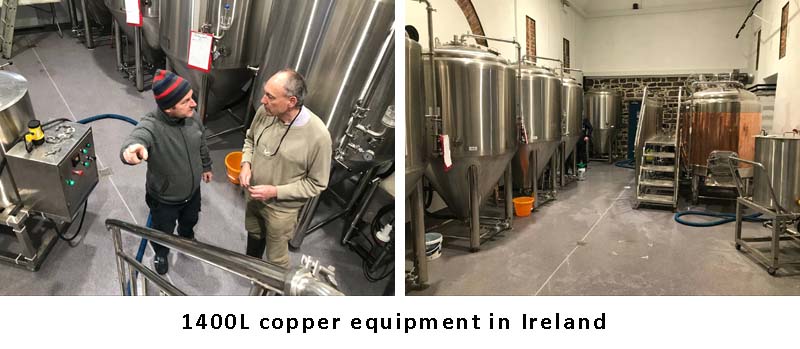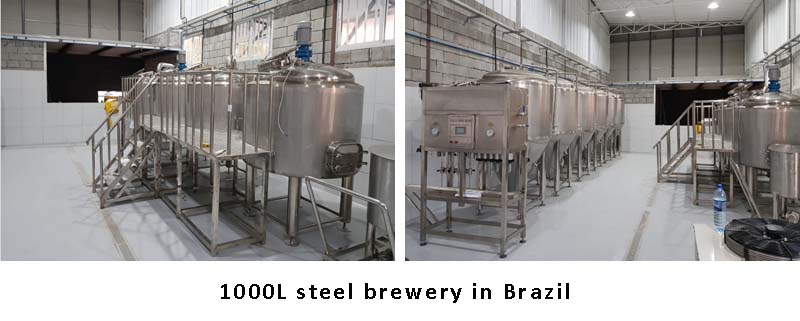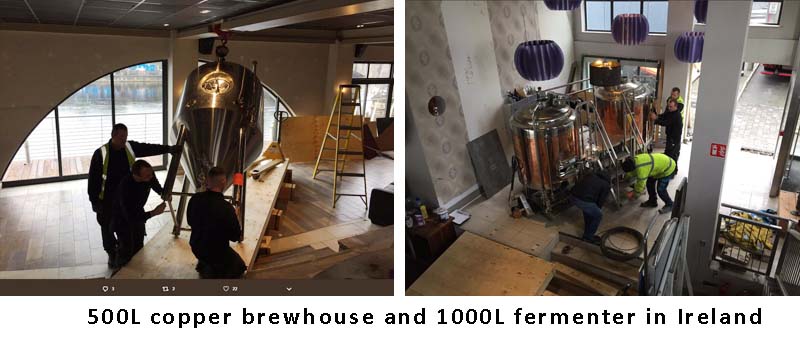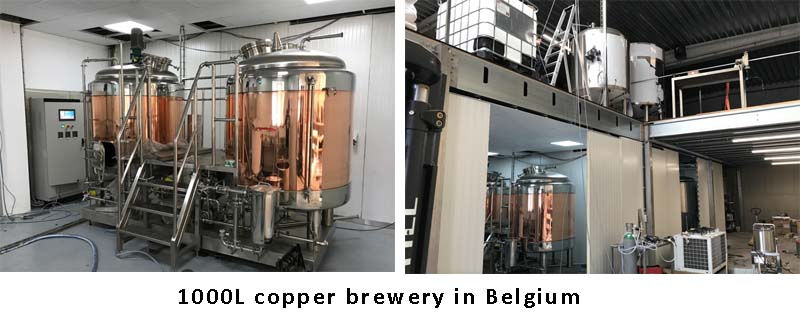 Company information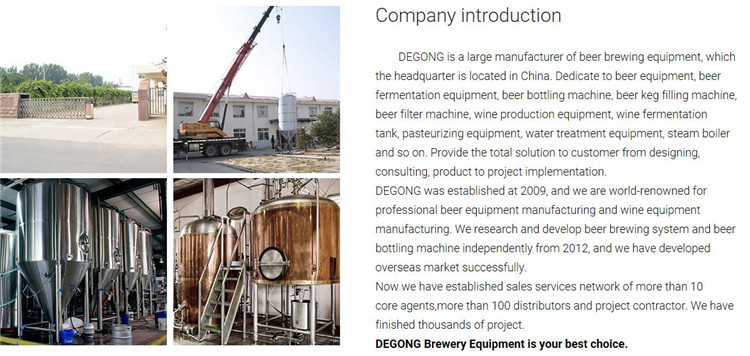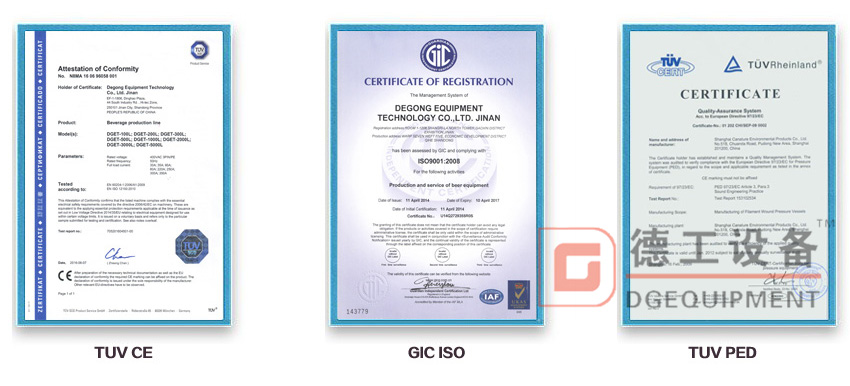 Service
Contact us