Description
Conical Fermentation Tank for sale brief description
Conical Fermentation Tank for sale can be individually temperature controlled through glycol jackets and are mostly equipped with accessories such as pressure relief valve, CIP cleaning jet, sanitary sample valve, manhole,etc. The design of DEGONG fermenter is based on our vast beer knowledge and especially the conical fermenter bottom and the fact that we combine fermentation and maturation in the same vessel is very important. When calculating your fermenting and lagering capacity and configuration, sufficient time for fermenting and lagering to produce quality beers must be taken into consideration.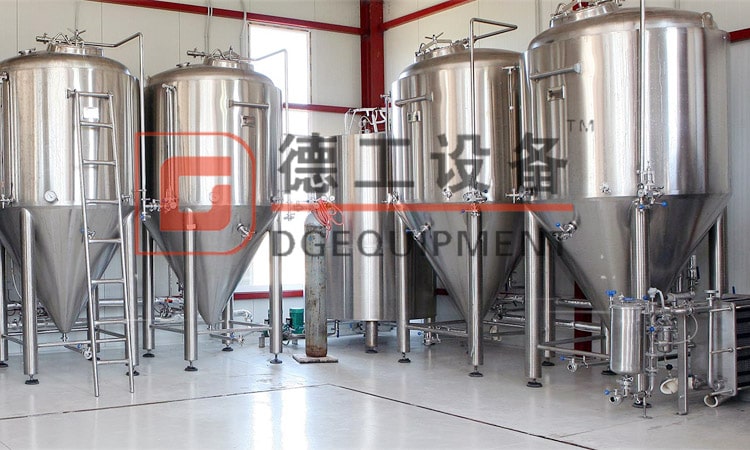 600L Conical Fermentation Tank details
4 stainless steel legs with leveling footpads
Interior shell: 304 stainless steel, TH=3mm
Exterior shell: 304 stainless steel, TH=2mm
Interior and exterior finish bright polish to 0.6μm, hygiene surface
60 degree cone bottom
Combined drain extensions and beer port in cone are standard
Top or side manway door
Dual zone in sidewall and cone dimple cooling jacket with glycol inlet and outlet
Polyurethane insulation thickness 80mm for cooling jacket on side and bottom
Fully welded exterior shell
Non welding CIP arm and rotating 360 degree reach spray ball
Ice water solenoid valve, pressure relief valve (safe valve) are standard
Pressure gauge, Temperature probe,Sanitary sample valve,mechanical regulator valve,raking arm and port
All clamps and gaskets to attach all accessories
Tank complete with piping, fittings, sanitary valves and all parts.
Carbonation port
Dry hop ports and/or hop bag hooks in any fermenter of any size for special request
Conical Fermentation Tank for sale details
Conical Fermentation Tank Feature
1. With cone bottom, it is more convenient to recover yeast after main fermentation is completed, and the yeast strain used should have good cohesion. The angle of the cone bottom is usually between 60-90 degrees, which is conducive to the sedimentation and discharge of yeast.
2. The tank body has a cooling interlayer, and the cooling capacity can meet the process cooling requirements. The cylinder part of the tanhas 2-3 cooling jackets, which is conducive to the sedimentation of the yeast and can keep the yeast activity well when it is reused.
3. The conical tank is airtight and can recover CO2, it can be used as a fermentation tank as well as bright beer tank.
4. The conical fermentation tank has a considerable height, so the natural convection of the beer  in the tank is relatively strong. Convection intensity is related to tank height, tank shape, capacity and cooling system.
6. In order to reduce cost , conical fermentation tank has a good insulation layer. Commonly used insulation materials are polyurethane, and the thickness is determined by the size of the tank.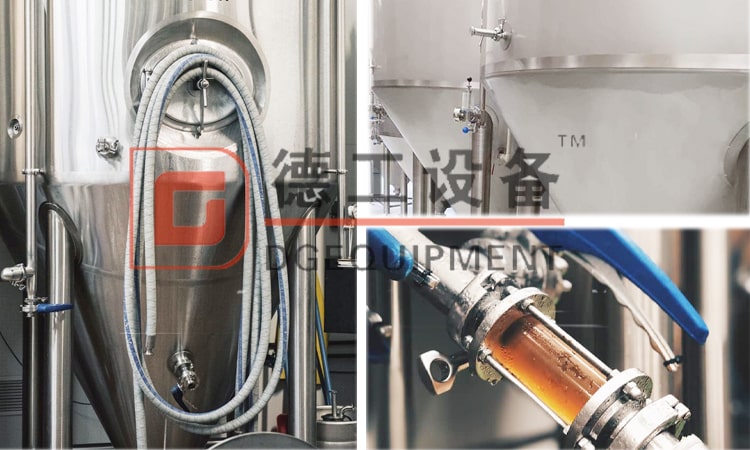 More about DEGONG
If you want to know more about beer brewery equipment, please contact me. Come on! Thanks