Description
DEGONG is specialized in manufacturing different types of industrial breweries and microbreweries to different clients in the world. The full line of beer brewing equipment is consist of milling, mashing, fermentation, cooling,controling, filling and other related processes. Working with all relevant partners, Degong can manage the design, engineering, build and installation of beer brewing euqipment that helps you achieve your unique brewing process and replicate it. In the end you will have a long-term, sustainable commercial beer brewing equipment that maximizes efficiency and space.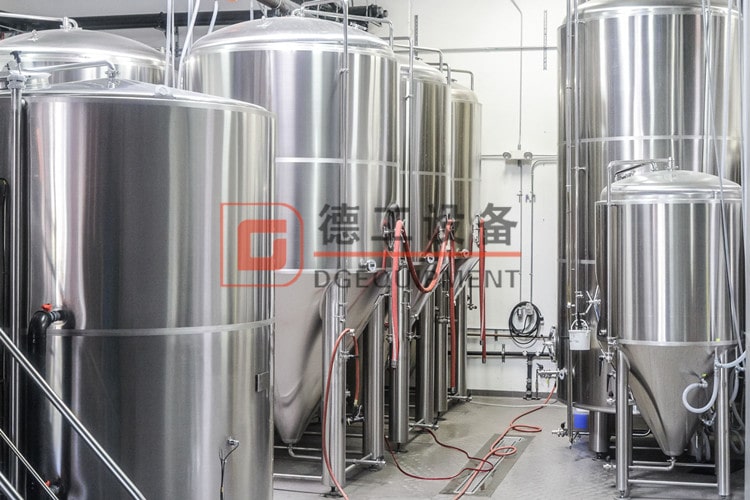 ---
Mashing system of the beer brewing equipment
---
---
Mush/brewhouse heated via steam,electric or direct fired
Flexible brewhouse designs to accommodate your available square footage and ceiling heights
Custom can design brew houses for sour beer production
Configurations from 2-vessel to multi-vessel designs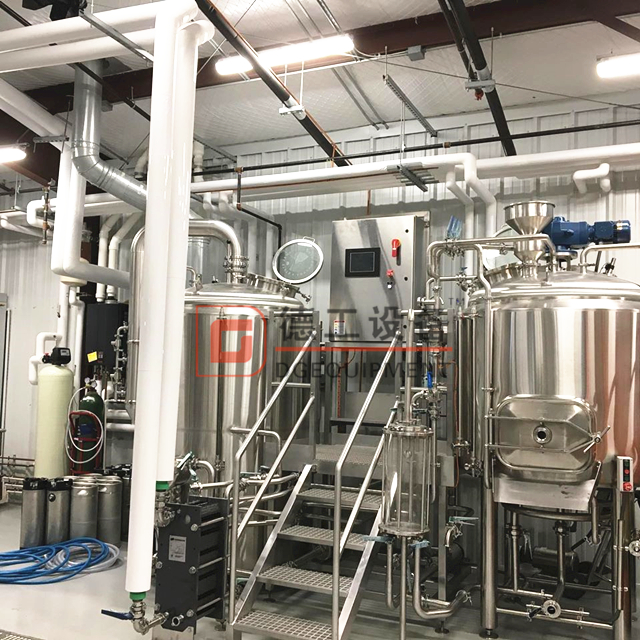 3-vessel brewhouse euqipment with side man hole
configuration details:
Material: Inner(SUS304),thickness: 3.0mm;
External-Jacket(SUS 304), thickness: 2.0mm;
Cylinder (sharp type, SUS304), thickness: 2.0mm.
Inner surface treatment: welds grinded to Ra 0.6µm.
Insulation: Polyurethane-thickness 100 mm.
Temperature way:Double metal thermometer
Outsourcing surface: Weld polishing processing
Jacket Pressure: design pressure 0.3 MPa, working pressure <0.2 MPa.
CIP 360 degrees Omni bearing cleaning
Integrated CIP System
Hot Liquor Tank –Designed and Sized for Double Brew efficiency
Stainless steel 304 pump with ABB or Siemens motors
Mash / Lauter Tun with grain raker
Boiling/whirlpool tank with whirlpool port and stir blades
304 stainless steel operate platform and stairs
Plate heat exchenger design pressure :1.0Mpa

Weld polishing processing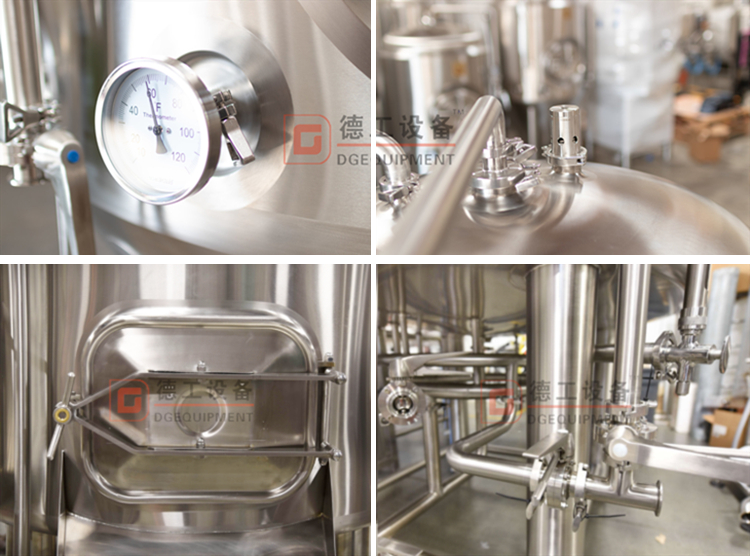 components and accessories of  brewhouse equipmet
---
Fermentation system of the beer brewing equipment
---
---
Fermentation system is made up of fermentation tank ,tright teer tank, yeast adding tank and other accessories and quantities are based on customer's request. Technically speaking fermentation tank structure is dished head and cone bottom,with polyurethane installation and dimple cooling jackets .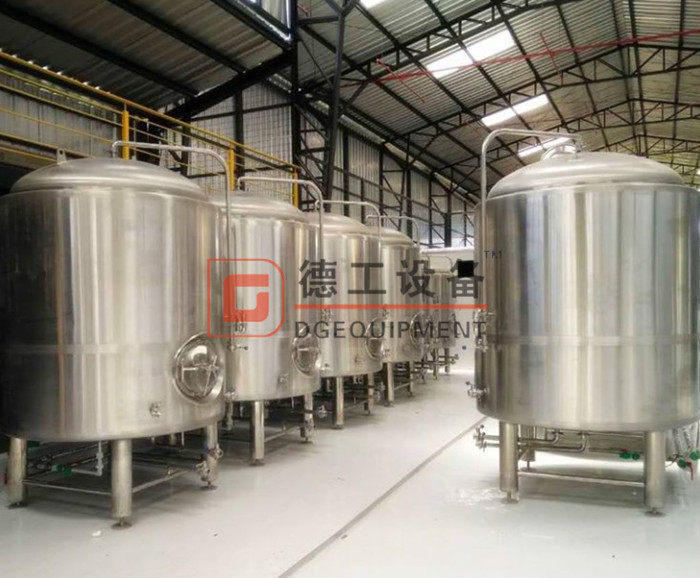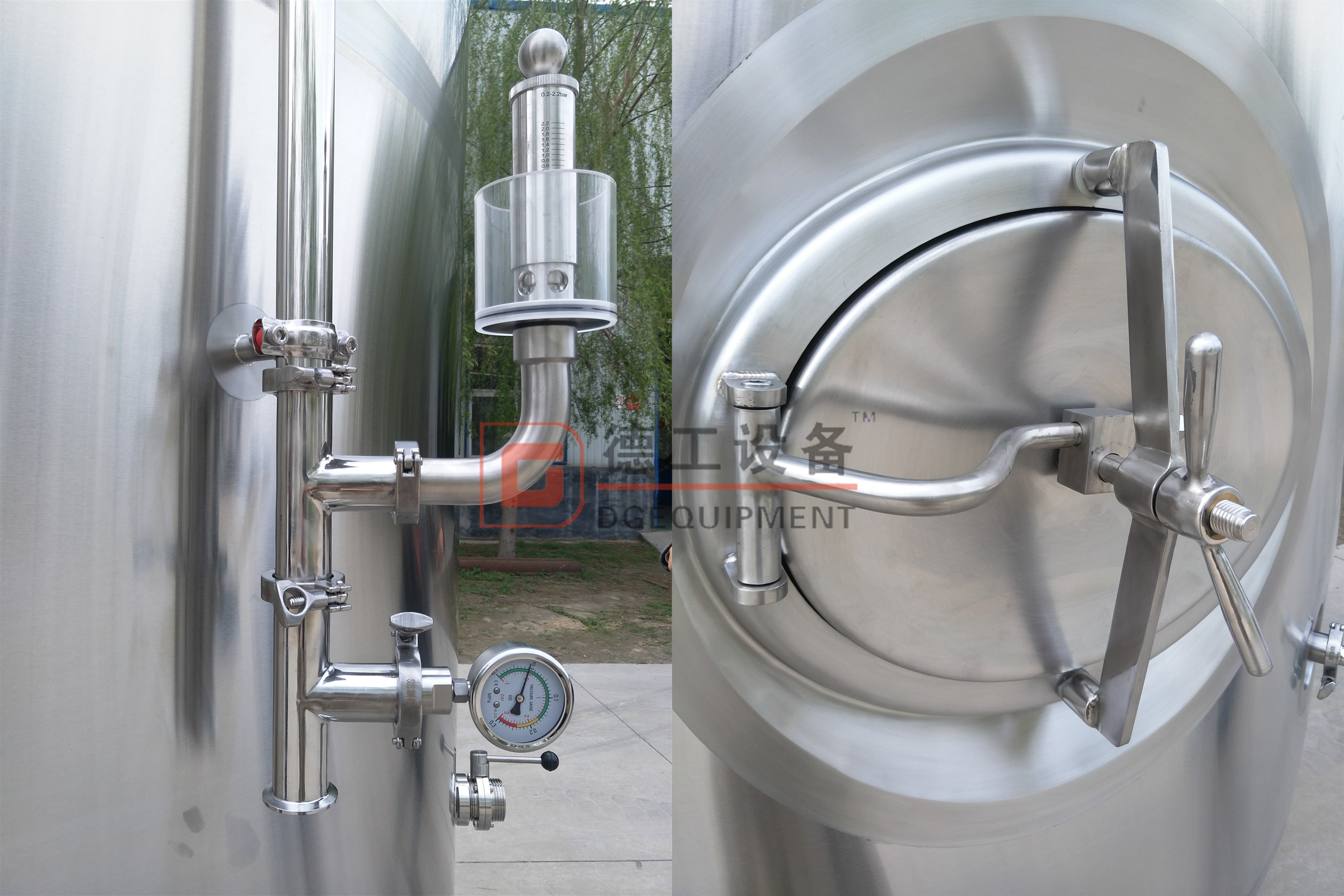 pressure aguge and side manhole of the fermenter
Configuration details:
Material Inner (SUS304) thickness: 3.0mm; Outer (SUS304) thickness: 2.0mm;
External-Jacket(SUS304) thickness: 1.5mm;
Equipment with : cone 60°resist compression design,dripping;
100% TIG welding with pure argon gas shield;
Interior Finish: Sanitary 2B finish, Pickled and Passivity;
Exterior Finish: Oil brushed finish
Interior full polished to 0.2~0.4 μm without dead corner
Insulated with high density Polyurethane foam 100mm
Stringent Jacket leakage test by water and pressured gas
Sanitary side mounted manway with pressured door
TC connected CIP arm with 360° coverage spraying ball
Full sanitary metallic sealed sampling valve
Mechanical safe valve PVRV 2 bar on top
Hydraulic shock pressure gauge on CIP arm
Rotating racking arm and port on cone with butterfly valve
Tri-clamp discharge arm with butterfly valve
Thermowell for high accuracy temperature sensor
Dry hopping port 4" TC with solid end cap
---
Cooing system of the beer brewing equipment
---
---
Cooling system is consisted of circulation pump, glycol water tank and chiller. The glycol water tank is for filling the glycol water. And the chiller is for generating the cooling capacity to reduce the temperature of the glycol water heated by heat generated by fermentation process.
7HP chiller, Power: 5.25KW, Cooling capacity: 16268Kcal,
Refrigerant: Freon R404A, Copeland compressor
1500L glycol water tank
Glycol water circulation pump, VFD control
PPR pipe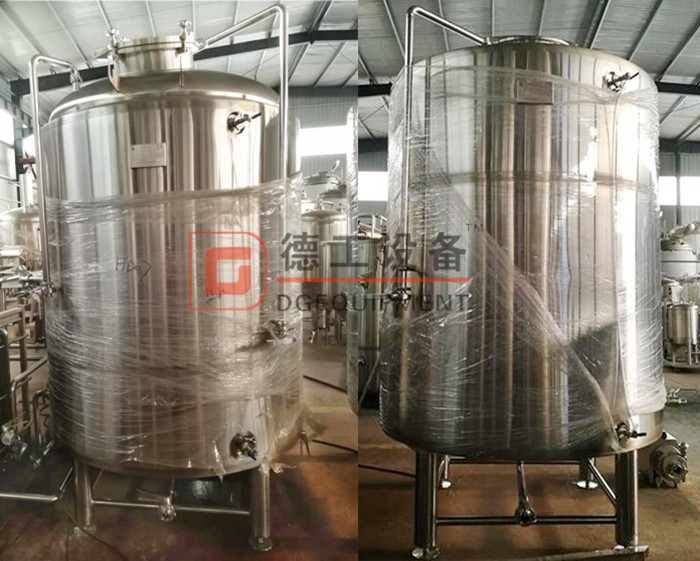 2000L cold water tank
---
Control system of the beer brewing equipment
---
---
Control system is the soul of a whole set of beer  brewing equipment. It controls the running of each components such as pump, motor and whole brewery system. Degong's control system is a integrated box which houses the terminals of all components.
Semi automatic control system or PLC fully automatic control system if requested
Siemens/Schneider/Omron components
PC or mobile remote control if requested
Individual control system for brewhouse system and fermentation system

control cabinet
---
Packing&delivery
---
---
Standard packing:
Cord ,film membrane
Firm membrane, wood box for free fumigation
Delivery :
– We put your order into our tight production schedule to ensure the punctual delivery time.
– Production or inspection report before order packed.
– Shipping notice/ insurance to you as soon as the euqipment is shipped.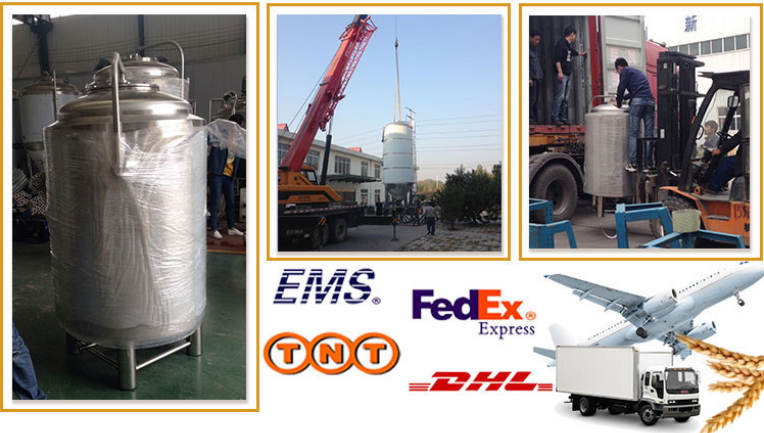 ---
Our certificate
---
---
Beer brewing equipment of DEGONG  is coming with certifications of PED and our company is TUV approved. We use CE approved components for customers. The quality, specification and function all meet the treaty of contract.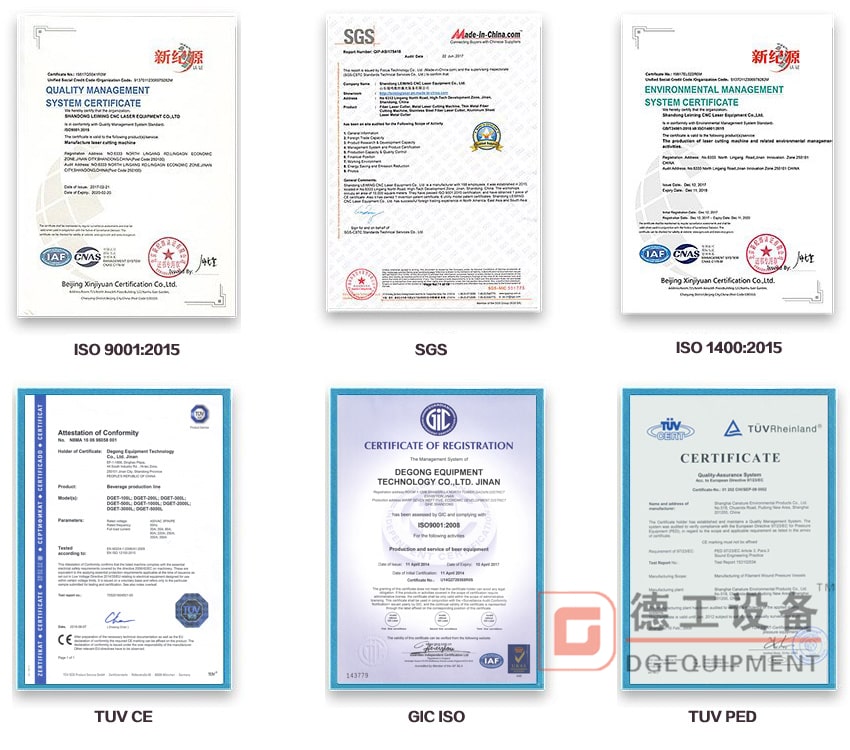 ---
Contact us
---
---
Every Beer brewing equipment is unique and requires different specifications. Please shoot us an email or give us a call for a quote.