Description
Brewhouse is designed and fabricated as the exact brewing process request from client and the local requirement. Tanks size designed as exact beer gravity from client. The goal is helping client with easy brewing operation, making the whole brewhouse setup more suitable for right recipe , increasing the efficiency and lowering the energy cost etc.
2 vessel brewhouse beer brewery system
NO.
systems
name of beer brewery system
1
malt milling system
malt miller machine;grist case
2
Mash system
Mash tank/Boiling tank

lauter tank

Whirlpool tank
Hot water tank
Mash/wort/hot water pump

ABB Motors
Wort oxygenation device
Operation platform
Plate heat exchanger

3
Fermenting system
Beer fermenters
Bright beer tanks
Yeast adding tank
Accessories, such as sample valve, pressure gauge, safety valve and so on
4
Cooling system
Glycol tank
Refrigerating unit
circulating pump
5
CIP cleaning system
sterilization tank & alkali tank &cleaning pump etc.
6
Control system
Control system, we have PLC automatic and semi-automatic, the elements brand include Schneider, Siemens and so on.
7
Kegging system
kegging system ( keg washer and keg filler machine), the control system brand is Siemens.
8
Other auxiliary equipment
kegs,bottle system;water treatment,Pasteurizer…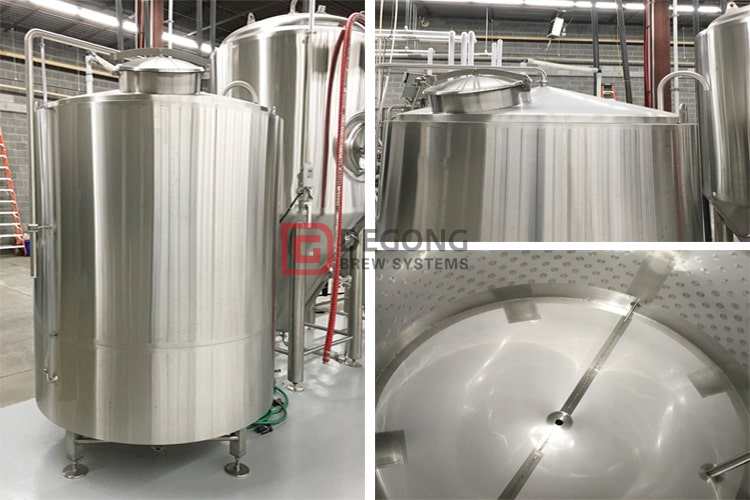 Hot/Cold liquor tank beer brewery system
Our product includes a variety of large, medium and small brewery equipment, hotel, bar home-brewed beer equipment, teaching experiment etc. And could be used to brew various types of wine, beer, barley-bree (whisky) brandy. We supply brewing of main and auxiliary raw material, technical training, secondary equipment and control equipment, of course, can customize according to customer required special specifications design, production, installation of equipment and other products.
Our brewhouse system separated to 2 vessels, 3 vessels, 4vessels and 5 vessels, capacity from 100L to 200HL, use electric or steam heat. Semi-automatic control and easy to operate.
Main Features
1) Capacity:100 liter to 20000 liter as requirement.
2) Material: stainless steel 304/316 or red copper, as requirement.
3) General configuration: mill, brew house, fermentation, cooling and cleaning etc.
4) Heating principle: electric heating, steam heating, gas fire etc.
5) Electricity voltage/frequency can be customized.
6) Running in a high automatization and intellectualization,no pollution.
We can produce beer brewery system,such as boiling tank,lauter tank,fermenters...
Boiling normally takes an hour at minimum . Afterward , the wort is chilled to fermentation temperature , and yeast is added . It is at this point that the liquid actually becomes beer. Yeast can finish fermenting in as little as there days to as many as 30 days . depending on the strain of the yeast , the amount of sugar in the solution , and the temperature of fermentation . Brewers often allow the beer to sit through a period of cold conditioning after fermentation is complete.
Talk to us about your requirements and we will design a system to work for you and your company.