Description
The heart of any brewery is an efficient and consistent brewhouse.Utilizing state-of-the-art, PLC's and automation allows DGET to deliver semi-automatic or fully-automated brewhouses that deliver repeatable, efficient and high-yield brews at the right price.
20BBL Turnkey brewery equipment
Equipment Request
Components

1. Milling System

Malt Miller

2. Mashing System

Mash/Lauter Tun

Boiling/Whirlpool tank

Heat exchanger

Wort Pumps

Stirring Device (Optional)

Other accessories are available: 1.Yeast Feeder; 2. Venturi Tube; 3.Soft Pipe; 4.Sugar Measuring Cylinder; 11. Saccharimeter;

3. Fermenting System

Fermentation Tank

Brite tank(maturation tank)

Other accessories are available: 1. L-Pipe; 2. Butterfly Valve; 3. Pressure Gage; 4. Solenoid Valve; 5. Vacuum Valve; 6. Cooling Pipe; 7. Thermal Insulation Pipe;

4.Cooling System

Ice Water Tank

Refrigeration Machine

Centrifugal Pump;Evaporator;Relative Pipes and Valves

5.CIP System

Washing Tank;Sterilization Tank;Pump and Valve

6. Filter System

Kieselguhr Filter;Membrane Filter
BREWERY EQUIPMENT–BREWHOUSES:
Mash/lauter+boiling+whirlpool tank(It is also recommended to use a hot water tank)
Brewhouse unit Specifications:
Mash/Lauter tun
Grain rake with VFD
Laser cutting V-wire False Bottom
Easy clean and detachable sparging spray ring
Multihole wort collect ring(optional)
Boil kettle/whirlpool tun
Steam Jacket on bottom and side/direct gas fired heating/electric heating
Steam vent with condensate ring for kettle stack
Hot liquor tank
Used to recover energy and heat the water (liquor) needed for recirculation and sparging water onto the grain bed to convert starches to sugar.
Steam heating/direct fire heating/electric heating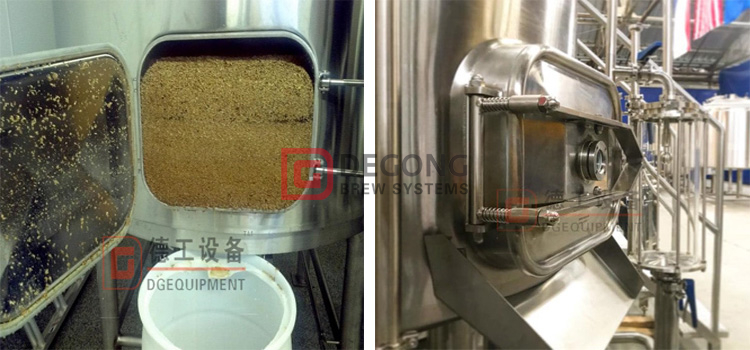 Spent grains access with slide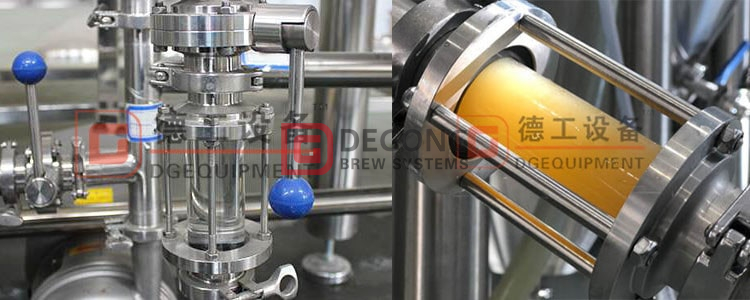 Sight glass for checking
BREWERY EQUIPMENT–FERMENTERS: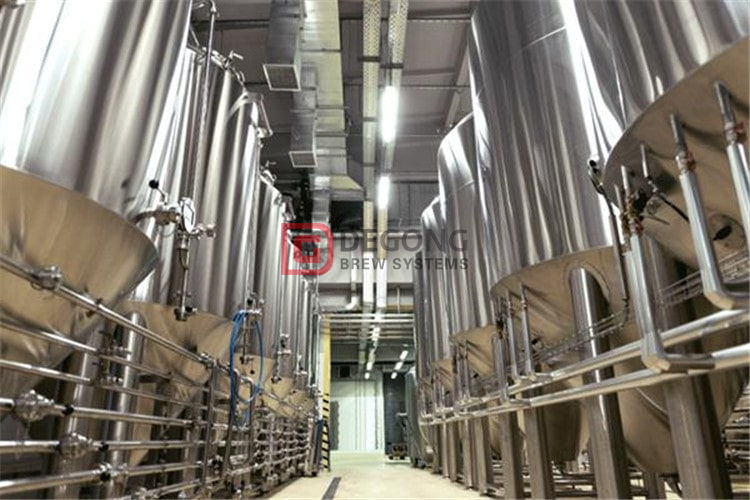 Small/medium/large breweries fermentation tanks can be available
Fermenter Specifications:
Capacity available from 5bbl, 10bbl, 20bbl, 30bbl fermenter to 200bbl
SS 304 construction
Internal shell: 3mm, External Shell :2mm;Jacket thickness:1.5mm
Top dished head with pressure vacuum relief valve
Top manway or side manhole
Dry Hopping port with cap
Sanitary rotary spray ball
PU foam insulated
Cooling jacket on cylinder and cone bottom
Side CIP arm assembly with bung valve and pressure gauge
Sanitary thermowell
Sample Valves
Cone racking arm
60 degree cone bottom
Bottom discharge
Four legs adjustable feet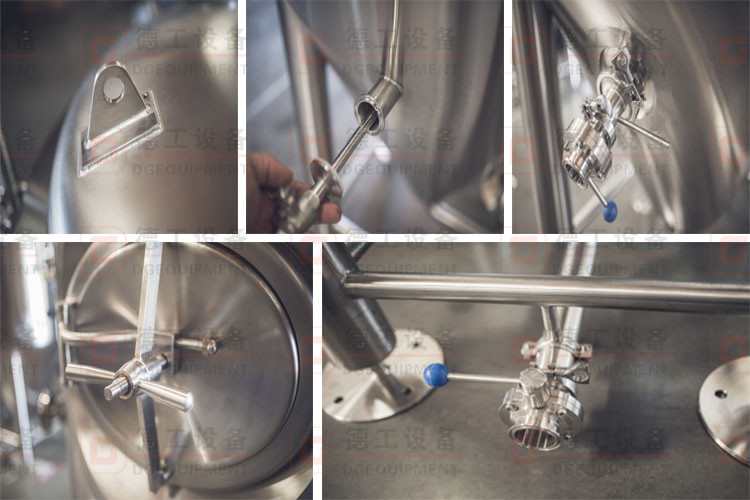 Brewery equipment Fermentation tanks components
Lifting ear;Carbonation stone;raking arm;side manhole;drain outlet
Tank and System Controls
We can offer complete tank and system controls for any critical parameter of your process including:
Glycol chilling and cooling controls – solenoid, check valve, or pressure sensor actuated
Steam or other heating controls – globe, gate, pressure sensors, or solenoid actuated
Water flow controls, backflow preventers – filtration systems and controls
Programmable digital controllers for valves, solenoids – temperature, pressure and flow controls
PC controlled systems – standard or custom software control packages
Other control features and options available—semi automated or automated
Whether you are a start-up, a well-established craft brewery or a market leading brand – you can benefit from DGET in the brewery industry. Our catalog of high-quality equipment ranges from complete systems to process units to components.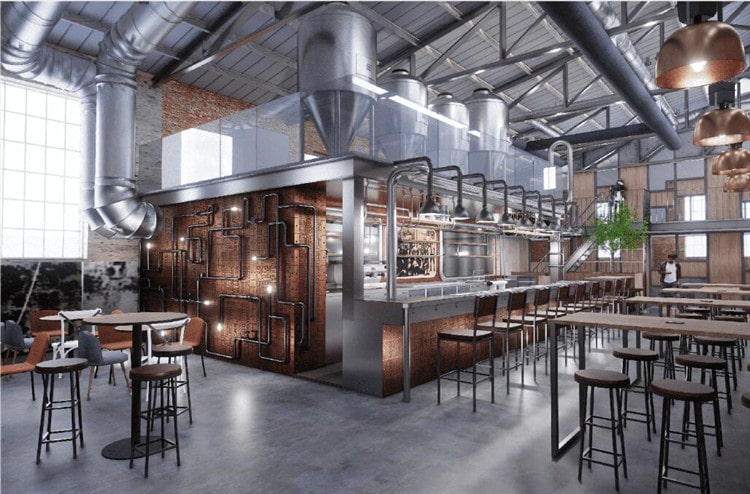 In restaurants, bars and hotels etc.
After-sales service:
After delivering the equipments to our customers, DEGONG will arrange special worker to do the track service, because we set up the marketing department for specially dealing with the feedback of customers for providing the satisfied service.
Within the warranty period, any malfunctions caused by the quality issues, DEGONG will be responsible to it.
For the malfunctions beyond the warranty period, DEGONG will also be responsible to it, but the seller should take in charge of the expenses.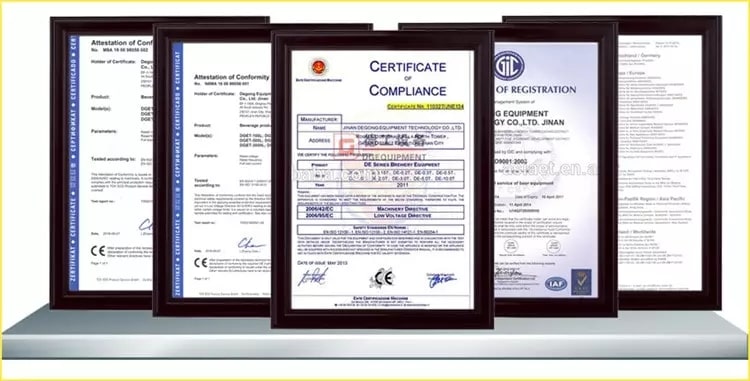 Our certification
Packaging Details: standard wooden package
Package Type : As usual, we adopt wooden case as package type. It's suitable for long-distance transport. According to customers' special demand, we could adopt sheet iron case and so on.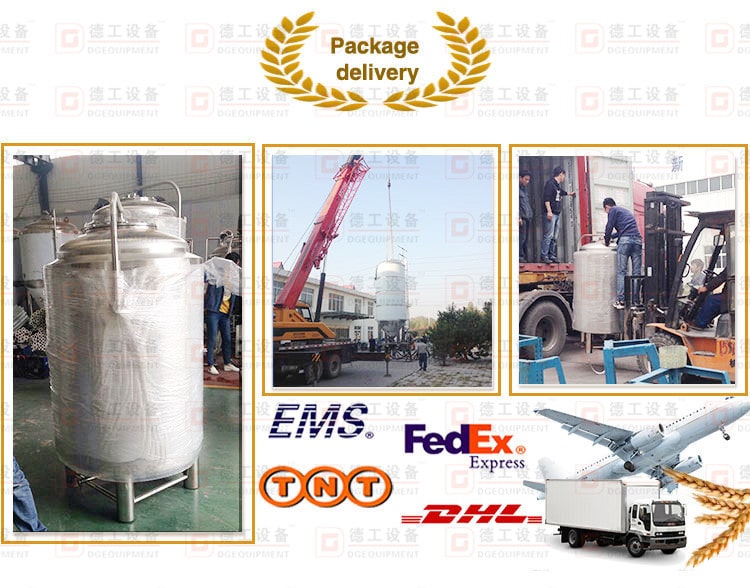 If you are interested in our craft brewing equipment, need a quotation or you simply want to discuss your project with us, get in touch and we will be happy to assist you.