Description
Microbrewery equipment can be a good start of your own brewery business with the size from 200L to 1000L. With customized design, you could have your own microbrewery equipment according to your craft for your brewpub, restaurant, hotel, etc. We have engineer teams, knowing about starting gravity (in Plato) of beer you want to produce and capacity of the microbrewery equipment, we will work with you together on the specific designs.
Usage Classify
---
Brewpub microbrewery equipment

Restaurant micro Beer Brewing System

Hotel micro Beer Brewing System
We design and produce a line of microbrewery equipment according to your specifications. To guarantee breweries'reliable performance, we use qualified stainless steel, fittings, and various parts, with our good craftsmanship, rich experience and technology in brewing industry. Especially, we focus on your convenient running procedures, by learning your special specifications and realizing them on the brewing systems.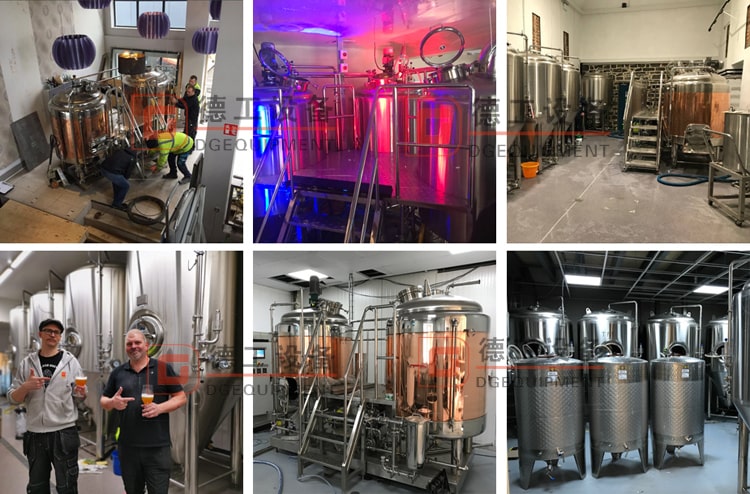 Complete Microbrewery equipment introduction
---
— Malt Milling Unit
Function: It is used for malt milling.It is the first part of beer brewing equipment.
Component: Malt miller, belt, belt pulley, motor, and so on.
Material: Carbon steel or stainless steel for optional.
Flexible or steel auger or a bucket type conveyor to directly lift the milled grain to mash tun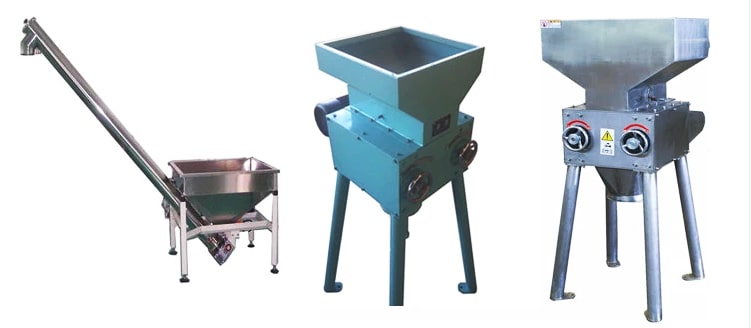 — Malt mashing system
Function:It is used for malt mashing.The water and the crushed malt are fully mixed, and the soluble substances in the malt are thoroughly leached under the action of various enzymes
Component:mash tank,lauter tank,boiling tank and whirlpool tank(The four tanks can be combined into 2 or 3 or 4 vessels ),wort pump,plate heat exchanger,hops filter,operation platform,aeration device.
Material:SUS304/316/Copper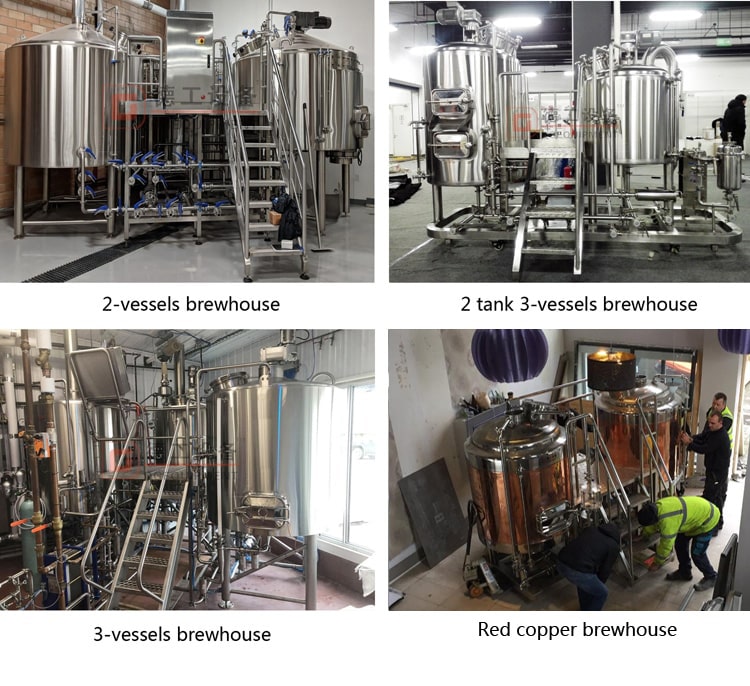 —Fermentation system
Function:The wort obtained during saccharification is fermented into beer under the function of yeast.
Component:Fermentation tank,bright beer tank,yeast adding tank
Material:SUS304/316
Accessories on tank:breathing valve,hops adding port,CIP arm,CIP ball,pressure gauge,mechanical regulation valve,sample valve,carbonation stone,temperature sensor…..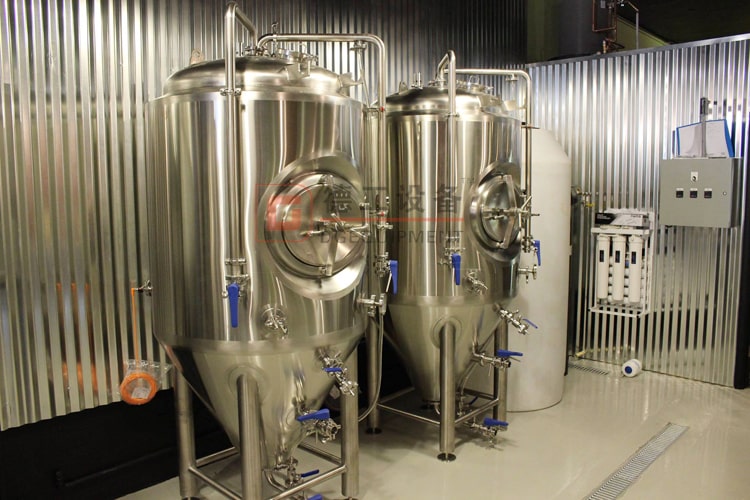 — Cooling Unit
Insulated glycol water tank with or without copper coil for glycol liquid holding and mixing
Efficiency chillers or refrigerators with fryon to supply cooling energy
Sanitary centrifugal pump for glycol water recycle among tanks and heat exchanger
All pipes, fitting, insulation materials are included
— Controlling Unit
Electrical controlling cabinet with temperature, on-off controlling for brewhouse,cooling system
Temperature controller, thermocouple, solenoid valves etc
PLC with touch screen panel for special request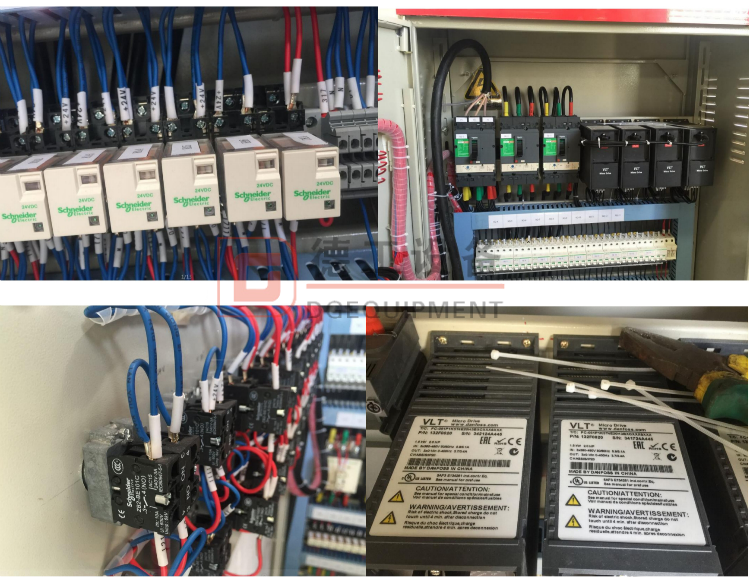 — Beer Dispense
Semiauto or automatic bottling machine with rinsing, filling, capping, labeling etc
Semiauto or automatic canning machine
Flash pasteurizer or tunnel pasteurizer is available
— Cleaning Unit
Function: Used for cleaning and washing.
Component: Disinfection tank, Alkali tank (with heating element), cleaning pump and etc. It is the seventh part of beer brewing equipment.
Purpose: Equipped with wheel, easy to move and operate, washing all tanks when it finishing brewing.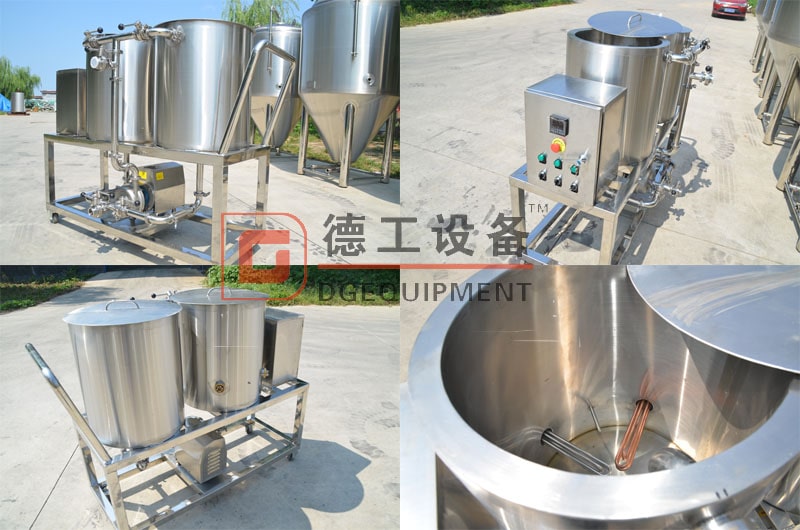 — Other Facilities
Steam boiler for brewhouse heating
Water treatment for brew water
Oil free air compressor
Brewery lab instruments for beer quality test
Company information
---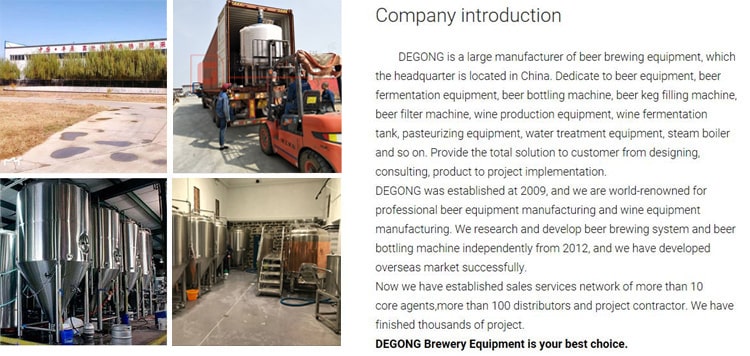 Contact us
---
If you have interest in DEGONG brewing equipment,welcome to contact me freely.