Description
1000L affordable beer brewery equiopment overview
Name

Composition

Technical parameter

Mill system

grain mill machine

Double roller

Carbon steel spray paint/Stainless steel

Power:1.5Kw

Mash system 

mash/boiling tun

Material:SUS316L/SUS304/copper

Interior Shell: 2B/mirror plate; TH=3mm
Exterior Shell:2B/mirror/brushed plate; TH=2mm

Dimple, coil jacketed for steam heating,electric
heating tube,combustion chamber

ABB stirring motor

80mm rock wool for insulation

Round glass manhole, dish head,with temperature sensor,cleaning tube, standard Washing ball

lauter/whirlpool tun

Material:SUS316L/ SUS304/copper

Interior Shell: 2B/mirror plate; TH=3mm
Exterior Shell:2B/mirror/brushed plate; TH=2mm

80mm rock wool for insulation

Lauter tun with round glass manhole,side mounted grain outdoor with spent grain chute,sampling valve,sight glass

Lauter plate: milling

Racking device,positive turn cultivating spent grain,reverse discharging spent grain

Tangential whirlpool inlet

With cleaning tube, with standard washing ball,cleaning pipelin

Hot water tank

Material:SUS316L, SUS304,copper

Interior Shell: 2B/mirror plate; TH=3mm
Exterior Shell:2B/mirror/brushed plate; TH=2mm

80mm rock wool for insulation

Top dish head, bottom conical head, round glass manhole

Dimple, coil jacketed for steam heating,electric heating tube, combustion chamber

With a cleaning tube, with a standard wash ball, cleaning pipeline ISO32, overflow port,temperature sensor

Plate heat exchanger

SUS304,Two stage cooling

Yeast adding tank

With valve, sight glass, pipe fittings, hand-held

thermometer, display instrument, etc

wort pump

hot water pump

China top brand, Sanitary SUS304

Heating method

steam heating, electric heating, direct fire heating

Fermentation system

fermentation tank

Material:SUS316L /SUS304

Interior Shell: 2B/mirror plate; TH=3mm
Exterior Shell:2B/mirror/brushed plate; TH=2mm

80 mm PU for insulation

Dish head,cylinder,60 degree cone bottom(adjustable)

Top or side manhole,

With electromagnetic valve or mechanical pressure regulating valve,sample valve,temperature sensor, adjustable leg,Rotating
beer mouth, discharging outlet.CO2 outlet,coolant inlet and outlet,CIP inlet and outlet,wort inlet and yeast outlet,cleaning ball, pressure gauge

Option:Dry hop mouth,CO2 filling device With titanium
rod distributor;level gauge

bright beer tank

Material:SUS316L or SUS304

Interior Shell: 2B/mirror plate; TH=3mm
Exterior Shell:2B/mirror/brushed plate; TH=2mm

80 mm PU for insulation

Dish head /bottom,cylinder

Top or side manway

With electromagnetic valve or mechanical pressure
regulating valve,sample valve,temperature sensor, adjustable leg,Rotating beer mouth, discharging outlet,coolant inlet and outlet,
CIP inlet and outlet,wort inlet,cleaning ball, pressure gauge

Cooling system

Chiller

qlycol water tank

pump

Insulated conical top and sloped bottom

Sanitary SUS304, VFD control

Control system

mashing and fermentation process Controlling

Panel instrument digital

PLC control with touch screen for special

CIP system

Acid Tank

Alkali Tank

CIP Pump

stainless steel 304

Flow:3T   Lift:24
Affordable beer equipment mash system details
1-mash tun
The use of highly efficient miller jacket heat techology, the application of scientific principles og steam turbulence to achieve maximum heat transfer, energy-saving effects, taking fullly automated temperature control techology, ensure the heating,the heating accuracy at the stage of the mash process.
With ABB VFD motor, false bottom, spary cleaning ball, sparing ring, raker, manhole
2-lauter tun
The use of advanced scientific farming raker structure and hydraulic automatic take-off and landing system technology to ensure the uniform double slot, the smooth groove and aslo the improved lautering speed and production efficiency. Maintain the transparency of the wort and a good juice yield.
With
raker and wort pump with VFD ABB motor to adjust the speed.
laser cutting sieve plate with the gap 0.7mm and thickness is 4mm
Spent grain hatch, sight glass, top glass manhole
3-Boiling tun
In application of advanced boiling to improve the boiling intensity, rapid separation of boiled wort.
4-Whirlpool tun
To design according to the best program of rotating separation, enlarge the proportion of the height abd diameter, reduce speed to achieve the best separation.
raker& operation platform& hydrator& plate heat exchanger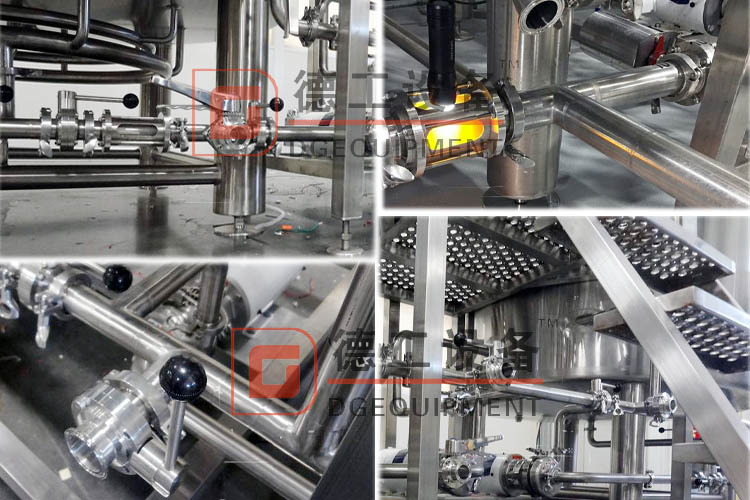 Affordable beer equipment  brewhouse pipe details
Affordable beer equipment fermentation tank details
For Your Reference:
1. We have the capacity of 100L, 200L, 300L, 500L, 1000L,1200L, 2000L, 3000L, 5000L, 8000L…for your reference.
material, voltage(like 380v, 50Hz, 3phases), heating method(electric, steam or gas heating), etc.
2. For electrical parts, we use SIEMENS, SCHNEIDER, DANFOSS, OMRON, ABB….etc.
3. The brewer can brew draft beer, pale beer, brown beer, stout beer etc,to meet different taste of customers.
If you have interest, please feel free to contact me.