Description
Although there is no fixed configuration for 10HL brewery equipment, the six  basic systems are basically the same: malt crusher,beer brewhouse, fermentation system, cooling system, control system, and cleaning system. But each customer's specific configuration of each system is different.
Six basic brewing system of 10HL brewery equipment description:
Beer brewhouse: among all the brewing systems,the configuration of beer brewhouse is the most different. One hundred customers may have one hundred different requirements. The beer brewhouse is composed of four functions, namely: mash, lauter, boiling and whirlpool. These four functions can be completed in different single tank or combined into 2 or 3 tanks,so we have 2/3/4 vessels beer mashing system.
Beer mashing is a process that requires heating. This process can be achieved by electric heating, gas heating or steam heating. Customers can choose the appropriate heating method according to their specific conditions.
Fermentation system: some customers only need fermentation tanks, while some customers also need bright beer tanks for later storage and maturation. The quantity requested by each customer is different.
Malt crusher: the requirement is that the malt should be crushed within half an hour.  The required raw materials are different according to different beer brewing methods,, so we will configure it according to the specific requirements of customers.
Cooling system&CIP system&control system: They are determined according to the brewhouse and fermentation system. We generally determine the configuration of the mashing system and the number of fermentation tanks, and then we can recommend the appropriate cooling system, CIP and control cabinets.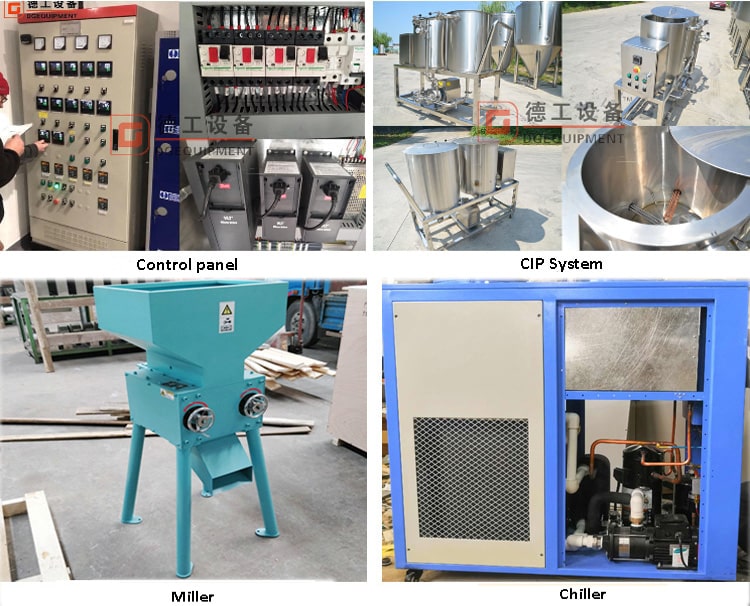 The whole set 10HL brewery equipment component:
System

Components

Capacity 

Specification 

Milling System

Miller 

300-500 KG/H

Double Roller,Noise<60db

Brewhouse System 

Mash/Lauter tun

10HL

Mashing Process:Decoction.Infusion.Multi-step infusion
Heating source:Steam,Electric,Gas
SUS304/Red copper

Remarks: For smaller pub brewery equipment, we offer Combination 2-vessel brewhouse:

Mash/Kettle + Lauter tun/Whirlpool Combined.

Brew Kettle/
Whirlpool Tank

10HL

Hot Water Tank 

20HL

Heat exchanger

10 SQM

Stainless steel plate

Fermentation System

 

10HL / 20HL

Top manway/Side manway
Drying hop port to brew IPA
Dimple Plate Cooling jacket
Carbonation port to fill CO2

All necessary accessories on tank's body,including breathing valve,Cleaning ball,sample valve,temperature sensor,pressure gauge,mechanical regulation valve

10HL / 20HL

Cooling System 

Glycol Water tank 

According to quantity of fermentation tank

Equiped with PU level indicator

Chiller 

According to glycol water tank

UL/CE certified electric elements,Copeland compressor

Pump

3T

Cleaning System 

Sterilization Tank

100L

SUS304 full welded

Alkali Tank

100L

Pump

3T

Control System 

Control Cabinet 

PID / PLC

Manual/Semi-automatic/Automatic

Optional 

Auger System

Grain Case

Grist Hydrator 

Piping flow panel for Brewhouse
PS: All the specifications can be customized according to your requests

.


Exhibition


Our engineer go to Visit customer's brewery and explore brewing technology

We have obtained ISO/CE/PED ceritification,which is issued by Germany institution TUV


Factory/Working shop